Kolkata: An infamous remark made by Rajiv Gandhi during the anti-Sikh riots in 1984 was tweeted from the handle of West Bengal Pradesh Congress Committee (WBPCC) on the former PM's birth anniversary on Saturday, leaving the Congress party red-faced.
The Bengal Congress tweeted "When a big tree falls, the earth shakes" – Rajiv's comment on the 1984 anti-Sikh riots that broke out after the assassination of his mother Indira Gandhi by her two Sikh bodyguards.
The WBPCC was quick to fix the gaffe, as the tweet was deleted soon after Twitterati started slamming the party. It posted another tweet with a fresh quote; however, people were still sharing the screenshots of the first tweet.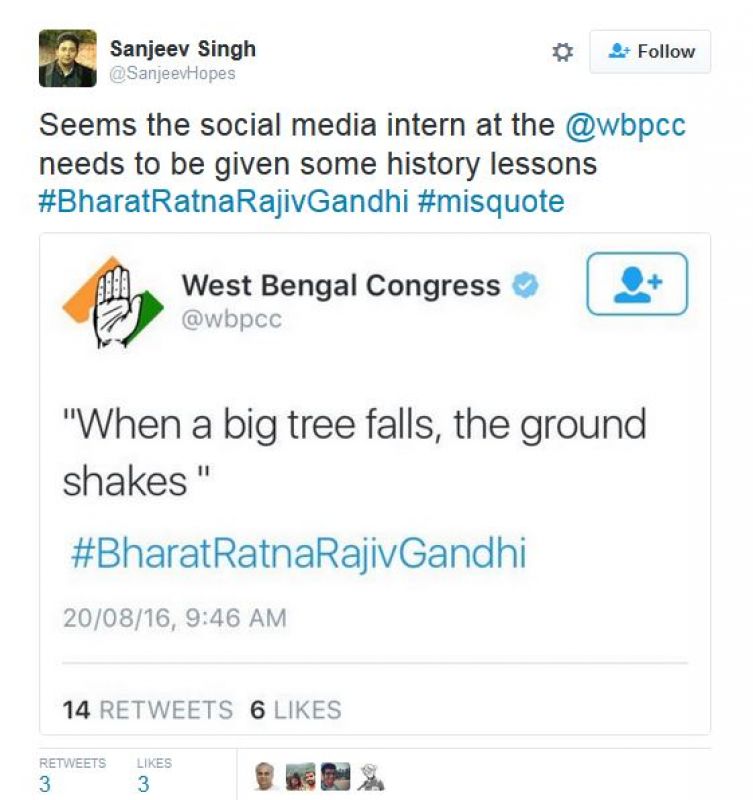 Later, several statements on the gaffe started to pour in from the party, however they were contradictory.
According to a report in Hindustan Times, senior Congress leader and leader of the opposition in the assembly Abdul Mannan said the Twitter handle from which the tweet was posted did not belong to the party.
On the other hand, Congress leader Manas Bhunia said West Bengal party president Adhir Choudhury needs to take responsibility for the tweet, while party spokesperson OP Mishra said he has no knowledge about the tweet and the Congress will issue a clarification on it, according to a report in The Indian Express.
Chowdhury later told PTI that the WBPCC Twitter account was hacked and the tweet was posted with the intention to malign Rajiv Gandhi and Congress.
"This tweet was not posted by anyone from the Congress who handles our twitter account. Somebody hacked the official twitter handle and posted this tweet... We have decided to lodge a police complaint against hacking of our account," Chowdhury said.
This is the second time in the past three days that the Congress has landed in an embarrassing situation because of its party members. Senior Congress leader Digvijay Singh on Thursday referred to Jammu and Kashmir as "India-occupied Kashmir" while talking to reporters.
...