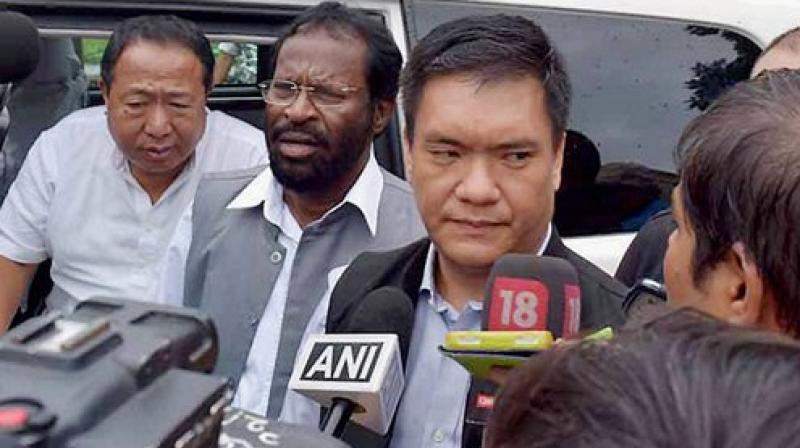 Itanagar: Arunachal Pradesh chief minister Pema Khandu on Wednesday won a floor test in the state assembly, which also elected Mr Tenzing Norbu Thongdok as new speaker replacing Mr Nabam Rebia.
In the 60-member House with an effective strength of 58, Congress chief minister got 46 votes in his support whereas 11 BJP MLAs voted against him.
Arunachal Pradesh Governor Tathagata Roy had summoned the day-long session of the state assembly on Tuesday night asking Mr Khandu to prove his majority on the floor of the house.
Khandu moved the confidence motion, which was seconded by former chief minister Nabam Tuki. Khandu is the eldest son of one of the most popular chief ministers of the frontier state, Dorjee Khandu who died in a helicopter crash in 2011.The eldest son of the family, Khandu, a graduate from Delhi's prestigious Hindu College, had an early entry into politics after his father's demise.
Forty-four Congress MLAs and two Independents voted in favour of the government.
Later, addressing the members, Khandu appreciated them for reposing faith in his leadership and also thanked senior party leaders, including Tuki and Kalikho Pul.
He reiterated that his prime duty would be to bring equal development for all the communities.
Asserting that he would work cutting across party lines, Khandu said that all the lawmakers would be given enough financial power so that they can develop their respective constituencies.
"I will take all the MLAs together as 'Team Arunachal' and work to fulfill the hopes and aspirations of the people," he said adding that his priority would be to complete all the important projects. The chief minister also made an appeal to the legislators to refrain from raking up past incidents that created discord.
The Arunachal Pradesh assembly also elected its deputy speaker Thongdok as new speaker of the house.
...