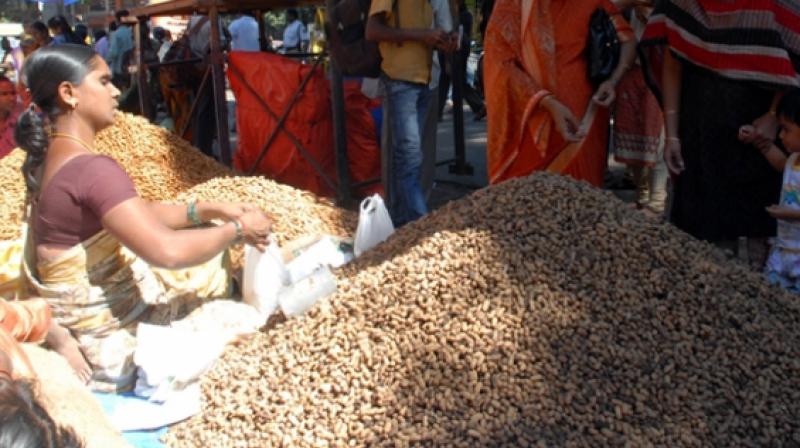 Anantapur: Due to shortage of groundnut seeds, there has been immense pressure on officials concerned to get it from other districts.
Even as Anantapur district administration has planned to procure 3 lakh quintals of seed groundnut to meet the demands, during present Kharif season, the agencies reportedly failed to procure 50 per cent of the seeds required so far.
The agriculture department assessed 7.08 lakh hectares of land, including 4.96 lakh hectares in which groundnut was sown in the kharif season.
In view of timely rainfall, the groundnut growers had begun cultivation practices, hoping to gain better yields, during the present kharif season.
Farmers incurred heavy loss during the past four seasons, due to massive failure of groundnut crops at various levels, even as the Telugu Desam government had introduced rain guns to save the groundnut fields, during rain deficit conditions.
It was proposed to procure around 3 lakh quintal of seed groundnuts and to sell it on subsidised price in Anantapur district alone.
Andhra Pradesh OilFed, AP Seeds, HIL and Vasan agencies were allotted to procure groundnut seeds from other parts due to non-availability of quality seeds locally, due to massive failure of crops in the previous kharif season.
AP Oilfed reportedly expressed its inability to complete the given target.
The agencies have been procuring groundnut seeds from farmers, who had produced groundnuts during rabi season in other districts.
A total of 43 distribution centres were set up in all parts of the district and 40 per cent subsidy was offered to the farmers as the government agencies have been procuring seednuts at Rs 7,100 per quintal.
Farmers were unable to get seednuts from many centres due to server problems and also poor procurement as against the required number.
"Farmers were offered a quintal of seed groundnut at Rs 4,260, after availing 40 per cent subsidy from the counters," the district collector Satyanarayana said.
Mr Satyanarayana further directed the agencies concerned to complete the required seed procurement, at least till other varieties are available in Chittoor district.
...