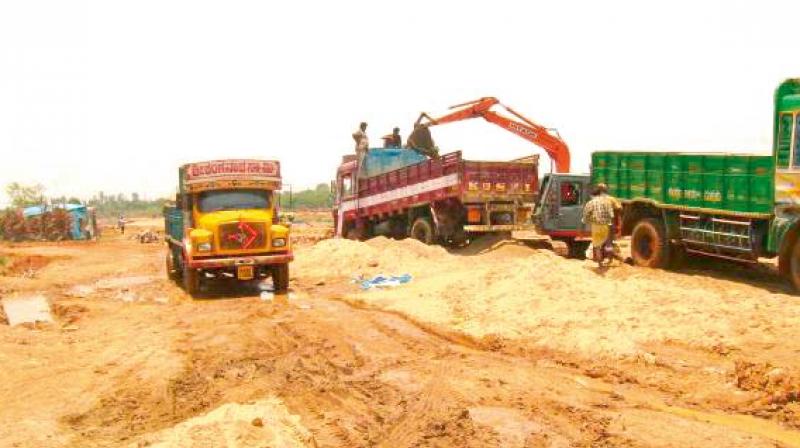 Thiruvananthapuram: After the first attempt failed, and nearly a decade of hesitation later, the State Government is all set to revive sand mining in rivers falling within the Kulathupuzha forest range. The plan is to mine sand from Millpaalam and Chozhiyakodu banks, where it is said there is an abundance of sand. The sand will be used exclusively for residential purposes. Once the Kollam district collector gives the environment clearance, which is expected in the next week, the Kulathupuzha range will begin sand mining along these two banks.
In 2009, when the initiative was first launched, there were widespread complaints of diversion of sand meant for BPL families to civil contractors, which eventually prompted then forest minister Binoy Viswam to suspend mining operations. "Now, all applications will be accepted only online, and sand would be sold only through the 'Kalavara' outlet in Kulathupuzha," said Mr Subhash, Kulathupuzha range officer.
Frequent landslips inside the forest have caused large deposits of sand to accumulate at the base, choking the flow of over and even diverting its course. The River Management Authority had conducted a sand mining audit along the two banks and had found mining a feasible, even desirable, activity in the area. It is said that from each point 5,500 cubic metres can be mined.
The rate fixed for a truck load will comprise taxes, labour costs for mining, royalty to the Mining and Geology Department, service charge, and loading charges. The loading charges will be based on rates fixed by the Labour Department.
In 2009, a time when sand for construction purposes costs more than Rs .35,000 a load in the open market, the sand mined under the project was supplied through 'Kalavara' depots at a fair price of Rs 5,350 to those in the BPL category and at the rate of Rs 13,350 to those in the APL category. "The prices will be fixed only after the environment clearance," the range officer said. The profit from the project will be distributed among vana samrakshana samithis that will be constituted for both mining the sand, and transporting the sand to the outlet in Kulathupuzha.
...