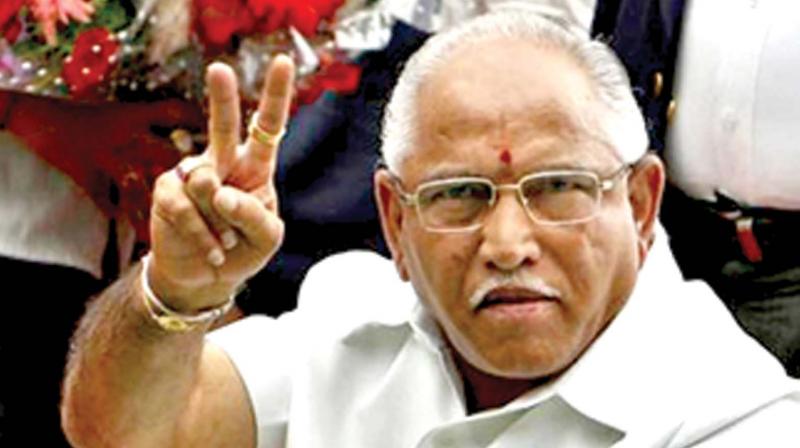 BENGALURU: From the day he took over as new president of the state unit of BJP, former chief minister B.S. Yeddyurappa has been chanting the mantra of aggressive, confrontational politics, and could soon take to the streets to protest against the state government.
During his interaction with office bearers and legislators from various regions, Mr Yeddyurappa not only elicited a feedback on political dynamics of respective regions but also how these leaders should launch agitations against the Congress government.
On Saturday, Mr Yeddyurappa had interacted with BJP corporators and legislators of Bengaluru. He told corporators to be more aggressive: during the next meeting of the corporation council either on April 23 or 26, all BJP corporators should stage a dharna against the failure of the Congress government in resolving the garbage menace and against the hike in property tax. Union minister for chemicals and fertilisers, H N Ananth Kumar who attended the meeting, mooted the idea of a day-night sit-in and it was accepted.
Similarly, Mr Yeddyurappa said nearly 5,000 people should lay siege to BBMP office on May 3 to protest against the same issues. Mr Ananth Kumar said the party should mobilise over 10,000 people for the agitation. Mr Ananth Kumar was backing Mr Yeddyurappa on every decision the leader took, according to sources in the party.
On Sunday, he interacted with office bearers and legislators of Kolar, Chikkaballapur, and Bengaluru (Rural) districts. When they complained that senior district leaders often strike a compromise with H.D. Kumaraswamy of JD (S) or energy minister D.K. Shivakumar, Mr Yeddyurappa made it categorical that adjustment politics would not be allowed.
All leaders should demonstrate sheer loyalty to the party and work for its success. He advised them to fight against the failure of the state government in tackling drought effectively. On Monday, he met office-bearers and leaders of Mysuru, Mandya, Hassan and Chamarajanagar districts.
According to party sources, the leader sought to know problems and issues in these four districts in particularly laxity in providing relief to victims of scarcity conditions, and issued directions on how to address those issues.
...