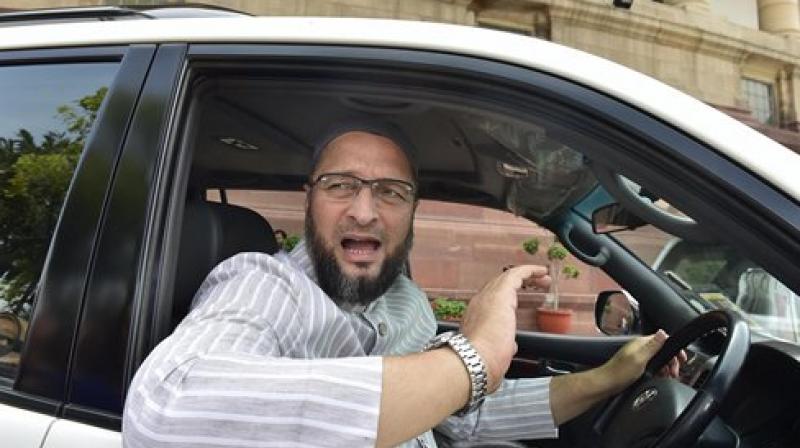 New Delhi: A criminal complaint was filed on Saturday in a Delhi court seeking registration of FIR against AIMIM President Asaduddin Owaisi for alleged offences of sedition and causing enmity between different classes.
The complaint was filed before Chief Metropolitan Magistrate Munish Markan and it would come up for hearing on March 22.
It alleged that on March 13, Owaisi had voluntarily said 'even if somebody puts a knife at me, I will not say Bharat Mata ki jai' and his expression showed "disaffection and includes disloyalty and all feeling of enmity".
The complaint, filed by Swaraj Janata Party's national president Brijesh Chand Shukla, sought a direction to the SHO of Karawal Nagar Police Station to lodge an FIR against Owaisi for the alleged offences under sections 124A (sedition) and 153A (promoting enmity between different groups on grounds of religion, race etc) of the IPC.
The plea, filed through advocate Rajesh Kumar, alleged that the act of Hyderabad MP showed he was not loyal to India and was trying to harm the country's reputation and his statement comes under the definition of sedition charge.
"It is correct that our Constitution does not permit to say 'Bharat Mata Ki Jai' but the Constitution also does not allow to say 'koi meri gardan par churi rakh de tab bhi mai Bharat Mata ki jai nahi bolunga' (even if somebody puts a knife at me, I will not say Bharat Mata ki jai)," it alleged.
The complainant said he had filed a complaint in this regard with the Delhi Police but no action was taken and thereafter, he approached the court.
A Public Interest Litigation (PIL) has also been filed in the Bombay High Court by a Pune-based social activist urging it to take legal action against both Owaisi and AIMIM MLA Warris Pathan for refusing to chant 'Bharat Mata Ki Jai'.
The PIL urged the court to order an inquiry into the speeches made by the duo in the recent past in which they had allegedly showed dishonour to motherland by such remarks.
...