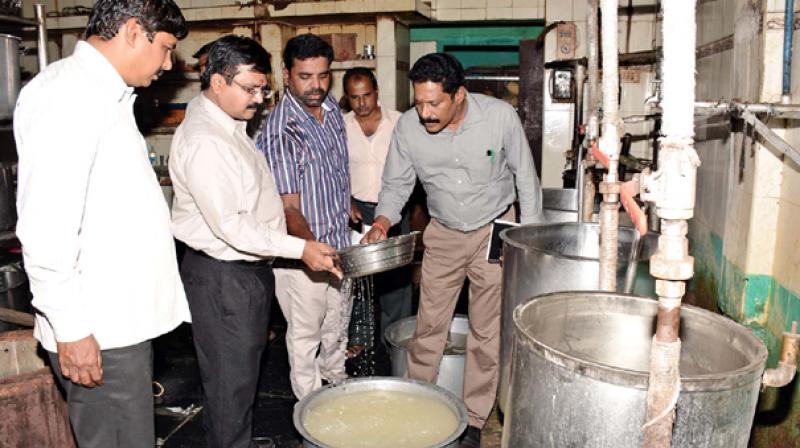 Rajahmundry: The food safety authorities are carrying out a drive on confectioneries following complaints of excessive use of artificial sweeteners like saccharin and colouring in the preparation of sweets as they cause health hazards to consumers.
The authorities maintain that though saccharin is allowed to be used in preparation of sweets to give added flavour, the confectioners should make a label declaration on quantum of its usage in the preparation of sweets. They say that the quantum of sweetener to be used in preparation of sweets and food items vary from item to item.
Following complaints from the consumers, the food safety authorities carried out a drive on several confectioneries in Vijayawada on an experimental basis on February 15 and lifted samples and sent them for analysis to the state food laboratory. The analysis reports are awaited.
Meanwhile, the food safety authorities have directed the food safety officers to carry out a drive in the districts to lift samples of sweets made using artificial sweetener and sent to the lab.
The authorities also asked to find out whether the confectioners are printing a label declaration on usage of sweetener. Based on preliminary findings, the authorities noticed that the confectioners are not doing so.
The authorities are planning to book cases against the confectioners who are flouting the norms under the provisions of Food Safety and Standards Act, 2006.
The food safety authorities also found another major violation of excessive usage of food colours in preparation of various food items including biryani, vegetarian and non-vegetarian dishes by those in the food and catering business.
They say that in order to attract the consumers to  they use ample amounts of various food colours in excess quantity. This practice is also prevalent among shopkeepers who use colour to make dals and lentils attractive to the eye.
East Godavari food assistant controller R. Nageswaraiah said, they would conduct a drive on those who flout the norms and continue the usage as it adversely affects public.
...