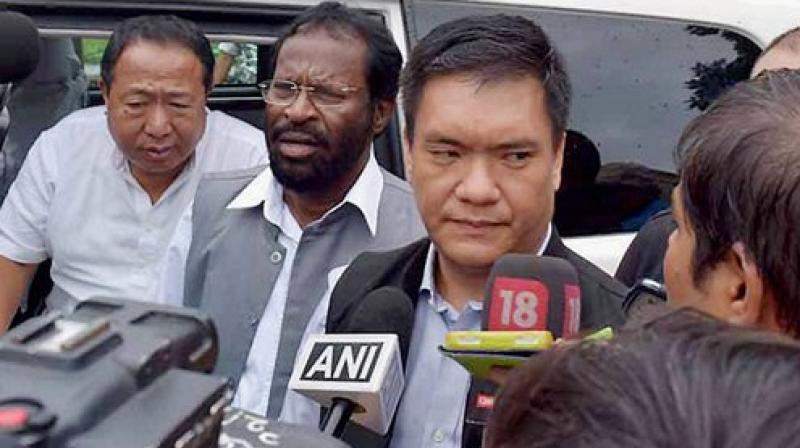 Itanagar: Pema Khandu, who was sworn in as the Chief Minister of Arunachal Pradesh, on Sunday said that his priority would be to complete all important projects started by his father Late Dorjee Khandu, and Nabam Tuki and Kalikho Pul.
Addressing a press conference, Khandu, who was elected the state Congress leader in dramatic circumstances yesterday, said "all projects undertaken by the previous regimes in the last four years will be fast tracked and thrust will be given to tourism, hydropower, agriculture and horticulture, health education and communication."
He said he would inculcate a 'Team Arunachal' spirit among elected leaders irrespective of party affiliations for overall development of the state. All elected leaders of the state would be made a part of the development process cutting across political lines.
Khandu, 37 and the youngest chief minister of the country, who has twice won unopposed from Mukto assembly constituency in Tawang district bordering China, said he would make special effort to stop migration of people from border areas by providing all facilities with the help from the Centre under the Border Area Development Programme (BADP).
"Something needs to be done seriously so that people stop migrating from border areas," he added.
Responding to a question, he said the government would find ways to tap the petroleum resources and harness the hydropower potential which could be a money spinner for the state.
On the 2,000-MW Lower Subanisiri Hydro Electric Project (LSHEP) at Gerukamukh, work for which remained suspended for the last several years following protest from anti-dam activists in neighbouring Assam, Khandu emphatically said he would discuss the issue with the Assam government as well as the Centre for a solution.
...