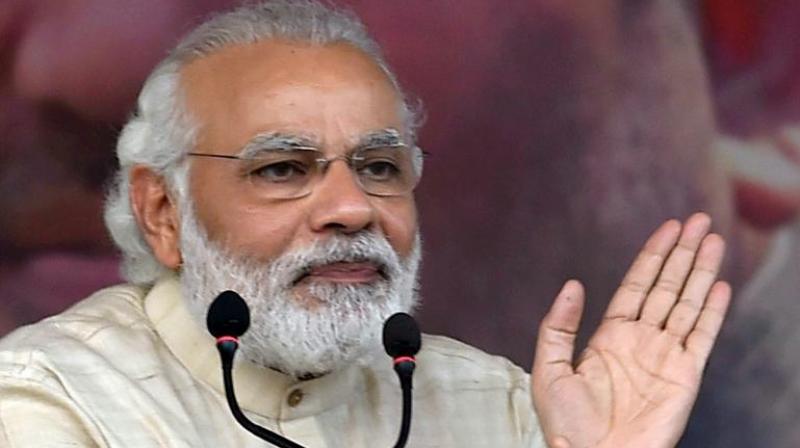 Srinagar: Prime Minister Narendra Modi is visiting Jammu and Kashmir on Tuesday to inaugurate a 230-bed super-speciality hospital and a magnificent sports complex built by Shri Mata Vaishno Devi Shrine Board (SMVDSB) at a cost of ₹ 300 and ₹ 11 crores, respectively.
The facility named as Shri Mata Vaishno Devi Narayana Superspeciality Hospital at Kakryal near Katra, the base-camp to the revered cave-shrine in Trikuta hills near Jammu, will be run by Bengaluru-based Narayana Hrudayalaya Pvt. Ltd., which already operates as many 32 hospitals across the country.
Dr. S. S. Bloeria, member of the SMVDSB and chairman of the governing body of the new hospital and other officials told reporters that the hospital is already providing free of cost OPD services and diagnostic tests.
"These services have been made available to patients from March 15 this year whereas the hospital became fully functional on the 8th of April," he said adding the hospital has more than 20 different streams of medicine and surgery, including cardiolicesogy, cardio-thoracic surgery, neurology, neuro-surgery, nephrology, urology, oncology, pulmonology, bone-marrow transplant, gastroenterology, orthopaedics, trauma-medicine, paediatrics and neonatology, obstetrics and gynaecology.
Dr. Devi Prasad Shetty, chairman of Narayana Hrudayalaya, said that the hospital is equipped with state-of-the-art computerised equipments to provide best possible diagnostic and treatment facilities to the patients. These include Linear Accelerator, Brachy Therapy, Gamma Camera, MRI, CT Scan, Cath Lab, Endoscopy, Bronchotherapy, most modern Dialysis Unit and other related facilities. He added that highly trained superspecialist doctors, nurses and other staff have been positioned at this Hospital to deliver the healthcare services.
The sports complex built at a cost of about ₹ 11 crore has a capacity for more than 10,000 spectators, including 2,600 in a covered pavilion. It has a magnificent ground turfed with premium quality grass with sprinkler irrigation system for organising track and field events as well as team sports like football, handball, cricket, hockey and kabaddi, officials said.
They added that the complex is suitable for track and field events as well as team sports and also has a well equipped gymnasium, a synthetic lawn tennis court, synthetic basketball and volleyball courts and indoor facilities for table tennis and shooting.
Meanwhile, J&K Governor, N.N. Vohra, who is also the chairman of SMVDSB, on Sunday visited Kakryal to review the arrangements for the Prime Minister's visit.
Official sources said that the Prime Minister after his arrival in Jammu will fly to Kakryal in a helicopter and besides formally inaugurating the hospital will dedicate the shrine board's sports complex at Katra to public.
He will also address the 5th Convocation of Shri Mata Vaishno Devi University and, later, address an invited gathering in the sports ground of the SMVDU.
...