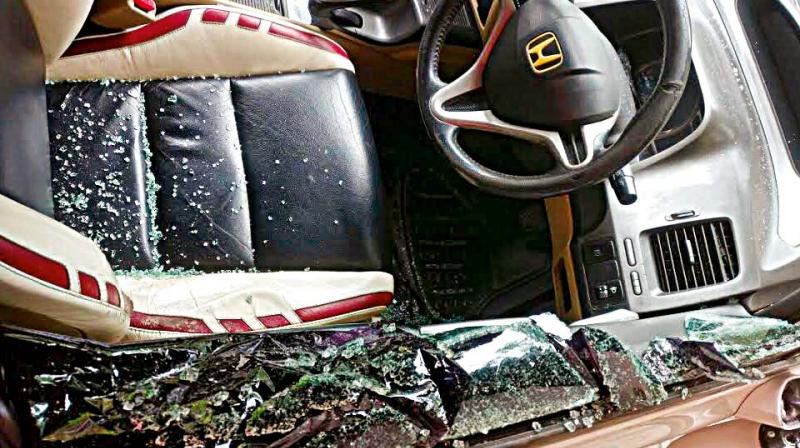 Bengaluru: In what could have resulted in a Dadri-like killing in which a man belonging to the minority community was murdered by cow vigilantes in Uttar Pradesh, Bengaluru rural police saved a Muslim family from getting lynched by activists who gathered at the family's farm house in Begehalli village, Anekal taluk on Wednesday afternoon.
The family wanted to sacrifice two bulls, a day after Bakrid and distribute the meat among the poor. They were besieged by nearly a hundred vigilantes who claimed they were gaurakshaks from a Hindu outfit. "All the drama began after the family sacrificed the two bulls, until then, the so-called gaurakshaks were wandering around the farm house waiting for the sacrifice to happen," said a family member.
Mohammad Nazir Ahmed, 66, a former Bangalore Development Authority (BDA) official and resident of HSR Layout, along with his wife Naida Khanum and three sons arrived at the farmhouse at around 12.30 am. One son- Mohammad Fateh Ahmed, 24, a student in Australia, had flown in to celebrate Bakrid with his family.   
Rural police save Muslim family from getting lynched by cow vigilantes
A Marwadi family residing near the farm house allegedly tipped off the vigilantes about the 'cow-slaughter'. Sensing trouble, Nazir locked his family inside the farmhouse and headed to Bannerghatta police station. "By the time I returned with a police constable, hundreds of people had already trespassed into my property, assaulted my son Fateh and vandalized the car breaking its windshield and window panes," said Nazir.
The mob allegedly warned the family members locked inside that they would burn down the farm house. "By then, the constable alerted his higher-ups who rushed to the spot," said Nazir adding, "I and my family members were whisked away to the station leaving my farm house at the mercy of the vigilantes, who brought a JCB, dug a pit inside the farm house and buried the two bulls that were sacrificed."
"At the police station, a cow-slaughter case was registered though I showed them photographs of the two bulls we sacrificed. I even told the station house officer to exhume the carcasses of the bulls to examine if they were cows," said Nazir adding he was aware of the law.
The family members were made to sit at the police station from 2.30 pm until about 11.00 pm on Wednesday as the vigilantes had gathered outside the station and were waiting for them to come out to take their photograph and hand it over to the media.
Bannerghatta police officials stated that there was large number of vigilantes at the farm house on Wednesday and in the aftermath of the Cauvery row violence, they were short-staffed. "All what we had in mind was to protect the family by bringing them to the police station," said Murali, sub-inspector, Bannerghatta police station. Nazir is now contemplating filing a police complaint against those who assaulted his son.
...