Nation
Rain in Kerala continues to wreak havoc, death toll rises to 45
Deccan Chronicle | DC Correspondent
Published on: June 16, 2018 | Updated on: June 16, 2018
The death toll rose to 45 on Friday with the recovery of the body of a baby girl and a teenaged boy being washed away in flash floods.
Rescue workers and local people engage in rescue works at landslide seen at Kattippara in Kozhikode on Thursday. (Photo: PTI)
Kozhikode: The toll in rain-related incidents in Kerala since the onset of the monsoon rose to 45 on Friday with the recovery of the body of a baby girl and a teenaged boy being washed away in flash floods in the district, officials said.
The body of one-and-a-half-year-old Rifa Mariyam was recovered from under the rubble in a landslide at Kattipara, while Abhinav (17) was swept away in flash floods near his village in Vadakara taluk, they said.
Miriyam's mother has also been reported missing in the landslide.
Also Read: Four, including 3 children, killed as heavy rain causes landslide in Kerala
A total of six more persons from three families are yet to be traced from under the rubble, officials said, adding search operations were continuing to try and rescue them.
Meanwhile, Chief Minister Pinarayi Vijayan directed authorities to disburse compensation to those who suffered losses and whose property was damaged.
He gave the directions to District Collectors through video-conferencing at the Collectorate at Thiruvananthapuram.
Also Read: Four killed in Kerala as rains wreak havoc
State ministers TP Ramakrishnan and AK Saseendran visited affected areas in Kozhikode district and later told reporters that the delayed arrival of the 50 member National Disaster Response Force team was due to flooded roads and had not hampered rescue and relief operations.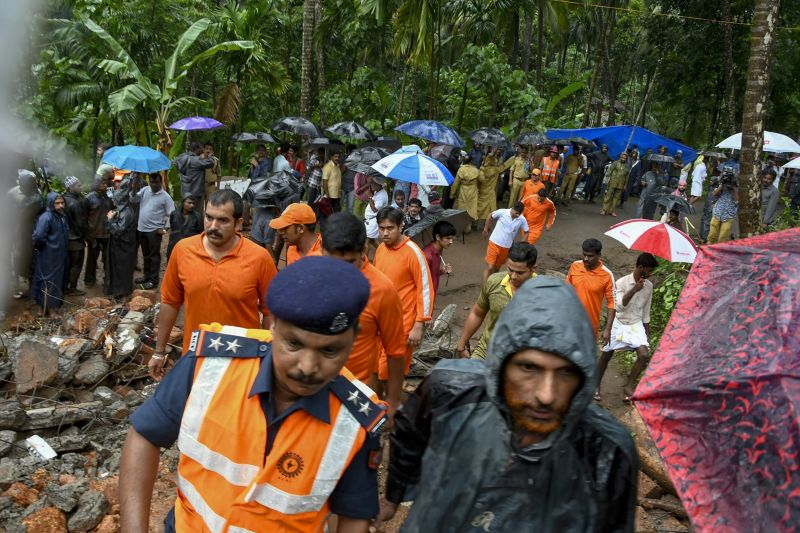 (Photo: PTI)
Fire and Rescue Force and police, along with local people swung into action in search of the missing persons, they said.
The NDRF also intensified search operations in the affected areas after their arrival, the ministers said.
The affected people, housed in relief camps, have been provided with food, medicines and drinking water, they said.
Meanwhile, leader of the opposition in Kerala assembly, Ramesh Chennithala, who visited the affected region on Friday, sought a special package for those hit by landslides in the district.
Also Read: Heavy rains lash Kerala as southwest monsoon sets in
Speaking to reporters later, he demanded action against unauthorised check dams and sought closure of illegal quarries in hilly regions of the district.
He also urged the authorities to set up a NDRF unit in Kozhikode.
On Thursday, the government had issued a red alert in northern districts-Kozhikode, Wayanad, Kannur, Palakkad, Kasargod and Malappuram- in view of heavy rain forecast till June 18.
Several roads, including National Highways, crisscrossing Kozhikode-Wayanad areas, are still under a sheet of water, disrupting vehicular movement.
Latest News
Most Popular
Columns