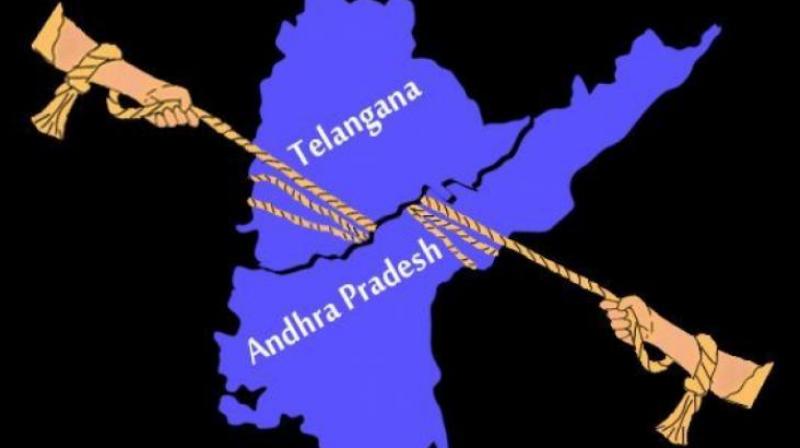 HYDERABAD: A meeting convened by Union water resources ministry secretary U.P. Singh in Delhi on Thursday witnessed heated exchanges between Telangana and Andhra Pradesh government representatives over empowering Krishna and Godavari River Management Boards by bringing all the irrigation projects listed in AP Reorganisation Act under its control and supervision.  It is most likely that the Union water resources ministry will refer the decision to notify powers to the two Boards to a three-member Apex Council comprising Union minister Nitin Gadkari and Chief Ministers K. Chandrasekhar Rao (Telangana) and N. Chandrababu Naidu (Andhra Pradesh). 
Telangana state Chief Secretary S.K. Joshi, who is also the special chief secretary for irrigation department, had presented the arguments stating that without final allocation of water to various projects by Justice Brijesh Kumar Tribunal, the state will not agree for powers to Kishna River Management Board (KRMB).  He also listed out the injustice done to Telangana state in respect of allocation of water and said that the central government failed to address the issues. Joshi said that now only, the Ce-ntre is addressing about giving more powers to the Board in order to benefit AP more. He asked the Union water resources ministry secretary on what happened to the report of the expert committee constituted by it under the chairmanship of A.K. Bajaj. 
The Chief Secretary also raised the issue of backwater submergence of Polavaram Dam in Telangana state and share in the Godavari water being diverted to Krishna basin through Patti-seema Lift scheme. However, Andhra Pradesh water resources ministry secretary Sashi Bhushan Kumar countered the Telangana arg-uments and said that in the name of power generation from Srisailam Dam, Telangana state has been releasing waters to Nagarjunasagar Dam with an intention to reduce the water levels at Srisailam Dam and to prevent water release by Andhra Pradesh government to Rayalaseema projects.
He also accused the Telangana government of not adhering to the decisions of the KRMB from time to time and not releasing water from Nagarjunasagar right main canal as part of AP's water entitlement.  Mr Sashi Bhushan argued that unless the KRMB takes over the control of all the projects listed in the AP Reorganisation Act, AP will not get due justice in water release.  There were heated arguments between Tel-angana engineer-in-chief C. Muralidhar and his AP counterpart M. Venkateswara Rao over the release from Pothireddypadu head regulator. While Telangana argued that AP is illegally diverting 50 TMC of Krishna water through Pothireddypadu from Srisailam Dam, AP officials said that Telangana was diverting the same quantum of water illegally from upstream Jurala project.
...