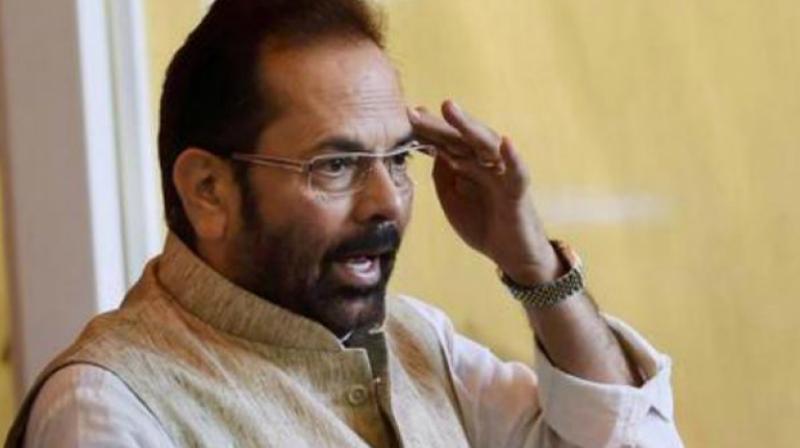 New Delhi: Union Minister of Minority Affairs Mukhtar Abbas Naqvi on Thursday said that a healthy debate should take place between different communities on the Uniform Civil Code (UCC) to reach a decision on this issue.
"Many Islamic nations have carried out reforms; the All India Muslim Personal Law Board (AIMPLB) has put forth its views. Now, we need a healthy debate," Naqvi told ANI.
However, he added that he does not believe in the practice of triple talaq.
Earlier today, the MPLB said they will boycott the Uniform Civil Law as they feel it is not good for the nation.
"We will boycott the questionnaire sent by the Law Commission and we have decided that Muslims of the country will not answer this question as it is not acceptable and not good for the nation," Hazrat Maulana Mohammad Wali Rahmani of the MPLB told a press conference in Delhi.
Rahmani said there are a number of people living in this country belonging from different cultures and added that to bind the culture under one unique code is not acceptable.
The Law Commission earlier last week sought public opinion on the exercise of reforming family laws of all religions.
The commission has reportedly appealed to members of religious, minority and social groups, non-government organisations, to present their views through a questionnaire on a range of issues, including the practice of triple talaq, the right to property for a woman citizen and polygamy.
However, the All India Muslim Personal Law Board (AIMPLB) has been defending the triple talaq system and termed the filing of the affidavit as 'un-islamic.'
They claim that triple talaq is a personal law and the Centre has no right to modify it.
...