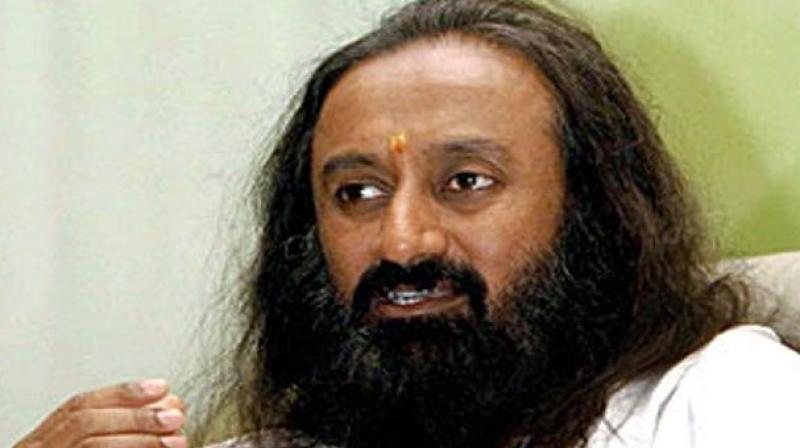 New Delhi/Gurugram: Disagreeing with the report of the National Green Tribunal (NGT) holding Sri Sri Ravi Sankar's Art of Living (AOL) foundation responsible for destroying the Yamuna floodplain during the 'World Culture Festival' in 2016, the foundation on Thursday said there is not enough scientific data in the report, which seems arbitrary.
"We have a fundamental doubt on this report that has been put out. We don't see enough scientific data on this report, which can then justify and then go to the next step to quantify the amount of 'so-called' damage. I have personally gone through that 31-page report, not enough scientific data is available. It still seems very arbitrary," Art of Living spokesperson Jaideep Nath said.
He further said there are some photographs in the report which comprise pre-monsoon and post monsoon.
"An area, in most of North looks very brown in the month of March-April and through the summer months, then the rain blesses the land and everything becomes green. You cannot say after pictures are brown and the previous ones seem very green. That is not right," he added.
He requested the court to evaluate the issue objectively.
"There is no damage. They are talking of soil compaction, but in actual the soil is not compact, the nature of the soil is that it cannot get compacted," Nath said.
"Our legal team is ready along with the environmentalists who work with us. There has been an unfair accusation made that art of living has damaged something," he added.
Meanwhile, environmentalist Vimlendu Jha said the report by the NGT clearly indicts the Art of Living for damaging the flood plains of Yamuna.
"It clearly says that almost 119 hectares of the flood plain have been completely destroyed. It also says that it will take almost Rs. 40 crore and minimum 10 years to restore the flood plains," he said.
"All the vegetations have been destroyed, all the small water bodies on the bank of Yamuna has been destroyed. If someone has damaged the environment, however powerful that organization is, it needs to pay and the responsibility needs to be fixed," he asserted.
The NGT appointed Committee of Experts has said that the rehabilitation of Yamuna floodplains destroyed by AOL's 'World Culture Festival' will cost Rs. 13.29 crores and take almost 10 years.
The green panel had last year allowed the AOL to hold the three-day ' World Culture Festival' on the Yamuna flood plains but following the event the former slapped a fine of Rs. five crore as interim environment compensation on the foundation for damaging biodiversity of the ecologically sensitive floodplains.
The Art of Living had submitted the final installment of its compensation amounting to Rs. 4.75 crore in June 2016.
The foundation had deposited the compensation amount through demand draft to the DDA on June 3, 2016.
...