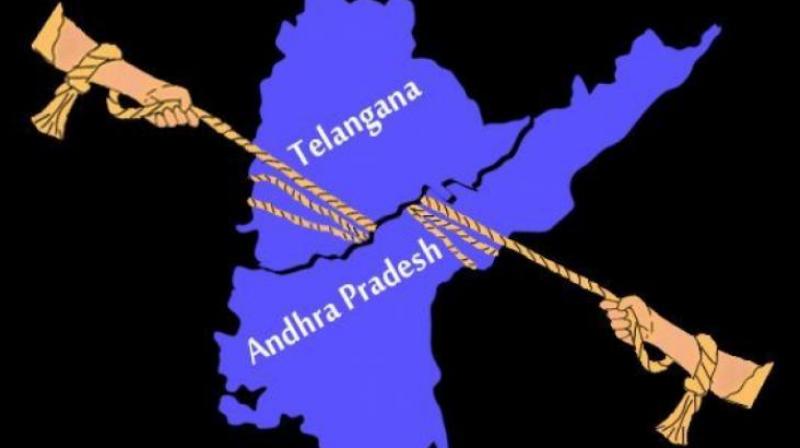 Hyderabad: The meeting of the chief secretaries of TS and AP on Friday achieved little progress on resolving bifurcation-related issues. 
TS Chief Secretary S.K. Joshi and his AP counterpart Dinesh Kumar met after a long gap to discuss issues like transfer of employees, sharing funds and division of AP Bhavan at Delhi. Principal secretaries, state reorganisation, K. Rama Krishna Rao (TS) and L Premchandra Reddy (AP) also attended the meeting.
There is a dispute between the states on electricity charges and employee's salaries among others. The chief secretaries directed the Mr Rao and Mr Reddy to meet frequently with officials concerned to resolve the issues. The chief secretaries decided to direct the committee constituted to complete the division of AP Bhavan to meet at the earliest.
Regarding TS-origin employees in AP, and those from AP working in TS, who want to return to their home state, the chief secretaries decided to tune the orders on mutual transfers if necessary.
Both states decided to seek HC permission to make temporary allotment of deputy superintendents of police (DSPs), additional police superintendents and non-cadre police superintendents. 
Officials said the issue of handing over the AP Assembly and Legislative Council buildings and Secretariat buildings in Hyderabad to Telangana state did not come up for discussion. They said the buildings come under the purview of the Speakers and the government cannot take a decision.
Telangana government response to Centre on state division sought
Congress leader Ponguleti Sudhakar Reddy, who has filed a writ petition in the Supreme Court on implementation of the AP Reorganisation Act provisions by the Centre, has written to TS Chief Secretary S.K. Joshi seeking all communications addressed by state government to the Centre to buttress his case.
In the letter, Mr Sudhakar Reddy, party MLC and deputy leader of the Congress Legislature Party, said the Supreme Court had sought the responses of the Centre and Telangana state and AP governments on his PIL.
While the Centre and AP had sought time, the TS government had not shown interest in the case. He said a junior advocate had appeared "just to watch the case."
He said he had followed media reports that the CM and various ministers had written to the Centre on implementation of various provisions of the AP Reorganisation Act. Two days ago, a report said that Mr Joshi had himself written to the Centre on the Krishna waters issue. 
Mr Reddy said that since the state government was not showing any interest in representing the case strongly in the court, he felt it would be appropriate for him to place the details in the interest of the state.
...