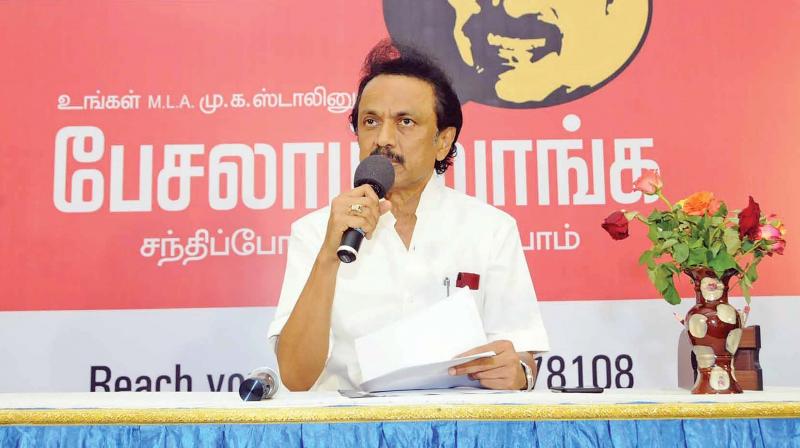 CHENNAI: The DMK along with its allies will conduct a public meeting condemning the cancellation of RK Nagar bypoll and demanding action on the Chief Minister and other ministers who indulged in irregularities during campaign. Party working president M.K. Stalin, TNCC president S. Thirunavukkarasar and leaders of alliance parties would address the meeting to be held on April 12 at Washermenpet in RK Nagar. Top DMK leaders including party's principal secretary K. Duraimurugan, organising secretary R.S. Bharathi and Rajya Sabha MP 'Tiruchy' N.Siva would meet Governor Ch. Vidyasagar Rao in Mumbai demanding action on the Chief Minister and other ministers allegedly involved in money distribution to voters in RK Nagar bypoll campaign. The leaders would meet the Governor and submit a petition containing their demand.
In a letter to cadre in party organ 'Murasoli', Stalin said the byelection had been cancelled at a time when the cadre and functionaries had confirmed the party's win through their hard work and zeal. The party's victory has been postponed, he said and asserted that whenever elections are held for RK Nagar constituency or Tamil Nadu Assembly, the DMK would hoist its victory flag.
Since the support for the DMK is rising in RK Nagar even among former AIADMK voters, one of the AIADMK factions gave cash for votes and another group relied on coffin campaign, he said. Those supporting the AIADMK for a long time in RK Nagar constituency had expressed support to the DMK, he said and added that those who want to protect the Dravidian movement would also come forward his party soon. Criticising the Election Commission for canceling the bypoll at the eleventh hour, he said if one student resorted to irregularities in an examination, he should be sent out and the examination should not be cancelled.
Stalin moving away from Dravidar Kazhagam?
DMK working president M.K. Stalin who celebrated his birthday a month ago at the Dravidar Kazhagam headquarters this year seems to be moving away from the parent body which appears to be soft on AIADMK (Amma) headed by V.K. Sasikala. DK president K. Veeramani had not been invited to the DMK's public meeting on April 12. Along with leaders of political parties, leaders of social movements supporting the DMK like Suba. Veerapandian (Dravida Thamizhar Peravai) and Bishop Ezra Sargunam had been invited to address the meeting.
The two parties described by DMK president M. Karunanidhi as double barrel guns seemed to be pointing at different directions following the DK's support to V.K. Sasikala faction of the AIADMK. The ties between the two parties had not been cemented despite the DK's support to the DMK in the RK Nagar bypoll. After the cancellation of the bypoll, Veeramani issued a strong statement attacking the EC's move while keeping silent on the allegations of cash for votes against AIADMK (Amma) candidate T.T.V. Dinakaran.
...