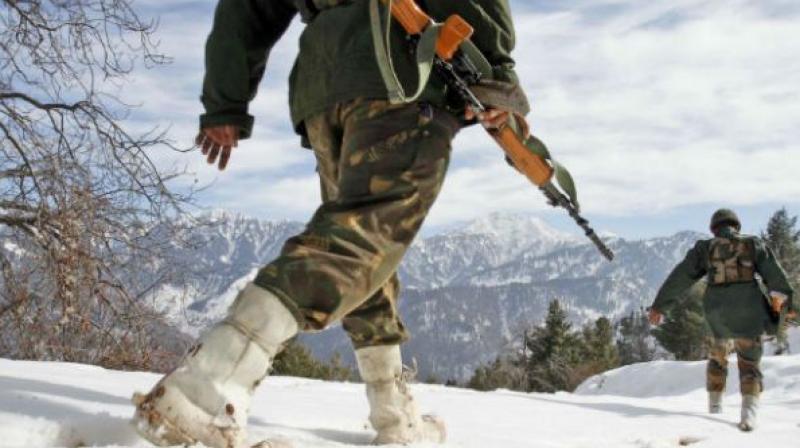 New Delhi: Despite joint tactical exercises with China in Ladakh, Chinese transgressions haven't ended. A report from Leh said Chinese PLA troops, in a fresh transgression in Ladakh, entered 6 km deep inside Indian territory near the Pangong lake area earlier this week.
At least 11 PLA personnel led by a colonel-rank officer entered in four vehicles across India's Thakung border post on March 8, and were "countered and engaged" by an ITBP patrol, after which they retreated.
Chinese PLA troops entered almost 6 km deep inside Indian territory near the scenic Pangong lake area this week leading to a stand-off between security personnel of the two sides.
Chinese troops often transgress into Indian territory as both countries have different perceptions of the line of actual control (LAC) demarcation in J&K and Arunachal sectors which they have never mutually agreed upon. The government says this is the main reasons why transgressions occur as both sides patrol up to their respective perception of the border.
The incident reportedly occurred on March 8 when a platoon of at least 11 PLA men led by a colonel crossed over the LAC at "Finger VIII" Sirjap-I area, close to Pangong lake. The Chinese soldiers entered in four vehicles — two light, one medium and one heavy — from across the Thakung border post of India and reached 5.5 km deep inside Indian territory, sources were cited by news agencies as saying.
Apparently, the Chinese soldiers were soon "countered and engaged" by a patrol of the Indo-Tibetan Border Police(ITBP) and they were locked in "eye-to-eye ball" confrontation for a few hours after which the situation got defused and the other side retreated. The Chinese platoon was reportedly led by a Colonel-rank officer and included two Majors.
According to reports, the Chinese side was well equipped while the ITBP men were also carrying weapons and equipment for a long range patrol of the area.
The situation along the banks of the 90 sq km Pangong lake, two-third of which is under Chinese control, has always remained volatile with Chinese troops being intercepted by Indian Army patrol several times after the three-week long stand-off in the Depsang plains of Daulat Beg Oldie (DBO) in May, 2013.
China has also managed to construct a road up to Finger-IV area, which also falls under Sirijap area and is five-km deep into the LAC, the de-facto border.
Just a few weeks ago, India and China had taken their defence cooperation to a whole new level despite irritants in ties, with the two nations conducting joint tactical exercises in Jammu and Kashmir for the first time. The exercises had been conducted in eastern Ladakh by the border troops of the two armies and were part of efforts to enhance interaction between the border-guarding forces of the two sides. China has illegally occupied the Aksai Chin area of eastern J&K, which comprises huge swathes of land of thousands of kilometres. Chinese troops are also involved in projects in Pakistan-occupied Kashmir (PoK) and China is also building an economic corridor linking itself to Pakistan through PoK despite Indian protests.
India had earlier signed a Border Defence Cooperation Agreement (BDCA) recently with China a few years ago to eliminate the possibility of any sudden military conflagration along the LAC. As per this agreement, the border patrols of the two sides were not to "tail" each other when they come face-to-face while patrolling the LAC.
...