Srinagar: The death toll in the ongoing protests that erupted following the killing of Hizbul Mujahideen commander Burhan Wani has reached 30, with reports of more deaths pouring in from South Kashmir, as communication system was partially restored in Srinagar on Monday. Those killed include 29 civilian protesters and one policeman.
However, the police has only confirmed 23 deaths so far - those of 22 protesters and 1 police driver. The police say no record of the remaining deaths is available to them.
The mayhem triggered by the killing of Burhan Muzaffar Wani, the new age poster-boy of Kashmiri militancy, in a encounter with security forces on Friday also claimed the life of a police driver, Afroz Ahmed, who was on Sunday pushed in River Jhelum at Sangam outside Srinagar by a mob.
Wani, 22, was along with two of his aides killed in an encounter with security forces in Kokernag area of southern Anantnag district. He was carrying a cash reward of Rs 1 million on his head.
Burhan Wani (right), who was killed by security forces in Kashmir on Friday (AP Photo)
Nearly 300 people including over 100 security personnel have been injured in clashes. As anger against security forces is at its height and many police stations and other locations have come under mob attacks, the police and CRPF have abandoned some of their camps at isolated places in south Kashmir. A report from Pulwama said that a security forces' camp being manned jointly by the counterinsurgency Special Operations Group (SOG) of the J&K Police and the CRPF in Litter area of the district was abandoned by them overnight.
800 additional CRPF personnel are being rushed to Kashmir in view of the prevailing situation, said official reports.
Read: Thousands turn up at Hizbul Mujahideen militant Burhan's funeral
Reports received in Srinagar said that two more persons identified as Feroze Ahmed Mir (22) and Khursheed Ahmed Mir (38) were killed in southern Kulgam district. A 13-year-old boy Asif was shot by security forces in Zainapora area of Shopian district on Sunday. He died soon thereafter. A girl Yasmeena who was injured in shooting in Damhal Hanjipora area of neighbouring Kulgam district earlier also succumbed at Srinagar's government-run SMHS hospital.
As the number of casualties received at various hospitals across the Valley has increased manifold, a medical emergency has been declared at these facilities and the authorities have asked the doctors and paramedical staff presently on leave to resume duties immediately. Srinagar's main government-run SMHS hospital had till Sunday evening received over 100 patients and most of them had sustained bullet or pellet injuries or were hit by teargas canisters or stones during clashes.
Principal, Government Medical College, Srinagar, Dr Qasiar Ahmad, who is also head of all associated hospitals confirmed a medical emergency has been declared and routine admissions, theatres and leaves of the doctors have been cancelled.
Read: Amid Kashmir clashes, Omar Abdullah assures Mehbooba Mufti of support
Curfew was extended to more areas in Kashmir from Saturday midnight as protests and violence over the killing of Wani claimed more lives throwing the Valley in a worsening situation.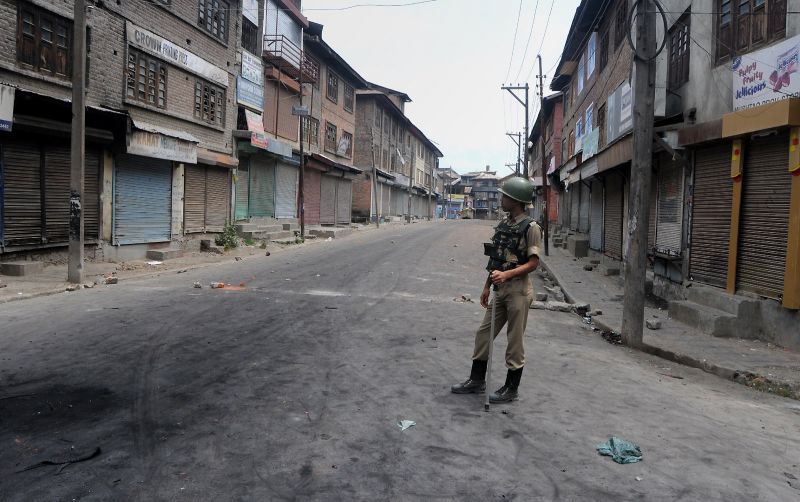 Srinagar and the rest of the Kashmir Valley continues to reel under strict curfew on the third consecutive day on Monday. (Photo: HU Naqash/DC)
Anger is at its height and many people, mainly youth, are venting it out on the streets. This correspondent during a drive through parts of Srinagar in the Sunday afternoon saw streets in otherwise curfew-bound town littered with rocks, bricks, concrete blocks and burning piles of used tyres. The air was filled with the acrid smell of tear gas. The hordes of youngsters were occupying these streets, many among them holding their hands up in defiance and yelling 'azadi, azadi'. Protests and clashes were on in several City areas. In the evening, one protester was killed in security forces' firing at Tengpora, a Srinagar suburb. Almost all other deaths were reported from southern districts of Anantnag, Kulgam, Shopian and Pulwama.
As many as thirty additional companies of central forces which arrived in Srinagar from Delhi in chartered flights on Saturday night were quickly transported to various towns of the Valley to enforce curfew. Major parts of Srinagar with almost entire south Kashmir, which has witnessed worst incidents of violence, is under strict curfew since Saturday morning. Various cities and towns in northern and central Kashmir too were brought under such restrictions or security lockdown is being maintained since Saturday midnight.
Read: Pakistan has no right to comment on India's internal affairs: Congress
The State Cabinet on Sunday held an emergency meeting in Srinagar with Chief Minister Mehbooba Mufti chairing it. Director General of Police, K Rajendra Kumar, briefed the meeting on the ground situation. He was away on a private visit to home town Hyderabad but rushed back to Srinagar to oversee the law and order situation following a phone call from the Chief Minister.
Kashmir's divisional commissioner, Asgar Hussain Samoon, said that curfew has been clamped in the entire Kashmir Valley which has a population of over five million, to maintain law and order. Thousands of J&K policemen and CRPF personnel in riot gear are patrolling the deserted streets of Srinagar to enforce curfew.
A police spokesman said incidents of arson and attacks on security forces personnel and their camps and vehicles have continued. He also said that on Sunday a police vehicle and some seized vehicles were set on fire during an attack on a police post at Lasipora in Pulwama. Unruly mobs set a GRP guardroom and an RPF barrack to fire at Bijbehara Railway Station, a police post at Damhal Khushipora (Kulgam) and a single-storeyed structure at Soibugh (Budgam) which had earlier housed a police post was also torched. The spokesman confirmed that a bullet-proof police vehicle was attacked by a mob at Sangam along the Srinagar-Jammu highway and subsequently rolled it down into the Jhelum, drowning its constable driver Afroz Ahmed. A Fire Services vehicle also came under mob attack at nearby Bijbehara, he said adding that the vehicle was on way to Bijbehara from Sangam after the authorities received a phone call which later proved to be a hoax.
A statement issued by J&K police in Srinagar on Sunday evening alleged, "It has been seen that in the garb of law and order situations militants are firing and lobbing grenades on police and CRPF personnel". It added that militants tossed two grenades on CRPF deployed on law and order duties in Murran Chowk (Pulwama) resulting in injuries to a few jawans. In Shopian the vehicle of local Superintendent of Police was fired upon and a grenade was also lobbed at the scene, the statement said adding that a police post at Uttressu in south Kashmir was also targeted with rifle fire by militants.
Almost all separatist leaders have been taken into preventive custody or placed under house arrest. In a joint decision announced on Saturday, they extended the strike call initially issued to mourn and protest the killing of Wani along with his two associates during an encounter with security forces in Kokernag area of southern Anantnag district on July 8 for two more days (Sunday and Monday) in view of the killing of protesters in security forces' firings.
A government-run hospital in Lolab area of frontier Kupwara district and a nearby pharmacy were alleged ransacked and their staff roughed up by security forces on Saturday night as they were "angry" over those sustaining injuries during protests being treated there, a report from Kupwara said.
Dr. Aadil Ashraf, president of the Resident Doctors' Association at Srinagar's SMHS hospital and associated hospitals, has expressed serious concern over alleged harassment of hospital staff by security forces which, he alleged, resorted to teargas shelling even inside the SMHS Emergency. He said that four COPD (lung disease) patients were being managed in the Emergency and the tear gas shelling caused severe suffocation in them. While lodging a strong protest, he said various City hospitals are witnessing an unprecedented rush of injuries and emergency operation and ophthalmology and ENT theatres are working round-the-clock to their full capacity despite being caught in hostile situation.
He also said that though the resident doctors and other staff have been working tirelessly without any break in the emergency section, there is dearth of manpower. "We received calls from many doctors that even ambulances are not being allowed by security forces which has only added to the problem," he said.
Read: Amarnath Yatra remains suspended for third day, pilgrims stranded
Meanwhile, former Chief Minister and working president of opposition National Conference (NC), Omar Abdullah, while responding to the government's appeal to help it in the effort to restore normalcy in the Valley tweeted, "The @JKNC_ will never be an irresponsible party & opposing you will never mean setting the state on fire for narrow political ends." He, however, asked the present incumbent Mehbooba Mufti to lead from the front. He wrote on micro-blogging site Twitter.com "Please don't take the easy option of hiding behind your spokesperson & your police officers. No one elected them, the people elected you...This is the time to lead from the front. You must accept the responsibility both for letting things get to this point as for the recovery".
The Amarnath Yatra from Jammu remains suspended. As the 94-km Jammu-Srinagar highway, the vital road link connecting the Kashmir Valley with rest of the country, is shut since Saturday night, no pilgrim has been allowed to move from the winter capital towards the Valley to relocate to the 12,729-foot-high cave-shrine tucked away in Pahalgam hills in south Kashmir. However, with 8,611 devotees who were already in the Valley paying obeisance at the cave-shrine on Sunday, as many as 127,358 pilgrims have already been to Amarnath, so far, this year. The 48-day yatra commenced on July 2.
The Amarnath Yatra remains suspended for the third day. (Photo: AP)
Jammu and Kashmir government has confirmed that the convoys of fresh pilgrims camping in winter capital Jammu "did not proceed towards the base-camps of Pahalgam and Baltal because of law and order considerations".
An official spokesman here said that PK Tripathi, CEO of the Shri Amarnathji Shrine Board (SASB), has been in constant touch with the J&K police authorities and is issuing the requisite instructions to the Yatra Camp Directors from time to time "to ensure that the maximum possible number of pilgrims is enabled to complete their pilgrimage".
However, this correspondent found a large group of pilgrims stranded at Srinagar's Nigeen Club. They said they were provided food by the club staff and a Kashmiri family which was hosting a wedding reception in the premises. "Since this family was serving wazwan (Kashmiri cuisine) to its guests and most dishes were meat-based using lamb or chicken we being vegetarian could not take them," said a pilgrim. He added that the host Altaf Ahmed Butt served them rice, pulao, yoghurt and beverages and "we gratefully accepted his hospitality." The pilgrims complained that except some junior officials of the tourism department no one from the government or police has come to them and their repeated requests for their relocation have not been heeded to, so far.
A statement from the J&K government said that the State Cabinet which met in Srinagar on Sunday reviewed the overall security situation, including issues relating to the safety of tourists and pilgrims. Governor NN Vohra who is the chairman of the SASB is holding a meeting with the State Chief Secretary, DGP and Home Secretary later Monday to review the various issues relating to the yatra.
The authorities have also suspended the Internet services on mobile phones and through dongles "as a precautionary measure". Internet services are, however, functioning on fixed broadband lines. Train services between Baramulla in northwest Kashmir and Banihal town across the Pirpanjal mountain ridge in Jammu division were suspended too whereas Jammu and Kashmir Board of School Education (JKBOSE), Kashmir University and Central University, Kashmir postponed all examinations scheduled for Saturday to Monday.
Meanwhile, dozens of wedding ceremonies which had been planned during this weekend and early next week have been cancelled or deferred in view of the volatile situation and curfews being enforced in the Valley. Srinagar newspapers were on Sunday and Monday full of paid classified ads from the hosts announcing the annulment of invitation cards issued for customary wazwan feasts to mark these weddings. Most of them, however, also announced that nikah ceremonies would be held with 'sadagi' or simplicity. Post-Ramadan begins wedding season in Kashmir Valley.
Following Sunday's Cabinet meeting, the Jammu and Kashmir government made a passionate appeal to Hurriyat Conference and other separatists and mainstream opposition parties to supplement its efforts aimed at bringing about peace and restoring normalcy in the State.
Minister for education and chief spokesman of the PDP-BJP government, Naeem Akhter, while briefing reporters on the deliberations of the meeting said, "The Cabinet appealed to all political forces who have expressed concern for people's lives be it National Conference, Congress, CPI(M) or other components of the mainstream or those people who are not in the mainstream...those who are really concerned as much we are concerned which includes leaders from the Hurriyat....We appeal to them that if they want peace in the State and steps taken by government for saving lives of people succeed, we need their support also.
The Cabinet expressed deep grief and anguish over the loss of precious human lives during the prevailing law and order situation in Kashmir Valley and called upon various shades of political opinion, who have expressed concern for people's lives, to help restore calm, he said. "The Cabinet expressed grief and anguish over the loss of precious human lives and made a fervent appeal to all shades of political opinion, including the mainstream and the separatists, to help restore calm as the violence has neither served any purpose in the past nor is it going to do so in the prevailing circumstances," he reiterated.
Over 300 people including over 100 security force personnel have been injured in the violence.
Akhtar said the Cabinet also urged the civil society and the parents to counsel the youth against indulging in violent protests and targeting public and private properties and police and security forces installations. "The parents of young children also have a responsibility to keep an eye on their wards," he said adding; "If you see the footages, you see small kids who do not know why but are still having stones in their hands," he said.
He said the Cabinet also asked the police and the security forces to exercise restraint to prevent loss of human lives as any fatal retaliatory action only leads to a vicious cycle of death and destruction. He said the complaints of disproportionate use of force are being looked into to restore public confidence in the law and order setup. He said while the loss of property can be compensated, the loss of lives cannot be compensated.
Replying to questions, Akhtar said the government is seized of its responsibilities. He said it was resolved in the Cabinet that all steps will be taken for ensuring safety of life and property of the people. He cautioned the people, especially the youth, against what he alleged are the machinations of the forces who want to add fuel to the fire for their vested political interests.
He said there were a number of attacks on police stations and security forces' camps which forced the law enforcement agencies to retaliate. "Even today when I'm talking to you, a cop was pushed into river Jhelum near Sangam along with his vehicle by a violent mob resulting in his on the spot death," he said and added that the mobs set ablaze a number of police stations and police vehicles and tried to overrun security forces camps at various places. "I urge the youth not take protests to a level where the forces are forced to use their weapons in retaliation," he said. He said if any of the injured requires to be taken out of the state for treatment, the state government will bear the expenses.
Akhtar said the Cabinet was also apprised about the adequate supply of drugs and other requirements in the hospitals and it was also decided that any injured person, requiring treatment outside the State, shall be provided such facility by the Government.
The Cabinet, he said, also desired to request different airlines to provide additional flights for taking out the stranded tourists. The Cabinet also said efforts are being made to resume the Amarnath Yatra so that the people can undertake the pilgrimage to the cave-shrine in Pahalgam hills smoothly.
Asked if the Mehbooba Mufti government will quit as her party PDP while in opposition had made a similar demand when Omar Abdullah was the Chief Minister during the 2010 summer unrest in the Valley that left 120 persons dead, he left the press conference venue.
...