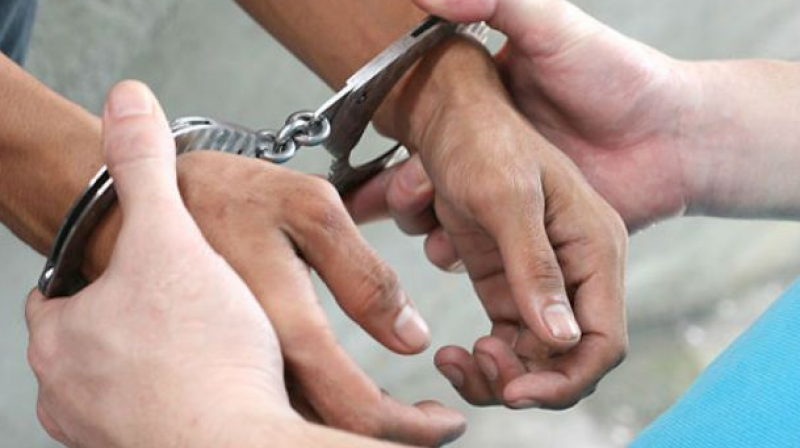 Chennai: The city police arrested two persons on Saturday and launched a hunt for another after they allegedly attacked and robbed a policeman attached to the intelligence wing of the Greater Chennai Police. The policeman was trying to thwart a robbery attempt by the trio when the events unfolded. The arrested persons were identified as Venkatesan (30) and Chandran (27) of Savari street in Alandur.
The incident took place when Rajasekar (37) of Maduvankarai, a constable attached to intelligence wing (IS) of city police and posted in St. Thomas Mount police station, was returning home at around 11 pm on Friday. "When he was near Gandhi Market on
MKM Road, he heard screams of two persons from a dark and secluded spot on the road and stopped his two-wheeler to check. He found three men beating two youngsters, who were probably north Indians, and tried to rob them. He stepped up to help them," a police source said.
On seeing Rajasekar approaching them, the robbers threatened him and asked him to leave the place. But Rajasekar did not relent and asked them to free the two persons they were beating.
"Although, Rajasekar said that he is a policeman, they attacked him. They also dragged him to a nearby auto stand and beat him some more. The trio also robbed his 3-sovereign gold chain before fleeing the spot," the source said. The two victims ran away once the trio started attacking Rajasekar.Rajasekar called St. Thomas Mount police station and passed on information about the incident.
The police rushed to the spot and took him to Chromepet government hospital for treatment. Then he was shifted to a nearby private hospital. Based on Rajasekar's complaint, the police registered a case and launched a manhunt.
The police were able to trace the trio based on the details given by Rajasekar and arrested Venkatesan and Chandran. The police also have launched a hunt for Naveen (27) who is still at large. "The accused persons are unemployed youth and would extort money from local shops and indulge in robberies," the police said.
...