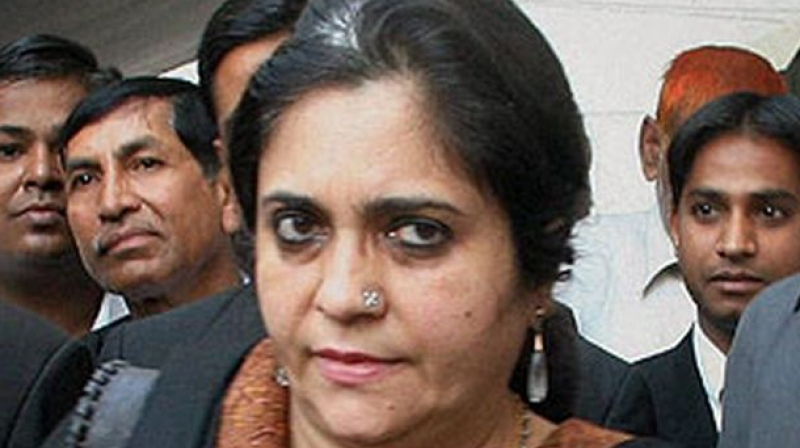 New Delhi: The Supreme Court on Wednesday extended the interim bail of social activists Teesta Setalvad and her husband till April 29 in two criminal cases of alleged embezzlement of funds lodged by Gujarat Police and CBI.
A bench comprising justices A R Dave, FMI Kalifulla and V Gopala Gowda also referred the matters to Chief Justice of India TS Thakur for constituting another bench to hear them.
It said the Chief Justice will set up a regular bench for hearing them as the present combination of judges are not sitting together on a day-to-day basis.
The bench declined the plea of senior advocate Kapil Sibal, who was appearing for Teesta and her husband Javed Anand, that instead of any particular duration the interim bail be extended till further order.
"No we cannot do that," the bench said making it clear that it was extending interim bail for about a month and half. The interim bail of the couple is expiring on March 18.
The apex court on January 28 had asked them to cooperate in the probe by Gujarat Police and CBI after they alleged the duo were not cooperating with the investigation and not supplying relevant documents relating to how the funds were spent.
While Gujarat Police is probing the alleged embezzlement of funds for a museum at Ahmedabad's Gulbarg Society that was devastated in the 2002 riots, CBI is investigating the purported violations of the Foreign Contribution Regulation Act (FCRA) in connection with the utilisation of funds received from Ford Foundation by Sabrang Communications and Publishing Pvt Ltd, run by the couple.
During the last hearing, Sibal had refuted the allegation of Solicitor General Ranjit Kumar and senior advocate Mahesh Jethmalani on behalf of CBI and the state police respectively.
He had said the allegation of non-cooperation was being made against Teesta and her husband as the probe was not suiting the investigators.
The court had directed Teesta and Javed that if they have not supplied the relevant documents relating to the embezzlement case to Gujarat Police in accordance with the list provided to them by investigators, they would "furnish those documents as soon as possible and preferably within two weeks".
In the FCRA case, the bench had asked the couple to file an affidavit within two weeks explaining their stand on the issue of utilisation of funds procured by Sabrang.
...