Nation
Modi withdraws Rs 500, Rs 1000 notes to fight black money; Rs 2k notes soon
Deccan Chronicle | DC Correspondent
Published on: November 8, 2016 | Updated on: November 9, 2016
Move aimed to flush out black money hoarders, counterfeit notes; govt withdraws Rs 500 and Rs 1000 notes from midnight.
Prime Minister Narendra Modi. (Photo: PTI)
New Delhi: In an extraordinary step to tackle the scourge of black money in the country, Prime Minister Narendra Modi on Tuesday said Rs 500 and Rs 1000 notes will no longer be legal from midnight today.
In his first televised address to the nation, Modi said people holding notes of Rs 500 and Rs 1000 can deposit the same in their bank and post office accounts from November 10 till December 30. He explained that the currency notes will be just paper with no value.
Read: 6 things you need to do after govt's withdrawal of Rs 500 and Rs 1000 notes
"Notes of Rs 2000 and Rs 500 will be circulated soon, RBI has decided to limit the notes with higher value," he added, saying some ATMs in the country may not function on November 9 and 10.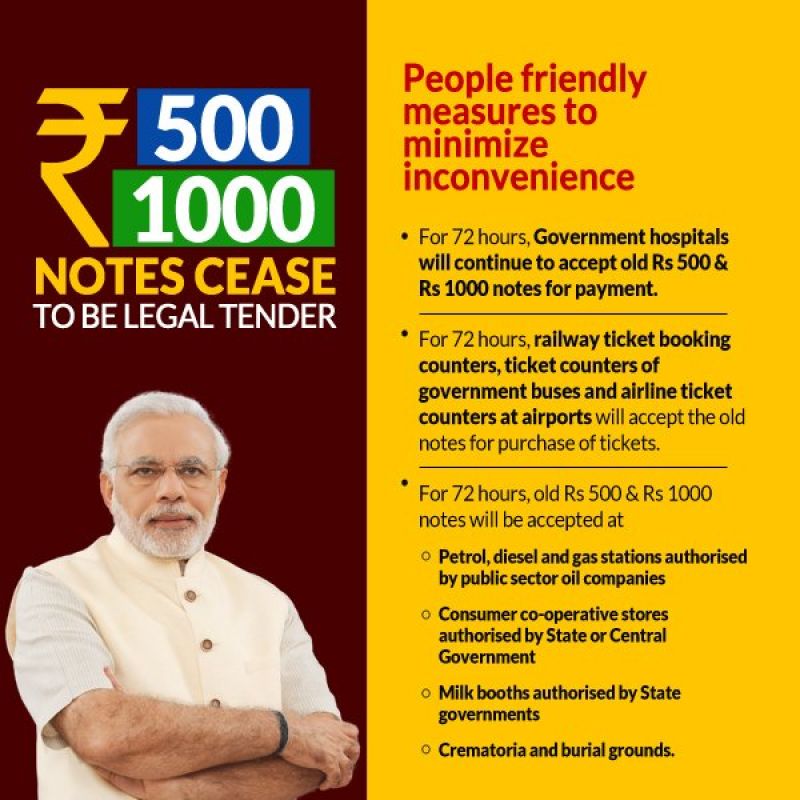 (Photo: Twitter/Prime Minister's Office)
He assured the nation that the notes of Rs 100, 50, 10 and coins of all denominations will remain legal tender and will not be affected and that "this step will strengthen the hands of the common man in the fight against black money."
The government also listed some exceptions to help minimise inconvenience to the common man, like hospitals will continue to accept the big currencies for the next 72 hours. Rs 500 and Rs 1000 notes will also be valid for transactions related to booking of air tickets, railway bookings, government bus ticket counters till the midnight of November 11 and 12.
Read: Rs 500, Rs 1000 notes withdrawal: Modi announces certain exemptions for 72 hours
ATM withdrawals will be restricted to Rs 2000 per day and withdrawals from bank accounts will be limited to Rs 10,000 a day and Rs 20,000 a week.
Banks will remain closed tomorrow and ATMs will also not function tomorrow and day after, Modi said. He expressed confidence that the staff of banks and post offices will rise to the occasion to introduce the new order within the available time.
He also expressed confidence that political parties, workers, social organisations and the media will go further than the government in making it a success.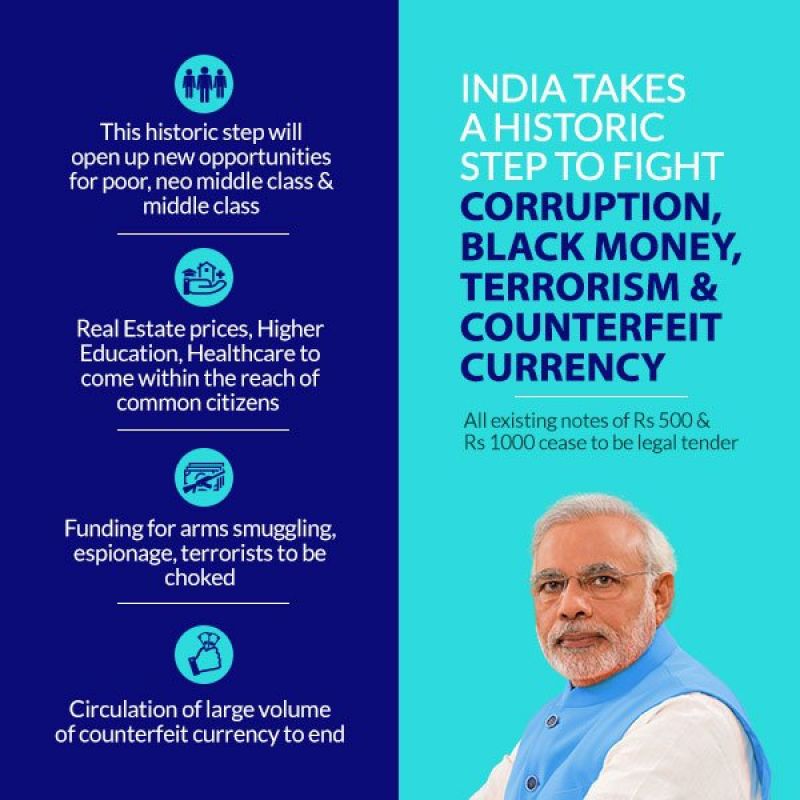 Besides depositing money in bank accounts, the Rs 500 and Rs 1000 notes can also be exchanged with lower denomination currency notes at designated banks and post offices on production of valid government identity cards like PAN, Aadhaar and Election Card from November 10 to November 24 with a daily limit of Rs 4000.
Those unable to deposit Rs 1000 and Rs 500 notes till December 30 this year can do so in designated RBI offices till March 31 next year after filling a declaration form along with proof and reasons, the Prime Minister said.
"Banks will be closed tomorrow. It will cause some hardship to you....Let us ignore these hardships... In country's history, there comes a moment when people will want to participate in the nation building and reconstruction. Very few such moments come in life," Modi said.
Modi's announcement comes just days after some leaders suggested that currency notes of Rs 1000 and Rs 500 denominations should be abolished to curb black money in the country.
Latest News
Most Popular
Columns