Nation
Government schools in Telangana and AP are not inclusive towards children
Deccan Chronicle | DC Correspondent
Published on: November 7, 2016 | Updated on: November 8, 2016
Fewer schools have special educators; Teachers say workshops not enough.
More than one-third of disabled students are not enrolled in educational institutions in AP and TS, according to Census 2011 data that was made available recently. (Representational image)
Hyderabad: Government schools in TS and AP are not inclusive towards children with special needs.
A majority of children with special needs who have enrolled in educational institutions in Telangana and Andhra Pradesh, study in government schools but the governments of TS and AP have not bothered to recruit special educators.
This is in spite of the fact that close to 1.53 lakh such students study in government schools in both states as per the Unified District Information on Education System 2015-16.
In both states just around 1500 special educators are employed on contract basis and that too not in government schools but in Bavitha centers where they help disabled children who take admission late in life to get accustomed to mainstream schooling.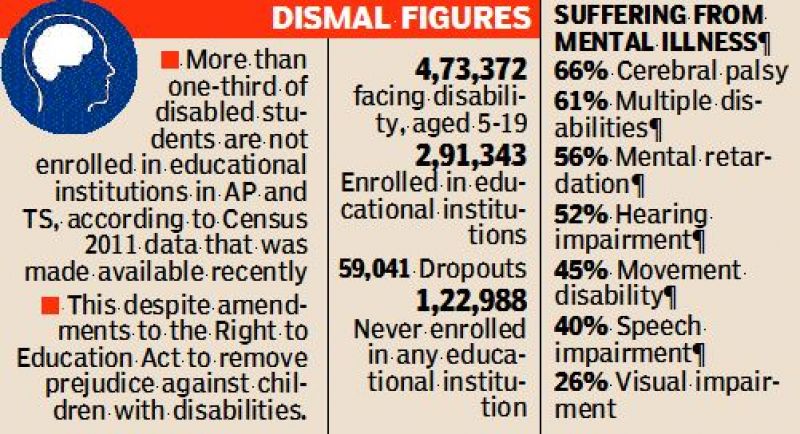 Dismal figures.
Inclusive Education for Disabled at Secondary Stage is a Centrally-sponsored scheme that makes it mandatory for special educators to be employed for Classes IX-XII. A GO was released in 2012 in this regard sanctioning 1,476 posts under IEDSS – of which 816 are now in TS and 860 in AP – but none of the governments have taken up the recruitment yet.
The TS government had even received Rs 109.8 crore last year under IEDSS.
When contacted, Mr G Kishan, director of school education, Telangana state, said, "Teachers in government schools are regularly trained on teaching methods that need to be implemented for teaching children with special needs, so no need arises of hiring special educators."
Mr Kalpagiri Sreenu, a special educator in Uppal and head of Association of Special Educators and Allied Professionals refuted the claims. He said. "Special educators undergo certification and specialised training from reputed institutes in pedagogical techniques and are licensed by the Rehabilitation Council of India. How can normal teachers be told take up the work of special education after undergoing a few days' workshop? The point of having special educators is to ensure inclusiveness, a concept which the government fails to understand."
Latest News
Most Popular
Columns