Nation
Mission Bhagiratha viability worries officials
Deccan Chronicle| SNCN Acharyulu
Published on: September 5, 2017 | Updated on: September 5, 2017
State borrows Rs 36,000 crore for water grid, confident ULBs will help repayment.
Prime Minister Narendra Modi turns on the tap at the launch of Phase-1 of Mission Bhagiratha to supply drinking water to villages in Gajwel. (Photo: File)
Hyderabad: Officials are worried about the repayment of loans for the largest drinking water project in the state, Mission Bhagiratha. The total estimated cost of the project is Rs 43,791 crore.
In a period of nine months, the government has taken loans to the tune of Rs 36,000 crore from 16 commercial banks, in addition to Hudco and Nabard.
After commencement of the project, the government will have to shell out about Rs 400 crore per month as repayment of the loans and interest.
The officials, however, doubt this can be done given the poor collection of taxes in urban local bodies — including the GHMC — which will be the principal source of revenue to repay the loan.
To aim of the project is to provide safe, adequate, sustainable and treated surface drinking water by drawing it from the rivers Krishna and Godavari and major reservoirs.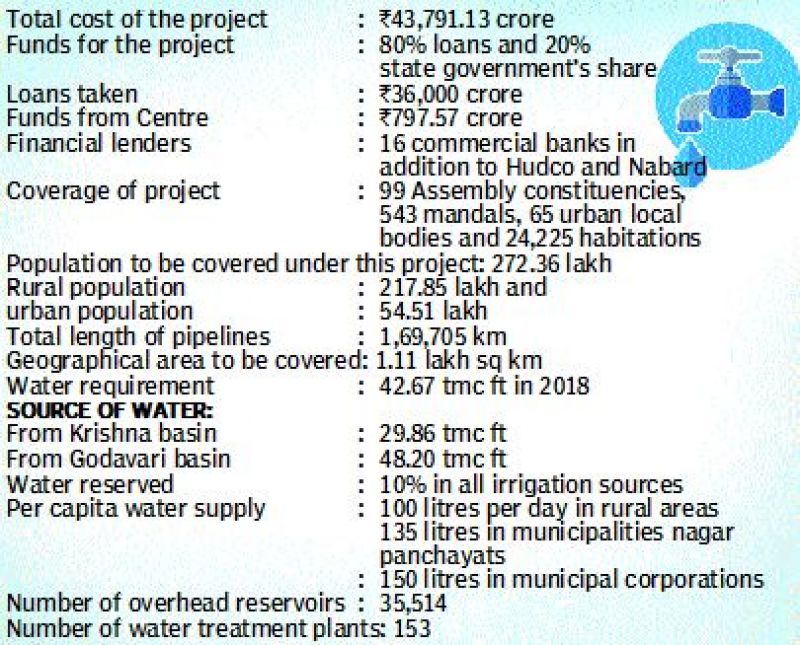 The Central government, under the National water quality submission programme, sanctioned Rs 1595.14 crore, of which its share is Rs 797.57 crore and the state government's share is Rs 797.57 crore.
By the time the project is completed, the total loan amount will likely be about Rs 40,000 crore. Loan repayment starts after the project is completed.
The officials have estimated that the state government has to pay around `4,800 crore per year towards interest and principal amount. That means the state government has to pay `400 crore per month.
The state government expects to get the revenue from supply of water to urban local bodies, gram panchayats and industries. However, officials have expressed doubts about whether the Rs 400 crore per month can be met through these water charges.
They have estimated that Rs 1,000 crore will be required per year for the operation of this project. At present, the urban local bodies are not able to collect 100 per cent taxes and the arrears run into thousands of crores of rupees in urban local bodies.
Given this experience, officials say it may just not be possible to generate adequate revenue from this source and the government will have to pay from its own resources.
A senior IAS officer said that in the long run the project will become a burden on the state exchequer.
Some 235 MW of power is required to run the project. The government is planning to generate solar power at headwork sites to ensure that the power requirement is met.
Latest News
Most Popular
Columns