New Delhi: Prime Minister Narendra Modi expanded his Cabinet Tuesday, bringing in 17 new faces and two old hands -- Vijay Goel and Faggan Kulaste -- while elevating Prakash Javdekar to the rank of a Cabinet minister.
Modi said this would strengthen his Cabinet's ability to deliver on promises made in this year's budget. The Cabinet is now 80-member strong, up from 45 when Modi came to power two years ago.
Read: No idea why I was dropped from Union ministry: Mansukhbhai Vasava
The oath-taking ceremony in the Durbar Hall of Rashtrapati Bhavan on Tuesday morning began with Union Minister of State for Environment, Forest and Climate Change Prakash Javdekar who was elevated to Cabinet rank. The new Ministers of State were sworn in after him.
Read: New ministers will do their best for country: Amit Shah
It is learnt the portfolios would be announced shortly. Five ministers have already resigned to pave way for the new faces. They are Nihalchand, Ram Shankar Katheria, Sanwar Lal Jat, Manuskhbhai D Vasva and M K Kundariya.
The second expansion by Prime Minister Narendra Modi in little more than two years since he took over in May 2014 saw several Dalit and OBC leaders given ministerial positions. Political analysts say this was done with an eye on the Assembly elections in Uttar Pradesh and Uttarakhand next year and Gujarat later.
Read: It's a one-man govt, reshuffle won't make any difference: Congress
They team of 19 are:
Faggan Singh Kulaste: He was Lok Sabha member from Mandala in Madhya Pradesh from 1996 to 2009. After a defeat in 2009, he was elected to the Rajya Sabha. He has served as a minister of state in the Atal Behari Vajpayee government.
Faggan Singh Kulaste takes oath.
S S Ahluwalia: Presently BJP's Lok Sabha member from Darjeeling, West Bengal, Ahluwalia was former minister of state under Congress Prime Minister P V Narasimha Rao. He was also Deputy Leader of the Opposition in Rajya Sabha from 2012 to 2012.
S S Ahluwalia is also BJP's national vice-president.
Ramesh Chandappa: This BJP leader represents the party in Bijapur, Karnataka. A member of Lok Sabha since 1998, Chandappa has been associated with several parties before such as the Janata Dal, Janata Dal United and Lok Shakti before joining the BJP.
BJP leader Ramesh Chandappa Jigajinagi.
Vijay Goel: A BJP member from Rajasthan, Goel was a former minister of state under Atal Behari Vajpayee.
Former BJP Delhi chief Vijay Goel.
Read: Absent Sushma Swaraj advises media: Avoid headline I skipped oath ceremony
Ramdas Athawale: A member of Rajya Sabha, Athawale is a Dalit leader belonging to BJP ally Republican Party of India. He was previously a partner of the Congress and the NCP and elected to Lok Sabha in 1998, 1999 and 2004.
Dalit leader Shri Ramdas Athawale.
Rajen Gohain: BJP's Lok Sabha member from Assam's Nowgong. He is likely to be inducted after Sarbananda Sonowal was elected Assam Chief Minister.
BJP leader Rajen Gohain.
Anil Madha Dave: An environmentalist, he is BJP's Rajya Sabha member from Madhya Pradesh. This campaigner for the cleaning of the Narmada river was first elected to Rajya Sabha in 2009.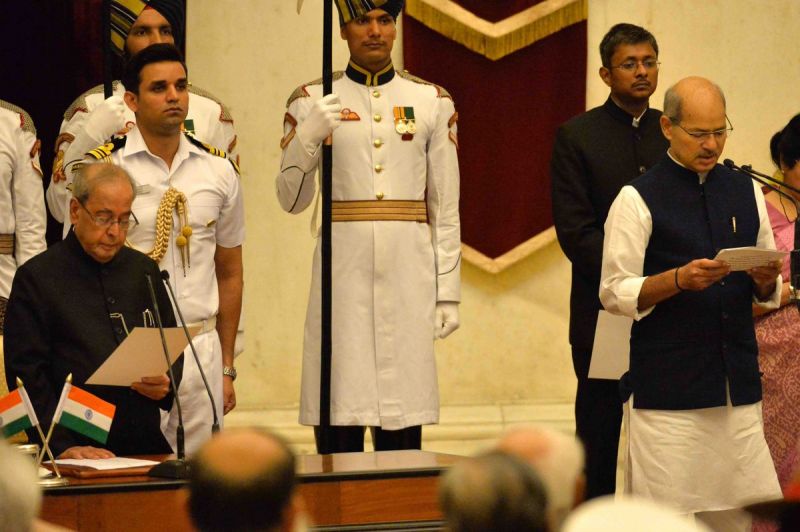 Anil Madhav Dave is a Rajya Sabha MP from Madhya Pradesh.
Parshottam Rupala: A BJP vice-president, Rupala is a strong Patel leader. He has worked with Narendra Modi before as a Cabinet minister in Gujarat.
Senior BJP leader Parshottam Rupala.
M J Akbar: Journalist and former newspaper editor Akbar is a Rajya Sabha member of the BJP. He began his political career with the Congress, elected to the Lok Sabha from Bihar's Kishanganj in 1989.
Journalist turned politician M J Akbar.
Arjun Ram Meghwal: A former bureaucrat, he is a member of Lok Sabha from Rajasthan's Bikaner. The first MP to use a cycle to work, Meghwal is the party's chief whip in the Lok Sabha. He was also awarded the Best Parliamentarian in 2013.
Arjun Ram Meghwal is a Lok Sabha MP from Rajasthan.
Jaswantsinh Bhabhor: A farmer and social worker, Bhabhor is BJP Lok Sabha member from Gujarat's Dahod.
Jaswantsinh Sumanbhai Bhabhor.
Mahendra Nath Pandey: BJP Lok Sabha member from Chandauli, Uttar Pradesh, Pandey is a Brahmin – a bank that all parties are trying to woo in the upcoming state elections.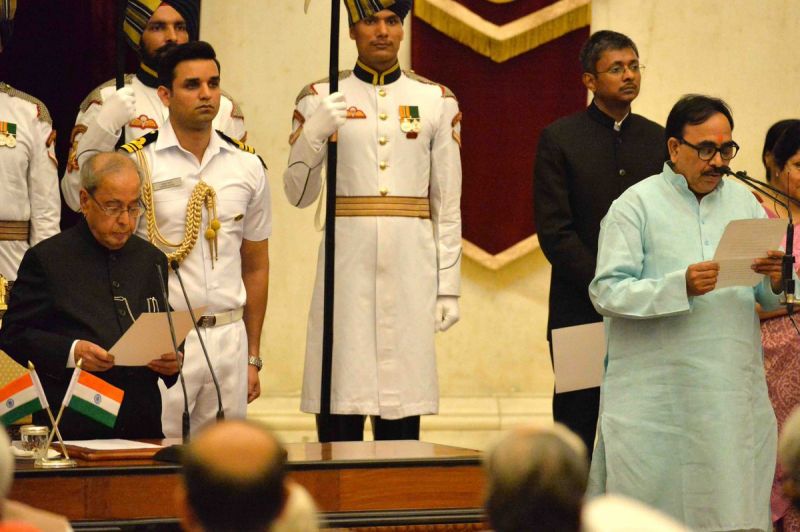 BJP leader Mahendra Nath Pandey.
Ajay Tamta: BJP Lok Sabha member from Almora in Uttarakhand, Tamta was also formerly a member of the state legislature.
Ajay Tamta takes oath.
Krishna Raj: A BJP MP from Shahjahanpur, Uttar Pradesh, Raj was a member of the state Assembly from 1996 to 2012.
Krishna Raj was inducted to represent the Dalit community.
Mansukh L Mandaviya: He is a Rajya Sabha member from Gujarat.
BJP leader Mansukh L Mandaviya.
Anupriya Patel: She is a popular leader of BJP ally in Uttar Pradesh, Apna Dal. Daughter of party founder Sone Lal Patel, Anupriya is a prominent Kurmi caste leader.
Apna Dal leader Anupriya Patel.
C R Chaudhary: He is BJP Lok Sabha member from Rajasthan's Nagaur.
C.R. Chaudhary taking his oath.
P P Chaudhary: This BJP Lok Sabha member from Rajsthan's Pali, Chaudhary heads the Joint Parliamentary Committee on Offices of Profit. He is a senior Supreme Court advocate with over four decades in constitutional litigation.
P P Chaudhary is a Lok Sabha MP from Rajasthan.
Dr Subhash Bhamre: Lok Sabha member from the BJP in Maharashtra's Dhule, Bhamre is a prominent cancer surgeon. He is also a member of the Standing Committee on Health and Family Welfare.
Dr Subhash Bhamre.
Rajasthan gained maximum representation in the Cabinet with four new faces from the state given berths. Uttar Pradesh which goes to polls next year was also given a boost as three MPs from the state made it to the powerful group of ministers.
The leaders who took oath on Tuesday as new ministers at the Centre, were picked after an exhaustive vetting and selection process to find the best talent, sources said. Prime Minister Narendra Modi said the expansion of his council of ministers will reflect "budget focus and priorities".
Hectic parley were held in the national capital in the past few days to discuss the changes to be made to the current cabinet.
Prime Minister Narendra had held consultations on the cabinet reshuffle with senior party colleagues including BJP chief Amit Shah, Home Minister Rajnath Singh and Finance Minister Arun Jaitley.
...