Nation
Feasting time: Eid to be celebrated today
Deccan Chronicle| Mir Quadir Ali
Published on: June 4, 2019 | Updated on: June 4, 2019
The committee of the Sadar Majlis Ulema-e-Deccan, Hyderabad, is responsible for sighting the moon.
The night bazaar in the Old City was all decked up for Id-ul-Fitr to be celebrated on Wednesday. (Photo: S. Surender Reddy)
Hyderabad: The Central Ruiyat-e-Hilaal Committee, Hyderabad, on Tuesday evening said the crescent had been sighted, heralding the start of the month of Shawwal and end of the holy month of Ramzan.
"This Ramzan was memorable for varied reasons, foremost among them being the heat," said Mr Danish Ali from Malakpet, who also served as a counting agent for an independent candidate in the just-concluded general elections.
"I realised what my fellow Muslims go through when keeping their fast on the day of counting of votes. Though I was well-sheltered from the heat, my throat was parched and I was struggling to breathe. I cannot even begin to imagine how Muslims who do manual labour under the hot sun and yet fast through Ramzan manage," he said. Mr Shafeeq-ur-Rahman from Doodh Bowli said that he intends to keep the fast for six days immediately after Id.
In some countries like Saudi Arabia, Id was celebrated on Tuesday since the government there declared that the crescent moon was sighted.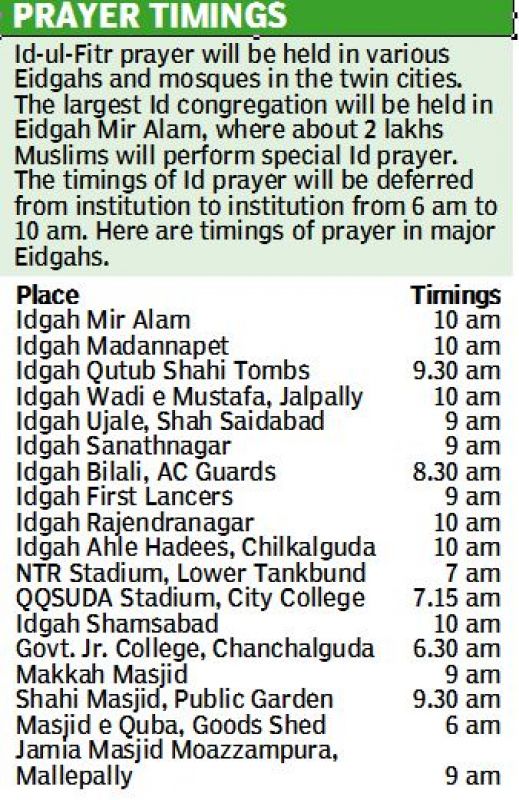 The committee of the Sadar Majlis Ulema-e-Deccan, Hyderabad, is responsible for sighting the moon. Committee secretary Moulana Syed Shah Qubool Pasha Shuttari held a meeting at Hussaini Building to sight the moon. Though the sky was clear, the crescent was not seen. After this, there were reports that the moon had been spotted in other parts of the country.
Moulana Shuttari said the crescent had been sighted in Kolkata, Tamil Nadu and other places.
Accordingly, Muslims across India will celebrate Id-ul-Fitr on Wednesday, with largest assembly in Hyderabad for the congregational prayers at the Idgah Mir Alam.
Arrangements for special Id prayers have been completed at all idgahs across the state and major mosques.
Id-ul-Fitr is a celebration of the month of fasting, additional prayers, charity and supplications.
Through the holy month of Ramzan, Muslims fast from pre-dawn till dusk.
Since heatwaves prevailed through the holy month this year, the fast were especially difficult for the devout.
Quite a few of them will fast an additional six days in Shawwal.
Latest News
Most Popular
Columns