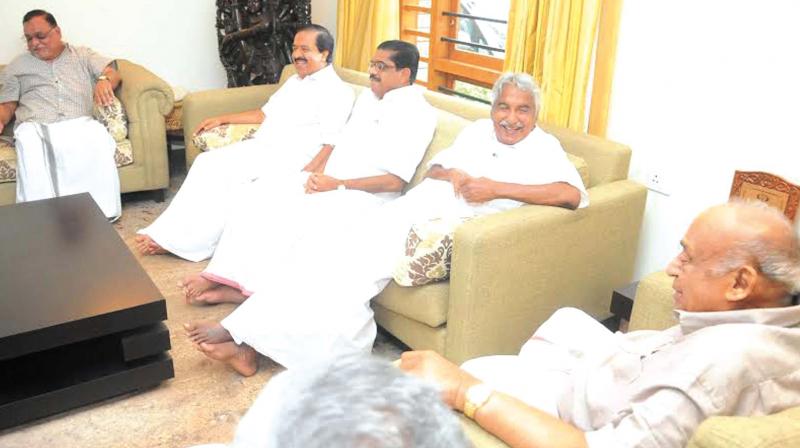 KOZHIKODE: In a bid to strengthen the UDF in Malabar, KPCC president V.M. Sudheeran and Chief Minister Oommen Chandy met Janata Dal (U) leader M.P. Veerendrakumar and Thamarassery bishop Remegios Inchananiyil on Friday.
Mr Veerendrakumar had been raising a hue and cry over the UDF neglect and demanding more winnable seats. On the other hand, bishop Remegiose Inchananiyil has been protesting against the IUML move to field the sitting MLA in the constituency and calling for defeating the UDF candidates who had failed to support the anti-Gadgil agitation of the Church.
Home Minister Ramesh Chennithala, Mr M.V. Shreyamskumar MLA and Mr Shake V. Haris of the JD(U) also participated in the meeting with Mr Veerendrakumar who reportedly demanded more winnable seats.
"This time we will not entertain the trend of dumping seats on JD(U) as it happened last time," say JD(U) leaders.
The party was not in favour of Nemom, Elathur, Mattannur and Nenmara. Sitting MLAs of the party Shreyamskumar and K.P. Mohanan would contest from Kalpetta and Koothuparambu respectively, the party said. Mr Veerendrakumar will not be in the fray as he will go to the Rajya Sabha on the Congress seat which will be vacant soon.
When queried about the decision of the meeting, Mr Veerendrakumar said that he hoped the UDF leadership would take the right decision after considering the demands raised by the party.
The Congress leaders also met the office-bearers of the Malayora Vikasana Samithy patronized by the Catholic Church who had already protested against the neglect of their earlier demand on a candidate for Thiruvambadi seat.
The IUML had recently announced sitting MLA at Koduvalli V.M. Ummer Master for Thiruvambadi seat. The leaders of the samithi met the Congress leaders who were also accompanied by IUML leaders P.K. Kunhalikkutty and K.P.A. Majeed at Government Guest House here. Thamarassery diocese chancellor Fr Abraham Kavilpurayidathil told DC that the UDF leaders promised them to give a positive answer before March 7.
...