Nation
BJP, Congress and AAP's fate sealed; high voting turnout in Goa, Punjab
Deccan Chronicle| Sanjay Basak
Published on: February 4, 2017 | Updated on: February 5, 2017
Punjab Deputy Chief Minister Sukhbir Singh Badal confident of returning to power despite odds.
Cricketer Harbhajan Singh and his mother show indelible ink marked on their fingers after casting their votes at a polling station in Jalandhar, Punjab on Saturday. (Photo: PTI)
New Delhli: With the fate of the BJP, Congress and AAP sealed in EVMs after a high voter turnout in Goa and Punjab on Saturday evening, Punjab's deputy chief minister Sukhbir Singh Badal seemed relaxed. Standing among his miniature horses, he talked with journalists about the exotic breed and how AAP had "fielded candidates with Khalistani links".
He also showed off his Marwari horses, another rare breed, for the benefit of the cameras. At a time when opinion polls and political pundits are predicting "complete wipeout" of SAD-BJP combine, Sukhbir Singh Badal said he was confident of returning to power for the "third time".
Compared to 78.06 per cent turnout in 2012 Assembly polls in Punjab, the state on Saturday recorded 75 per cent polling. If the ground reports and electoral predictions are to be believed, the tide is against the ruling coalition. In Punjab, the fight is apparently between Congress and AAP.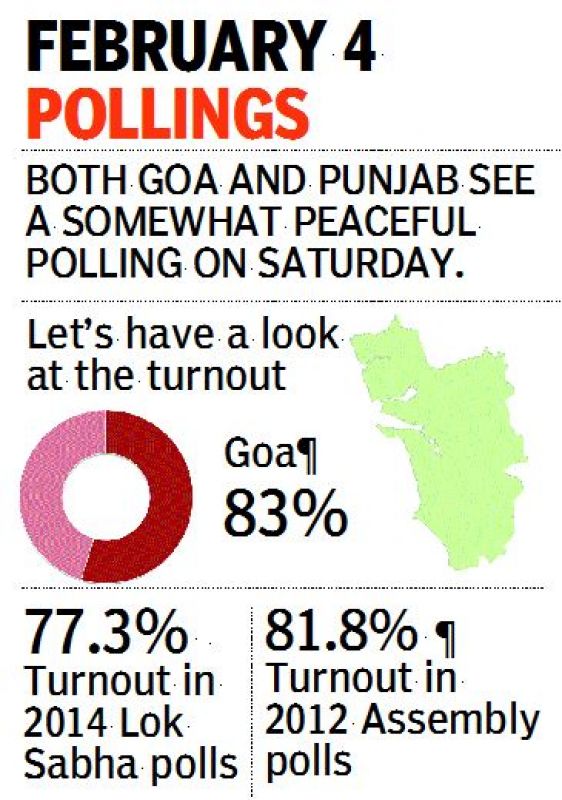 Infographic
Goa, on the other hand, outdid its 2012 record with an 83 per cent voter turnout. Generally, a high turnout is considered to be a vote against the incumbent. The BJP is in power in Goa. In 2012, Goa polled 81 per cent and the BJP defeated the Congress to come to power. In
Punjab, a high turnout of 78 per cent in 2012 favoured the ruling SAD-BJP combine. Reeling under charges of corruption, drug menace and the SYL canal controversy, the ruling combo seems to be on sticky wicket this time.

Infographic
Winning Punjab is crucial for the Sonia Gandhi-Rahul Gandhi led Congress which has been reduced to the role of a minor player in virtually all politically important states.
In Punjab, the Congress has the best shot. A defeat in Punjab could bury the party deeper. But AAP is the new Akali in Punjab. From raking up anti-Sikh riots, desecration of Guru Granth Sahib to allegedly mingling with former terrorists, AAP has been walking the Akali line. If AAP wins Punjab, Mr Kejriwal could emerge as a major player among the anti-BJP and anti-Congress forces during the 2019 general elections.
Latest News
Most Popular
Columns