Nation
Tribal Araku farmers get global recognition
Deccan Chronicle| SNV Sudhir
Published on: December 3, 2018 | Updated on: December 3, 2018
Organically certified speciality coffee produced in AP wins prestigious award in Paris.
Araku Valley
Vijayawada: Tribal farmers who grow the now globally famous Araku Coffee are truly going places. After its thunderous debut in Paris a few months ago, Araku Coffee has become very well-known and its cultivators are being recognised and celebrated throughout the world.
In yet another global recognition, Araku farmers were recognised as Landscape Heroes by Germany-based Global Landscapes Forum (GLF), which is a multi-stakeholder platform to create productive, prosperous, equitable and climate-resilient landscapes. GLF is supported by the German government.
Araku farmers trounced nominations from across the world and stood at the top garnering maximum votes. Paris-based Livelihoods Funds, an impact investment fund backed by private companies had nominated Araku Farmers to the GLF landscape heroes contest.
The four other runners-up are from Guatemala, Brazil, Tanzania and Peru. There were nominations from 38 countries from across 6 continents. In the coming months, GLF will be working with the top five story authors and landscape heroes to explore in-depth and showcase their ongoing work through articles, videos, photography and more.
"It is again a proud moment as the Adivasi Araku farmers making @arakucoffee and transforming the landscape of the region were elected #Landscape Heroes at #GLFBonn2018. @GlobalLF Thank you @livelih00ds for taking the story there and for supporting us @naandi_india" tweeted Naandi Foundation, CEO, Manoj Kumar, who had founded brand Araku Coffee and was instrumental in taking Araku Coffee global.
Between December 1 and 2, more than 1,000 representatives of the government, international, non-governmental and indigenous organisations, activists, finance, private sector, youth, scientists came together gathered at the World Conference Centre in Bonn, Germany, to connect, learn and share ideas and experiences on how to move from commitment to action towards reaching sustainable landscapes. Amidst such a gathering, Araku farmers were announced Landscape Heroes.
Over the last two months, more than 115,000 people visited the GLF Bonn 2018 website and around 2,40,00,000 people were reached on social media.
Paris-based Livelihoods Funds senior partnership manager Maribel Narvaez Gallardo presented the incredible work done by Araku Farmers to restore their valley in India.
"Ten years ago, with the support of Naandi Foundation, the Livelihoods Carbon Fund, an impact investment fund backed by private companies, and India's Mahindra Group, Araku farmers started restoring their most precious wealth: Their forest. With hard work, courage and determination, they have already planted more than 10 million forest, fruit and coffee trees that have given a new lease of life to their region," Nishal Ramdoo and David Hogg who presented the Araku Farmers story said.
The landscape projects of the Araku farmers, Naandi and the Livelihoods Carbon Fund will enable the restoration of 24,000 hectares and impact 170,000 villagers. They will also contribute to climate action by sequestrating upwards of 3.5 million tons of CO2 (carbon credits certified by Verra).
Japanese-inspired Moka Pot to debut in India in December
A coffee pot called Moka Pot, designed by Norwegian studio Anderssen & Voll as an accessory to Araku Coffee encouraged by the Naandi Foundation that had promoted Araku Coffee globally is being hailed throughout the world.
The Moka Pot is expected to debut in India in the second week of December. And the excitement is clearly palpable. Mahindra Group Executive Chairman, Anand Mahindra, who has been behind the success story of Araku Coffee in Paris has tweeted about the Moka Pot.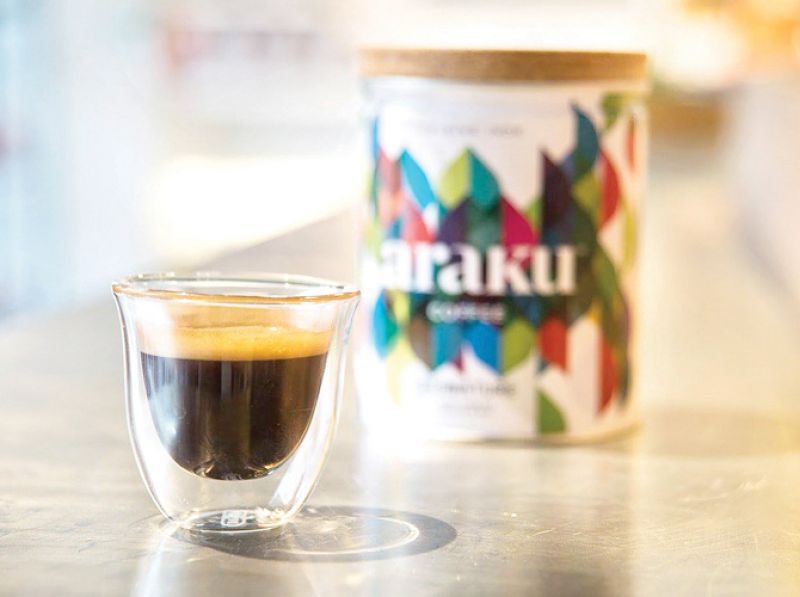 A coffee pot called Moka Pot, designed by Norwegian studio Anderssen & Voll as an accessory to Araku Coffee encouraged by the Naandi Foundation that had promoted Araku Coffee globally is being hailed throughout the world.
"This is no small achievement. A brand of coffee cultivated by Adivasi farmers goes premium and global and now has design recognition and endorsement for its accessories in a leading international design magazine. This is the stuff of an IIM case study. Bravo Manoj!" tweeted Anand Mahindra.
Naandi Foundation's (that had created the Araku Coffee brand), CEO, Manoj Kumar tweeted, "Our homage to the hard work of the Adivasis and the pulchritude of the @arakucoffee region: The Moka Pot, designed by Anderssen & Voll is being hailed in France! Apart from brisk sales, it is featured in the latest AD magazine! Coming to India 13-12-18. @anandmahindra @kris sg".
This designer coffee pot has a cheery yellow hue. The yellow coffee maker is paired with the solid marble hot plate for aesthetic purposes, as it emphasizes the sculptural elements of the pot. The classic tiered coffee maker is inspired by traditional Japanese teapots.
Espen Voll explains the water and coffee grounds "rise from the basic solid of the cylinder and transform into coffee in the more carefully shaped top part."
The visual flow of the designer coffee pot was intentionally crafted, as the aluminium bottom turns to yellow enamel and then polished wood.
Latest News
Most Popular
Columns