Nation
Flooded Chennai wobbles
Deccan Chronicle | DC Correspondent
Published on: November 4, 2017 | Updated on: November 4, 2017
Several areas water-logged after Thursday night downpour. Sunny Friday helps city to limp back to normalcy.
Boys playing cricket in inundated Marina beach on Friday.
Chennai: Many areas in Chennai went without electricity on Thursday night as heavy rains pounded the metropolis and its suburbs inundating several low-lying areas, bringing back the scary memories of 2015 December floods.
The rains that began at 3 pm on Thursday continued till the wee hours of Friday without any break resulting in water-logging on arterial roads and completely inundating areas like Mudichur, Kovilambakkam, some parts of Tambaram and Madipakkam. However, water on the major roads receded on Friday morning and they were clear for traffic as the day progressed.
The city received nearly 30 cm rainfall in less than 24 hours with the Marina beach area recording the maximum 29.6 cm rainfall between 8.30 am on Thursday and 8.30 am on Friday with beachfront and service lanes going under a vast sheet of water, presenting a picture of an extended sea. Six people died in Chennai due to various rain-related incidents. Electricity supply, suspended in many areas due to rains, was restored by Friday afternoon.
Though water in major roads receded, situation in low-lying areas in north Chennai and areas like Madipakkam, Kovilambakkam and parts of Tambaram continued to be grim till late Friday night. People living in these areas either shifted to upper floors or fled their houses over fear of flooding. Civic authorities and government officials used motors to pump out water from several areas and opened relief shelters in several areas to accommodate people.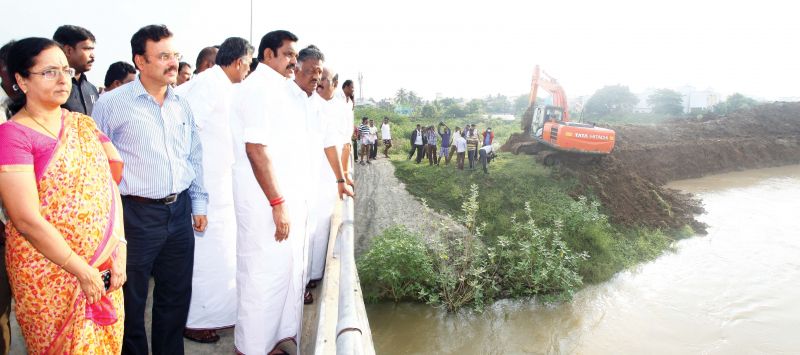 Chief Minister Edappadi K. Palaniswami inspects de-silting work in a canal near Varadharajapuram in Kanchipuram district on Friday. (Photo: DC)
Senior IAS officers, ministers oversee cleaning operations
Greater Chennai Corporation began distributing food packets in its shelters for the needy as many people were forced out of their homes. Several ministers along with senior IAS officers went around the city overseeing the clearing operations along with relief measures.
Schools and colleges, closed since Tuesday, remained shut in Chennai, Tiruvallur and Kancheepuram districts even as IT firms asked its employees unable to reach their offices to either take leave or work from home. And rains returned to the city on Friday evening though weather bloggers said this spell won't last "very long like Thursday night for many hours."
Latest News
Most Popular
Columns