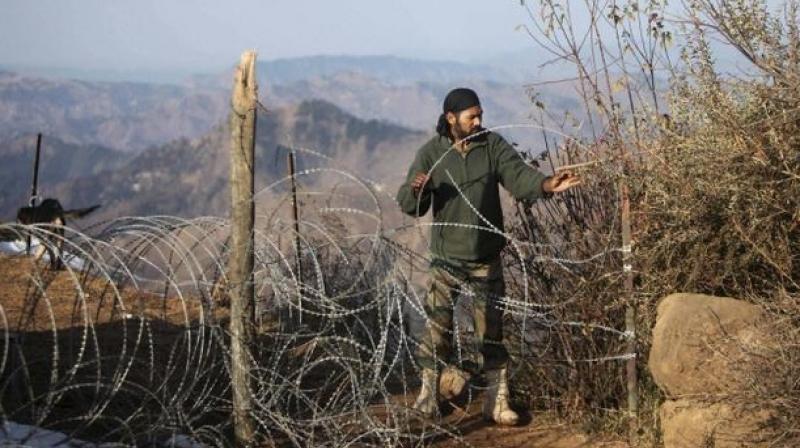 Srinagar: Pakistani troops fired in the air with small arms to stop their Indian counterparts from constructing a bunker close to the Line of Control (LoC) in Jammu and Kashmir's Uri area.
The incident occurred on Sunday evening in Haji Pir sector's Soura area, triggering panic among people living in neighbouring villages. Soura is the last village on the Indian side of the de facto border in this sector.
A report said that amid heightened tensions set off by the terror attack in Uri's Army base camp and subsequent 'surgical strikes' carried out by the Indian Army across the LoC, the Indian Army's 4 Garhwal Regiment started constructing a bunker near one of the forward posts in Haji Pir sector on Sunday.
But the Pakistani troops manning 'Dana Post' in Larigam village just across the LoC objected to the construction and started shouting to attract the attention of Indian counterparts. Pakistani troops 'warned' the Indian soldiers against constructing the bunker, saying that the area falls within 500 metres of the LoC and it is a 'violation' of a 2010 bilateral agreement.
The Indian troops ignored Pak objection and continued to execute their work. Following this, the Pakistani troops first raised a red flag and then started firing with small weapons in the air forcing Indian troops to abandon the place and return to their post, residents of Soura who witnessed the incident from their rooftops said.
The firing by Pakistani troops also created panic in several villages falling in close proximity to the LoC including Hathlanga, Mothal and Sillikot. "Many people thought that war has broken out between the two sides," said a resident on the condition of anonymity.
...