Nation
Andhra Pradesh records deepest groundwater level in the country
Deccan Chronicle| u sudhakar reddy
Published on: July 3, 2017 | Updated on: July 3, 2017
According to the Andhra Pradesh Water Land and Trees Act, 2002 when groundwater level is below 20 metres, digging of borewells is banned.
In Andhra Pradesh, T. Velamavaripalli in Vempalle mandal of Kadapa district has recorded 114.10 m BGL. (Representational image)
Hyderabad: There is a Bikaner in the making in Andhra Pradesh. Bikaner in Rajasthan, near the Pakistan border, is surrounded by the Thar Desert and has the deepest groundwater level in the country, with the peizometer recording 119.06 m BGL (metres below ground level).
In Andhra Pradesh, T. Velamavaripalli in Vempalle mandal of Kadapa district has recorded 114.10 m BGL. This is the deepest water table in the state.
Deputy director of the Kadapa Ground Water Department, M. Muralidhar, says there are two reasons for this dire situation in Vempalle mandal.
"First is that water level is drastically depleting as locals are tapping the third aquifer system by drilling borewells to a depth of more than 1,000 feet. The first and second aquifer systems have already dried up," he said.
Another reason for the low groundwater table, he says, is the geological formation of the Vempalle area where recharging is poor. "Usually, when limestone is on the top and shale is below, the ground water will be on the top. But here, limestone layers are deep below the shale and due to this, the water is available only at depth," he said.
He said more data is being gathered on the situation. Local farmers have been advised to practise water management techniques like drip irrigation. There is no desertification of the surface area like in Anantapur. "The Anantapur area is granatic area and Kadapa is sedimentary, so there is no desertification here," said Mr Muralidhar.
Jammalamadugu revenue divisional officer K. Vinayakam says that of the 51 mandals in Kadapa district, around 36 mandals are drought prone and no attempts have been made at water conservation.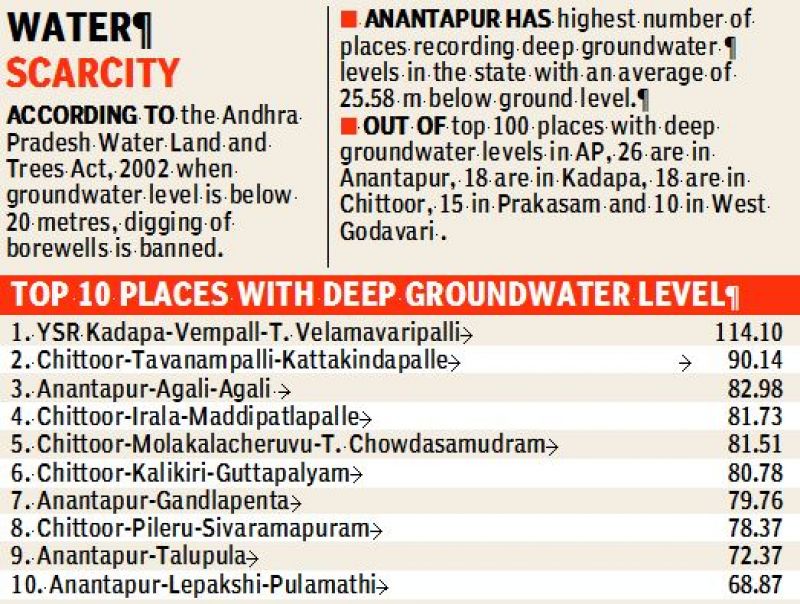 "The rainfall is less in the area. We are dependent solely on the south west monsoon and after September there are no rains. There has been over exploitation of groundwater in this area. We have stopped giving permission for bore wells and farmers are digging unauthorised ones. There are huge banana plantations in the area due to which the water is exploited. Farmers go for unhealthy competition of digging up to 800 to 1,000 feet," he said.
The Papagni river flows nearby and government officials say irrigation water projects are being worked on. He said that the situation is already so dire that water management techniques may have little impact as it is difficult to recharge the third aquifer.
He added, "Last year and this year too rain fall was less. But power consumption was very high. This suggests that ground water extraction is more but there is no infiltration of water into the ground."
Latest News
Most Popular
Columns