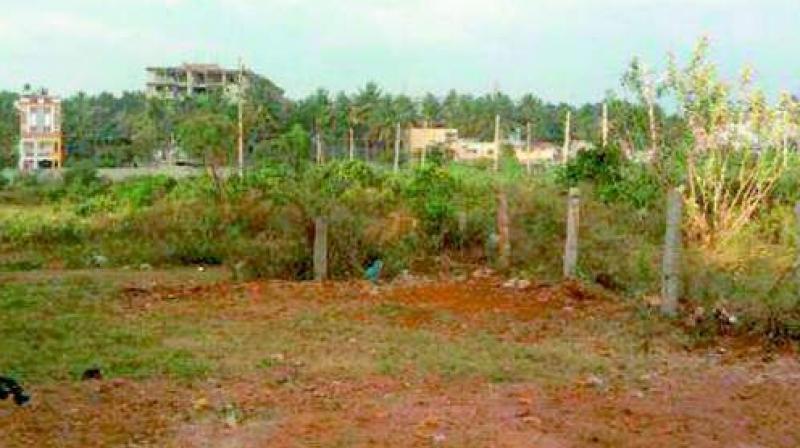 Hyderabad: While farmers who had given up their lands in Uppal Bhagat for Metro Rail and Musi beautification projects are yet to receive developed plots even after nine years of land acquisition, the Telangana government has initiated measures to sell 2.50 lakh square yards of developed plots on these lands to raise revenue of nearly Rs 400 crore.
HMDA had acquired 733 acres, of which 100 acres was allotted for the Metro Rail depot. The government had promised to allot 1,000 sq. yard plots to each farmer for each acre given.
The layout development works had started in December 2012 and was completed in a year. Though the plots were supposed to be handed over in May 2014, it was postponed due to political developments over the state's bifurcation.
Since then, the issue had been pending. About 1,984 plots were developed on 413 acres. Of the total area, 46.25 per cent was allotted to plots, 34.92 per cent to roads, 16.31 per cent was vacant space and 2.52 per cent was for infrastructure facilities.
The government had announced that it would draw lots and allot plots to farmers in 2013, but it was not done. Uppal MLA N.V.S.S. Prabhakar, who has been agitating for long in support of the farmers, has met Chief Minister K. Chandrasekhar Rao, and officials of HMDA, municipal administration and revenue departments several times to resolve the problem in his constituency.
"After repeated attempts, the file pertaining to allotment of plots has been recently approved by the municipal administration department and sent to the revenue department. The file is expected to reach CMO next week for final approval. The government has assured me that all approvals will be given within 15 days and the draw of lots will be held thereafter," he said.
In the meantime, the HMDA has tried to sell additional plots to raise revenues to fund infrastructure projects, which is being strongly opposed by farmers. They have launched agitation programmes against the move, demanding that justice should be done to them before the plots are sold.
"How can the government sell plots to others without allotting plots first to farmers, who lost their lands? The plots should be allotted to all based on draw of lots. We have been waiting for plots for nearly 10 years. Without addressing our issue first, we won't allow sale of plots to others," said farmer A. Narasimha Reddy.
...