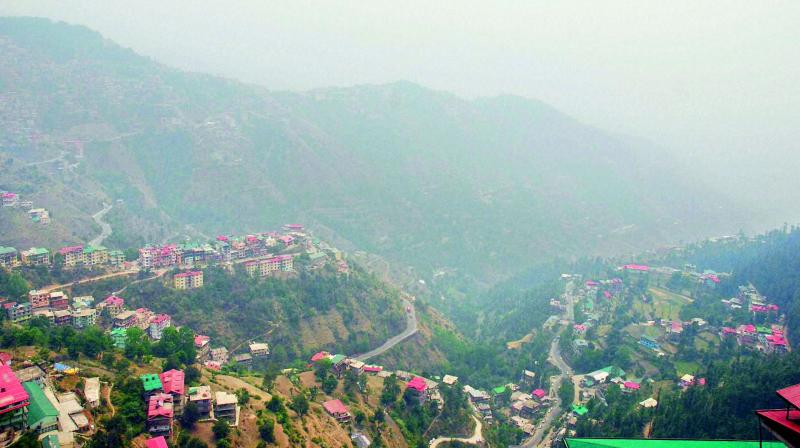 NEW DELHI: Even as forest fires in Uttarakhand and Himachal Pradesh, that destroyed thousands of hectares of land, showed signs of abating on Tuesday, the National Green Tribunal (NGT) here issued showcause notices to both the state governments while expressing shock over "casual" handling of the issue. The green body also asked the environment ministry about their actions to control the situation.
Authorities in Himachal Pradesh, meanwhile, said that though the condition is "completely under control", they were keeping a close eye to ensure the flames do not spread.
There was a brief panic at Lawrence School Sanawar in Kasauli on Monday after fire spread in the vicinity. Officials said that they were also looking into incidents of fire in areas through which railway lines like the 113-year-old Shimla-Kalka toy train corridor pass.
Sporadic showers in Shimla and Solan districts have helped in putting out the fires in some forest areas and the forecast of moderate rainfall is also comforting, they added.
Firefighting operations continued Tuesday in Uttarakhand with three IAF copters pouring water on flaming patches as over 11,000 personnel fought infernos from the ground leading to further decline in the number of active fires. The IAF helicopters made 16 sorties in Nainital and Pauri to pour water on the blazing jungles.
"The declining trend continues with the number of active fires reduced from yesterday's 40 to 26. The number was 70 on Sunday when the copters began their operations," said S. Ramaswamy, additional chief secretary.
Earlier in the day, the NGT said that it was shocked that everybody was taking the issue (of forest fires) "so casually" and issued showcause notices to Uttarakhand and Himachal Pradesh. A bench headed by chairperson Justice Swatanter Kumar asked the ministry of environment and forests (MoEF) as to what they have done in the matter to control the situation.
...