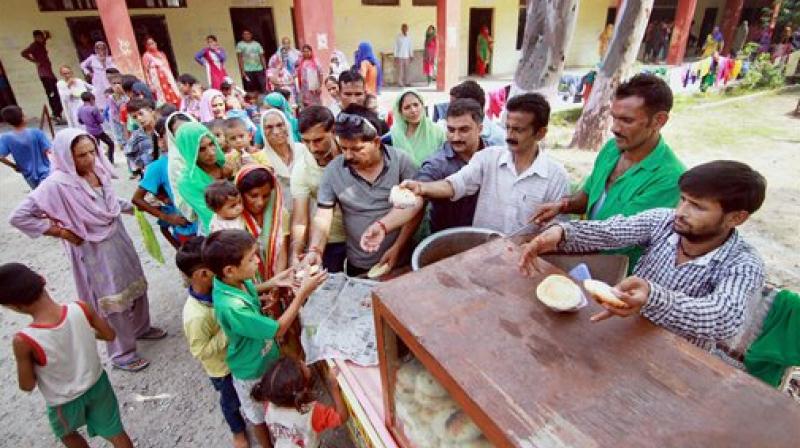 Pallanwala: With shelling and firing along the LoC and International Border increasing, border dwellers are demanding construction of civilian bunkers for safety of those who are reluctant to shift.
In December last year, the Centre had decided to construct community bunkers along International Border (IB) and Line of Control (LoC) for being used during shelling and firing by Pak.
"When there was firing and shelling and we were forced to flee, government had promised to build community bunkers in our hamlets and give us plots of land in safer places. But when we will see them," asked Disha Devi, a resident of Pallanwala of Akhnoor tehsil.
"We have not seen those bunkers. Government should have fast-tracked the process to build the bunkers, which we could use now," she said, while noting that fear psychosis is prevailing along the border hamlets.
For people living along the LoC and the IB, the migration to government-run community centres at safer places has been an annual feature because of heavy Pakistani shelling and firing.
In 2013, 2014 and 2015, border dwellers fled to safer areas to escape heavy shelling along IB and LoC in which several people died and scores of people were injured besides casualties suffered by the cattle.
Ramesh Kumar of Gigriyal border hamlet feels that government has been lax in construction of bunkers on war- footing.
"The authorities take a lot of time in the constructions and some of those constructed in some areas are very bad and have lost the purpose," he said.
Residents of some areas along the LoC, including Pallanwala, Hamirpur and Sainth, express their reluctance to moving out of their houses leaving behind cattle and properties but are forced to do so because of lack of adequate community bunkers where they could have taken shelter close to their homes.
"Government should have constructed community bunkers on war-footing close to our homes in the village. Then we would not have been forced to leave our homes," said Surinder Singh, whose house is situated near the International Border.
In border hamlets of Devigarh and Abdullian along the IB, residents have constructed bunkers within their areas and clean them for their use.
"We take to bunkers when there is firing and shelling. As we have constructed a bunker here, it is safe house during shelling," says Tarseen Chand.
Deputy Commissioner of Jammu Simrandeep Singh said that out of 75 bunkers approved for construction along the border line with Pakistan, as many as 35 have been constructed and 40 are in the pipeline.
Centre decided to construct bunkers along IB in December last year.
The government of India had decided to construct concrete bunkers along the International Border to provide interim relief to border dwellers who are affected due to frequent ceasefire violations, Jitendra Singh, Minister of State in PMO, had said while announcing the start of construction work on bunkers in December last year.
Jammu and Kashmir government has submitted a proposal to the Central government for setting up of over 20,000 bunkers at a cost of over Rs 1,000 crore in 448 border areas in the state.
"The revised proposal for construction of 20,125 community bunkers at an estimated cost of Rs 1006.25 crore in 448 identified border villages in the state has been sent to the Government of India," the then Chief Minister Mufti Mohammad Sayeed had said in J&K Assembly last year.
The proposal will cover a population of 4,02,455 close to the border areas in districts of Kathua, Samba, Jammu, Rajouri and Poonch, he had said, adding the proposal has been sent to Government of India on February 23, 2015 for consideration.
A total of 181 incidents of border firing in the state were reported during one year period between January 15,2015 and January 15,2016, which left 22 people including eight security personnel dead and 75 others, including 13 security men injured.
There were 93 border firing incidents in Kathua, Samba and Jammu along the IB during the same period.
73 firing incidents had been reported from the LoC in Jammu region, including Rajouri, Poonch and Jammu.
...