Nation
Strike brings Kerala to standstill due in 1-day stir
Deccan Chronicle | DC Correspondent
Published on: April 2, 2018 | Updated on: April 2, 2018
Isolated incidents of attack on some auto rickshas and taxis that operated during the day were also reported.
Patients rush to enter a police bus to medical college from Thiruvananthapuram Central Railway station due to the strike on Monday. (Photo: Peethambaran Payyeri )
THIRUVANANTHAPURAM/ Malappuram: Normal life was badly hit by the 24-hour strike by various trade unions since Sunday midnight. All road transport services remained off roads and shops and commercial establishments, including eateries, remained shut. Government offices also recorded only thin attendance. Isolated incidents of attack on some auto rickshas and taxis that operated during the day were also reported. However, there were no casualties. Since the general strike came immediately after Maundy Thursday, Good Friday and Easter, many people who went on vacations and to native places were stranded at railway stations and airports. The only relief was the transport services offered by the police at some railway stations and other important places like hospitals.
As the eateries remained shut, score of commuters as well as those regularly depended on hotel foods also faced hardships to get food. Some office and hospital canteens as well a food counter of the prisons that functioned witnessed huge rush. All major trade unions, except the BMS, participated in the strike in protest against the new employment policy of the Centre that favoured contract employment. The strike supporters attacked some autorickshaws that operated at Thampanoor in Thiruvananthapuram.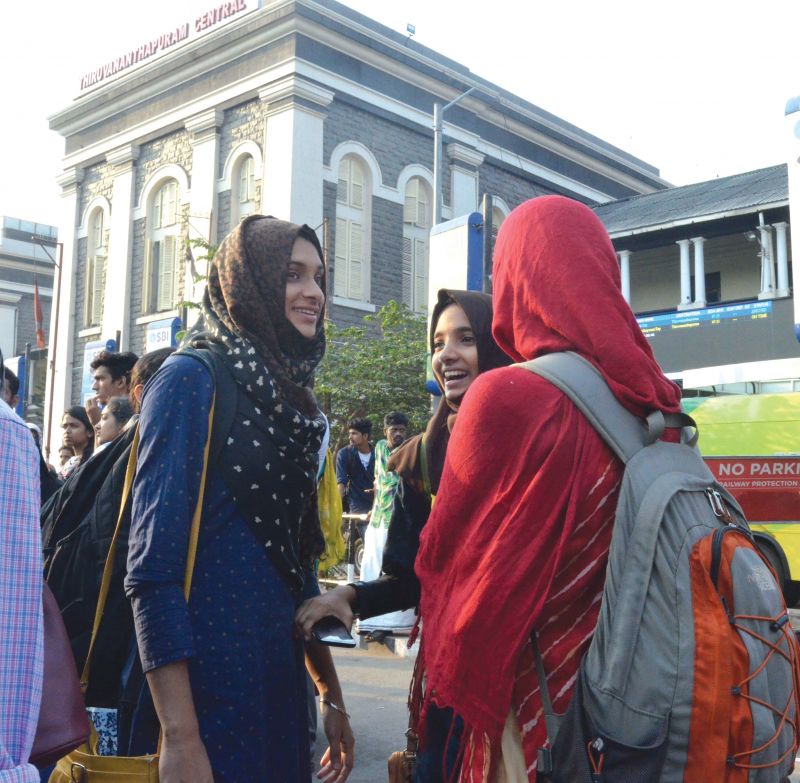 Medical students from Malappuram who have an examination on Tuesday wait for police bus in front of Thiruvananthapuram Central Railway station.
Passengers, including foreign tourists, were forced to get out of autorickshaws. A police team allegedly remained as mute spectators. A group of SDPI activists and some trade union activists of CITU and INTUC clashed at Thampanoor. Police dispersed them by resorting to lathi charge. In Kochi PSUs like the Cochin Port Trust, Vallarpadam International Container Transshipment Terminal, Cochin Shipyard, Kochi Refinery and HOC functioned partially, while normal life was badly hit. Kochi Metro operated service as per schedule. A protest march to Infopark created tense moments after the agitators were arrested. Later trade union leaders intervened following which they have been released.
In a strike related incident, a PSC exam centre at Ponnurunny in Kochi witnessed noisy scenes as the organisers turned down the request of those accompanied the candidates to allow a room within the school to rest as there were no other facilities. In Malabar districts too vehicles kept off the road. Schools and businesses remained shut. Atten-dance in government and private offices was thin. Only private vehicles and two-wheelers were plied.
Latest News
Most Popular
Columns