Nation
Telangana: This lad's aim is to serve in the Red bastions
Deccan Chronicle| Anusha Puppala
Published on: May 1, 2018 | Updated on: May 1, 2018
As an IPS officer Akshay Yedavalli wants to help recommend promotions for constables, which is rare.
(Right) Akshay Kumar Yedavelli, UPSC ranker 623, along with his father constable Yadavalli Dayakar.
Hyderabad: Akshay Kumar Yedavalli, a graduate in chemical engineering, bagged the 623rd rank in the Union Public Service Commission (UPSC) exams. The son of a police constable in Warangal, Telangana, Akshay, who began preparing for the civil services from NIT Bhopal soon after his first attempt, cleared the exam in his first attempt.
Akshay, whose wish is to be an IPS officer, said he hoped to break into the top 100 in the UPSC. Speaking to Deccan Chronicle, he said, "Though I scored enough to become an IPS officer, my wish was to get the top rank in the UPSC exams. I was initially disappointed at not being able to break the top 100, but I am glad that I could score the 623rd rank in my first attempt. I want to appear for the exams again, but even if I secure first rank my aim is to serve my nation as an IPS officer."
Akshay is the elder son of Mr Yadavalli Dayakar, a police constable serving in Mamnoor police station in Warangal and Yadavalli Sravanthi, a homemaker. He was born and brought up in Warangal, but moved to Hyderabad 18 months ago for coaching in the civil services examination.
He further added, "I am really happy and also tense, as I will have to leave for my training in August. It will be a big responsibility for me, and a great honour to be chosen for the IPS, despite being the son of a police constable. My father is very happy and glad that I could crack the exam."
The young graduate said that he wished to serve in Naxal-affected areas to fight their ideology. He added, "IPS Umesh Chandra, IPS Stephen Ravindra and IPS K.S. Vyas have inspired me a lot to choose a career in the police forces because I have grown up listening to their tales of bravery. My father was first posted in Stationghanpur which was a Naxalite-affected area and since then I've been inspired to serve in a Naxalite-affected area after he shared a lot of incidents from his experience."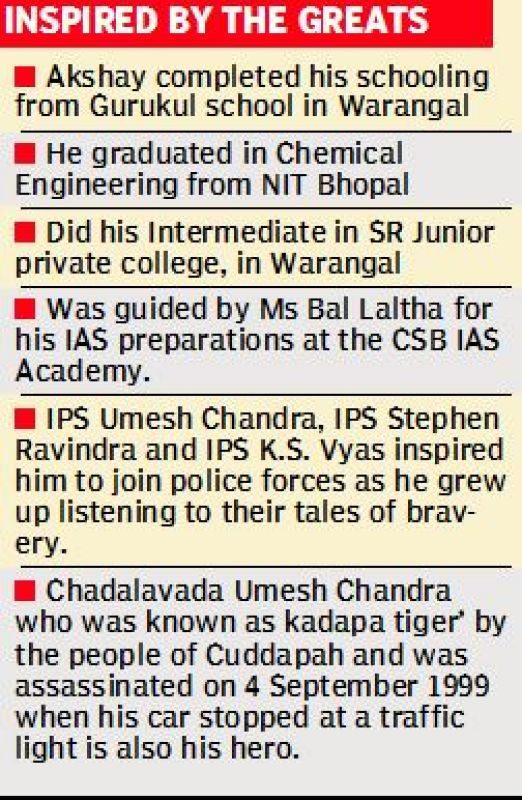 He added, "I want my first posting to be in Chhattisgarh. We must follow the policy of making Naxalites surrender. We should counsel them as even the local people support the Naxals due to unemployment and other reasons."
"If we develop these areas and provide more employment to locals in such areas, we can bring a lot of changes in them, which will make them stop supporting Naxalism in under-developed areas," Akshay said.
Akshay also expressed his wish to recommend promotions for constables. He said, "My father served in the police force for 26 years, but he was never promoted beyond the constable rank, which is why I wish to recommend promotions after taking charge as an IPS officer."
Akshay says he will give utmost respect to his subordinates and constables because he observed that officers from lower ranks do a lot of hard work but their work always go unrecognised. He said, "I will make sure all my subordinates are treated with dignity and I will be in regular touch with all subordinates because looking at my dad, I have observed that many of the senior officers don't even know the names of their subordinates, and don't interact with them much."
Latest News
Most Popular
Columns