Nation
Waterlogging, traffic jams in Delhi as heavy rain lashes parts of city
Deccan Chronicle | DC Correspondent
Published on: September 1, 2018 | Updated on: September 2, 2018
The deluge led to waterlogging and traffic jams on many routes in the city. Many locals chastised Delhi CM Arvind Kejriwal for the chaos.
Water logging at Monkey's bridge ring road by pass. (Photo: Twitter | @dtptraffic)
New Delhi: Delhi came to a virtual standstill after heavy rains lashed several parts of the national capital on Saturday, leading to excessive waterlogging and traffic snarls.
Streets were waterlogged near the Civic Centre at Minto Road and also in Civil Lines area where various cars were seen half-submerged in water.
The deluge has led to waterlogging and traffic jams on many routes throughout the city. The Delhi Traffic Police is posting alerts and updates on its Twitter handle to inform the residents about which routes to avoid.
"Waterlogging was reported at Iron Bridge Loni Road, Khajuri Chowk Wazirabad Road, Bhajan Pura Main Market Wazirabad Road, R/A Loni, Apsara Border, Yamuna Marg, IP College MGM Road Ring Road, Under IP Flyover Vikas Marg, Chatta Rail Lothian Road," a Delhi Traffic Police official said.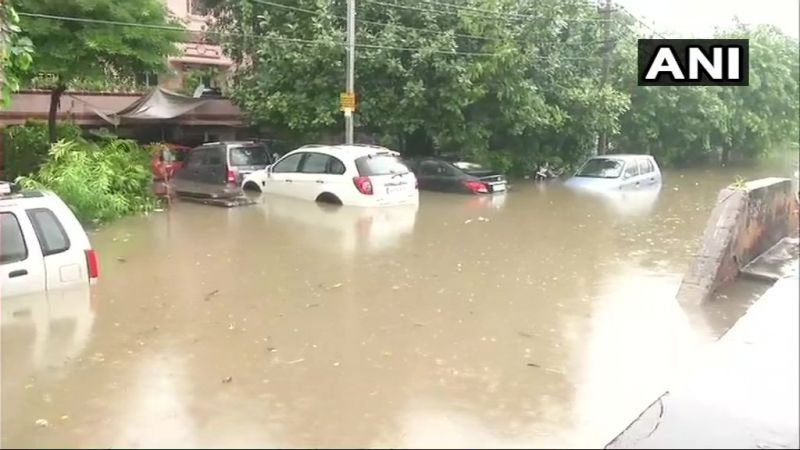 (Photo: ANI/Twitter)
"Roads submerged following the rainfall included those under Modi Mill Flyover, Rao Tula Ram T-Point on the way to the Indira Gandhi International Airport, Rajghat, Janpath, the Bahadur Shah Zafar Marg, to Lajpat Nagar market on Ring Road, Inderprastha Marg near the Delhi Police headquarters, Rajendra Prasad Road, GT Karnal Road, Minto Road and others," he added.
The traffic police has also asked people to avoid Delhi-Noida road towards Ashram where traffic was blocked after a bus broke down.
The Rashtrapati Bhavan also had to cancel the Change of Guard ceremony due to heavy rains.
"The Change of Guard Ceremony on the Forecourt of Rashtrapati Bhavan will not be held today (September 1, 2018) due to heavy rain in New Delhi," the President House tweeted.
The traffic was affected at Mathura road, Shershah road, Mathura road to Bhairon road, Purana quila road, Bihari colony, Maharashi Raman marg, Teen Murti lane, 11 Murti and Girdhari Lal Goswami Marg near post office due to excessive waterlogging.
"Waterlogging was reported at Lajpat Nagar market, Pant Nagar bus stand and IP Marg near police headquarters. The traffic movement was closed on Bhairon road both ways due to waterlogging," the official said.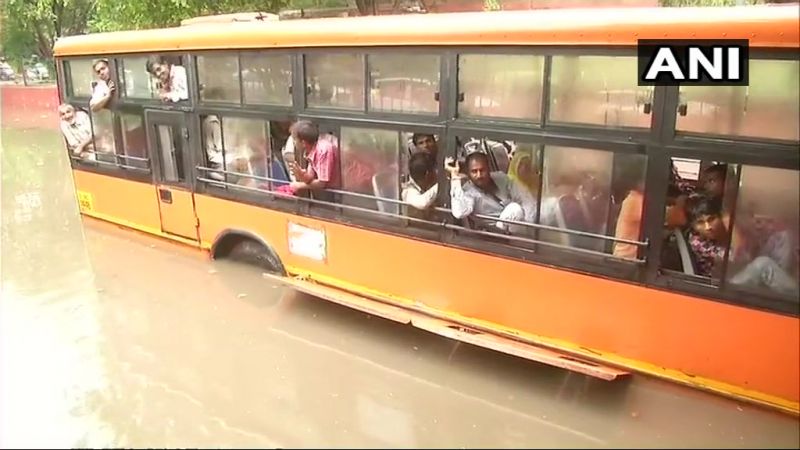 (Photo: ANI/Twitter)
Narrating their ordeal, people stranded around the MCD Civic Centre, one of the worst affected areas, chastised Delhi Chief Minister Arvind Kejriwal for the chaos.
Speaking to ANI, a commuter said that the Aam Aadmi Party-led Delhi government failed to fulfill their promise of developing infrastructure and drainage in the capital. "Whatever they have promised so far is all based on lies. I am stuck in this traffic for the past two hours. They only make tall claims but do not make any efforts on the ground level," he said.
Another commuter claimed that his car was about to get submerged because of heavily waterlogged roads. "Luckily, I managed to escape the accident but it is very unfortunate that the government has not done anything for clearing up the monsoon mess," he added.
Delhi has received 61 mm of rainfall since morning and the weatherman has predicted the downpour to continue throughout the day.
The Indian Meteorological Department forecast that rain and thunderstorms will continue in Delhi for the next two days.
Latest News
Most Popular
Columns