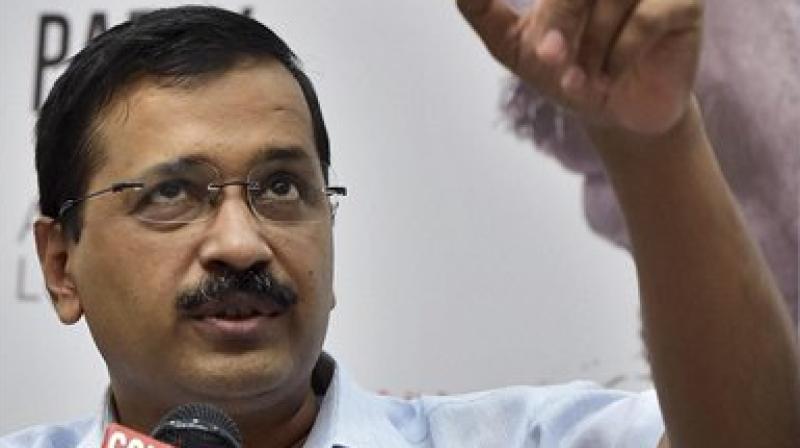 New Delhi: Firing a fresh salvo at the Centre, Chief Minister Arvind Kejriwal on Thursday alleged Lt Governor Najeeb Jung was "stalling" the clearance of minimum wages file "at the behest of Prime Minister Narendra Modi", who does not want it implemented in Delhi.
"Our Cabinet cleared the proposal for the hike last month and it was sent to the LG a week later, but he is sitting on that file for the last 8 days. Our Labour Minister (Gopal Rai) has sought appointment with him to discuss it, but in vain," Kejriwal said.
The Delhi Cabinet had on April 17 approved upward revision of minimum wages by 50 per cent under which the minimum monthly wages for unskilled workers would go up to Rs 14,055 against the existing Rs 9,568.
Addressing a well attended event--'Shramik Samvad' (dialogue with workers) at Talkatora Stadium of labourers, Delhi Transport Corporation drivers and conductors, sanitation workers and security personnel, the Delhi Chief Minister asserted that "his government won't relent on this issue. And, if the Centre was hell bent on stopping us from implementing the norm, then we ware doubly determined to have it implemented."
"Friends, we came to power with your support. And, as promised, we have done our bit, but the LG is stalling it.
And, as I have learned, Modiji has asked him to do so as he (PM) does not want the minimum wage norm to be implemented in Delhi," he alleged.
"So, now you all also have to fight this battle, and if you want your wages to be increased, then you should lodge your protest and ask the LG and the PM as to why is it not being implemented. You should rise and make Modiji feel that if this is not implemented he would not become PM in 2019.
He doesn't fear me but you, the masses (the voters)," Kejriwal said.
The AAP government today also claimed that if implemented Delhi's minimum wages would be the highest given by any state government, but the "LG is not willing".
"I agree sir. Pl ask ur LG to clear minimum wage file pending wid him for many days," Kejriwal also tweeted.
The Delhi Chief Minister said his government has not only proposed a hike in wages but also suggested an increase in quantum of punishment for contractors who exploit workers by withholding wages.
"The penalty has been proposed to be increased from Rs 600 to Rs 50,000, while a person can be jailed for three years, which is currently just six months," he said.
"After hearing about these norms, we heard a group of big industrialists and power companies met Modiji and said if this wage norm is implemented, we will stop putting money in the elections," Kejriwal alleged.
...