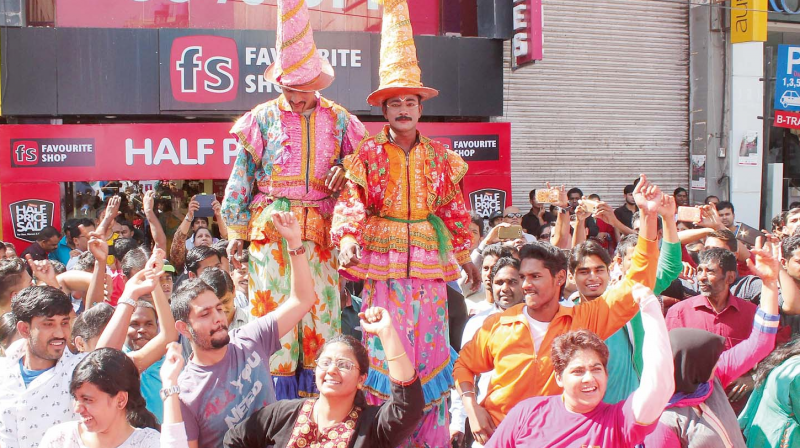 Bengaluru: It was exactly how a happy Sunday should be… The usually heavy traffic-laden roads of Commercial street were vehicle free on Sunday till 2 pm. The initiative was carried out by Bengaluru traffic police in association with Bengaluru Commercial Association.  Vehicular movement was banned on Sunday on the entire stretch from 7 am to 2 pm.
The concept was not just restricted to the idea of keeping the road vehicle-free. It was more about engaging children and adults with some 'fun' activities on the road, like skating, walking, singing, dancing and also indulging in art work. "We heard about the 'Happy Street' campaign and this unique concept made us bring our daughter here. This is a very good initiative," says Keerthi Raj, a resident from Ulsoor. Another couple came with mattresses to perform yoga on Sunday. "It felt very different this Sunday here as we engaged in some yoga and exercises," said Vinay, another resident from Benson Town.
Kids were seen skating with their parents, cheering them  on, along with youngsters dancing and grooving to the beat. "I have never seen such a picnic atmosphere on the road," said Ayesha, a salesperson at one of the cosmetic stores on  Commercial street. "We were not inside our shops as the customers and everyone was out on the road enjoying the Sunday," says Ismail, who works at another clothes store on Commercial Street. The unique initiative, which lasted for a few hours on Sunday helped citizens breathe a sigh of relief to some  extent, as usually the street is full of vehicles and there are interminable traffic jams with very little ground space for pedestrians to walk on.
"The entire stretch felt very different without vehicles as they are generally parked across the street opposite our shops. But, after 2 pm it's the same thing all over again," adds Ayesha, who also says that despite the good feel on the road without loud honking there were very few customers inside the shop.
...