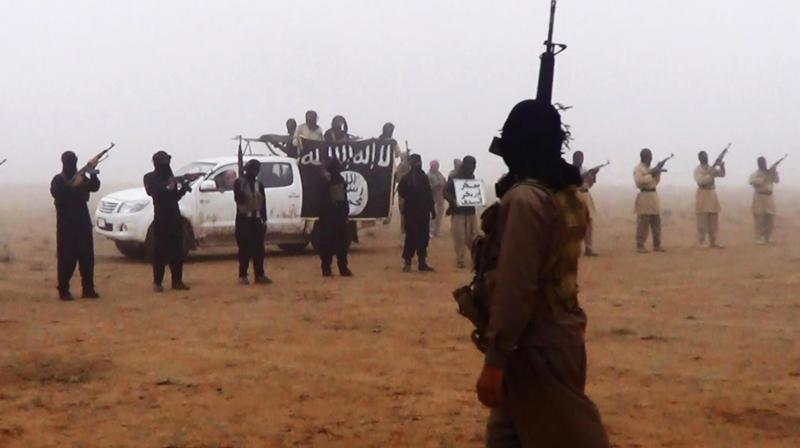 Hyderabad: A local court on Thursday remanded five people, arrested by NIA on Wednesday, in judicial custody for 14 days. They were arrested on charges of involvement in a terror module suspected to be linked to Islamic State and conspiring to carry out bomb attacks.
The accused were produced in the chamber of the Metropolitan Sessions Judge by NIA amidst heavy security. The judge remanded them in judicial custody though the investigating agency has filed an application seeking their police custody for further examination. NIA's application for police custody is likely to come up for hearing tomorrow.
The accused were later shifted to Cherlapally Central Prison. Mohammed Ibrahim Yazdani alias Ibbu, Habeeb Mohammed alias Sir, Mohammed Ilyas Yazdani, Abdullah Bin Ahmed Al Amoodi and Muzaffar Hussain Rizwan were arrested by NIA after a series of searches were conducted at 10 locations in Old City area, with the assistance of Hyderabad Police. The agency had detained six others, including a techie, during the operation.
According to NIA, the preliminary examination has revealed that the gang was preparing IEDs for commission of terror acts and were being guided by an online handler suspected to be based in Iraq/Syria.
NIA had earlier registered a case based on credible information that some youth hailing from Hyderabad and their accomplices have entered into a criminal conspiracy to wage war against the Government of India by collecting weapons and explosive materials to target public places, including religious sites and sensitive government buildings and others in various parts of the country.
The agency recovered firearms, ammunition, precursor chemicals for making explosives, digital exhibits and Rs 15 lakh cash from the searched locations.
NIA also seized two semi-automatic pistols with ammunition, an air gun with telescopic sight and shooting practice target boards, a large number of digital items including six laptops, about 40 mobile phones, 32 SIM cards, and a large number of hard disks, memory cards, pen drives, and digital tabs.
Meanwhile, local police today dismissed certain messages that are being circulated in social media about the threat to public safety and security in the wake of the arrests made by NIA. "There are certain messages floating in social media about the threat to public safety & security. The information being circulated in social media are all rumours and are found to be false," Hyderabad Police said in a statement.
All necessary security arrangements have been made in the city by police to maintain peace and public order. "Law & order situation is peaceful. People of Hyderabad city are requested to not believe in rumours being circulated in social media", it said.
Meanwhile, Mohammed Ishaq Yazdani, brother of one of the arrested persons Mohammed Ibrahim Yazdani, termed the allegation against his brother as "rumours". "It's all rumours. Around 15 to 20 gun-wielding persons came to our house yesterday morning and in the name of investigation threw the household belongings and took away the laptop and tab. They also took away my original Aadhaar Card," he alleged.
He claimed that Rs 15 lakh seized during the raid belonged to Ibrahim's in-laws.
...