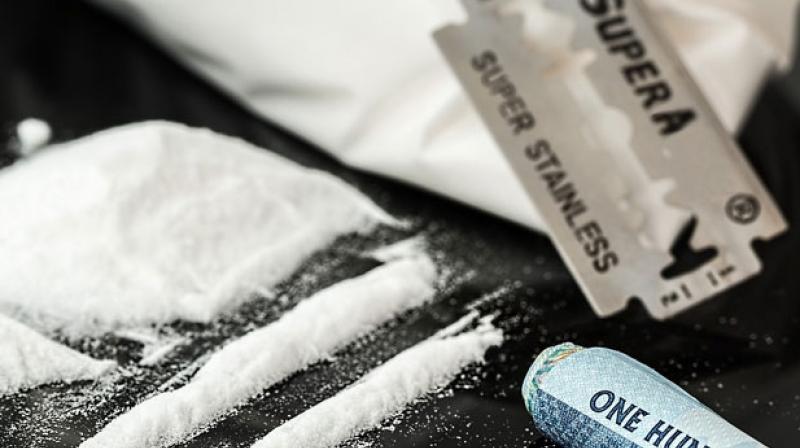 Bengaluru: It is not just the cities and towns of Punjab that are caught in the drug menace – as highlighted by the movie Udta Punjab, but also Bengaluru, whose overworked professionals, fun-seeking students and uncontrolled, unmonitored youth look to unwind with narcotic substances. The Narcotics Control Bureau (NCB) in Bengaluru says that the drug mafia thrives in the Silicon City as wealthy professionals, students and youngsters look for a hit, especially on weekends.
It was just in June last year that a senior software engineer from Accenture, a multinational IT company, was arrested for possessing and trafficking narcotic drugs and psychotropic substances. The techie, who was an addict himself, had set up a network with some Africans in the city and was dealing in drugs. He had stashed MDMA also called meth, cocaine, hashish, ganja and commercial quantity of LSD at his apartment in Vignana Nagar, which was seized. Most of the drugs were to be supplied to party-goers, said a source in NCB who wished not to be named.
Though drug-related arrests and seizures have seen a manifold increase in recent years, NCB sources said that only 30 per cent of the drug peddling network has been dismantled. The remaining 70% is still up, active and running.
Ganja/cannabis/marijuana or green/weed/stuff, the first-time drug for many, is available without much difficulty in several parts of the city. But the sale happens only within known circles. A large portion of ganja comes through rail and road routes. The consignments arrive in goods trains and are unloaded not at main terminals, but at stations like Cantonment, Yeshwanthpur and others, where the parcels are not checked thoroughly, sources said.
Varieties of drugs for occasions
"There are two to three different types of regular drugs abused during different occasions. For instance, LSD, also known as ecstasy, acid, paper or blot, is used in rave music parties where partygoers require euphoric mood with stamina to dance all night enjoying electronic music and laser lights. Within a short span of two to three usages, one would easily get addicted to this drug. One gram of LSD can be made into 30,000 doses which the abusers and addicts take periodically throughout the night. The drug is taken on a blotting paper or consumed with sugar cubes which will have at least 6-8 hours of 'high'," said a senior official from NCB.
"MDMA is also another recreational drug used for euphoria and stamina. There are few other drugs that are used as hypnotics, sedatives and hallucinogens," he said. While opium and heroin come from other states, cocaine comes from Latin American countries.
"Drug abusers and addicts call the drug-induced state of mind a 'trip,' It could be a good trip or a bad one. A slight variation in mixing or overdose could cause a bad 'trip' in which sometimes the abuser becomes violent, emotional or even mad – all to the extremes as the drug manipulates the part of brain where thinking and perception processes happen. It impacts the brain so much that the abuser is prone to get flashbacks of the incidents even after a week or a month after his/her trip," said the senior officer.
Modus operandi of trafficking
"Cocaine is filled in latex condoms, sealed and swallowed by drug traffickers. Some of them even hide it in their body crevices like rectum and their urogenital tracts," says Mr Sinha. A South African woman was arrested by the NCB for trying to smuggle in narcotic substance, worth Rs 4 crore, that was concealed in her stomach and her urogenital tract using sealed latex pouches in the shape of tindora.
The NCB Bangalore team intercepted an African man at the airport and recovered cocaine worth about Rs 6 crore from him in February this year. The accused had hidden one capsule of cocaine in his jacket and remaining in his stomach by swallowing them. A total of 69 capsules of cocaine wrapped in condoms were recovered and seized by the officials from his fecal matters retrieved at the Victoria hospital. A total of 1,201 grams of cocaine was seized from the 70 capsules, he said.
Ephedrine, a stimulant, is also a favorite among drug abusers. NCB seized ephedrine worth about Rs 60 lakhs from a 35-year-old Nigerian national having a Namibian passport, flying from South Africa to Brazil to Abudhabi to Bengaluru. The CISF detected the contraband concealed in carbon papers inside the false top/bottom of his stroller bag. Similarly meth is trafficked by concealing them in pickle packets and other food packets, the modus operandi, which the NCB officials are well aware off.
Colleges affected
Drugs are peddled and abused the most in Kammanahalli and Banaswadi, where a lot of African nationals, especially Nigerians, reside, NCB officials said. They claimed that they have information that drug abuse and peddling was rampant at four prominent educational institutions in Bengaluru.
Vulnerable students start off by experimenting, fall prey to substance abuse and become addicts. Initially, the students even get free samples to experiment and later on by three to four usages, the addiction kicks in. A good number of students have turned drug peddlers and traffickers to fund their addiction, a senior official from NCB told Deccan Chronicle.
...