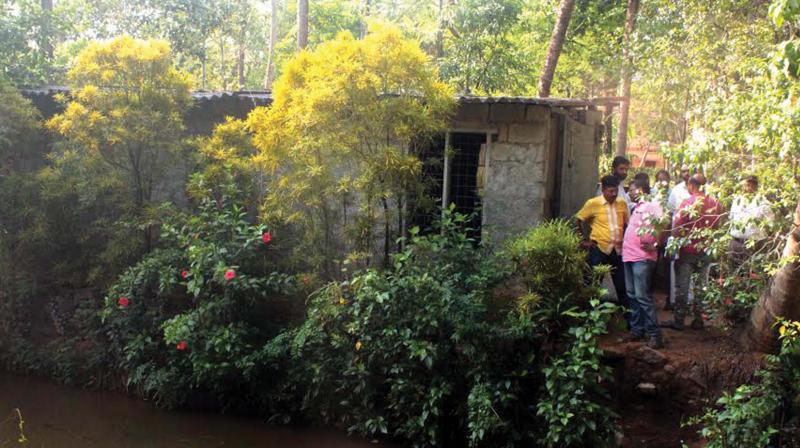 Perumbavur: Even four days after a Dalit girl was brutally raped and murdered in her house in Iravichira near Perumbavur, the cops are yet to get any solid lead on the attackers while various social activists and political parties have come out in the open demanding a foolproof probe. Jishamol, 30, was found dead in her two-room house on Thursday night when her mother returned from her daily
wage work around 7.30 pm.
According to reports, her body was found with intestines hanging out. Strangely, none of the neighbours had heard any unusual sound from the house on the banks of Vattolipidi canal.
Read: Kerala rape case: Social media takes up case, rallies for justice
"The cops could not get any lead even after four days. We conducted a protest march to the Perumbavur police station on Monday evening with a demand to strengthen the investigation. There is a mystery shrouded all over as neighbours didn't hear any unusual sound or saw anything suspicious on the day. They are in shock and fear," said Siji Saju, ward member, Iringol south.
Crime Branch SP P.K. Madhu on his way to the house. (Photo: DC)
"The girl had studied till LLB despite hailing from a poor family. Her house was built in a two-cent 'purambokku' land and her father had abandoned her when she was a child. It now emerges that she was brutally raped and murdered on the lines of the Nirbhaya case. It's the first such incident to be reported in our state. The authorities should not show any laxity. They should take immediate steps to find out the culprits," said Dr T.N. Seema, state president, All-India Democratic Women's Association.
The cops, however, said they had a few suspects and the probe was based on that. "The autopsy report points to rape and subsequent murder. The attack must have taken place between 1 pm and 5 pm on Friday. The investigation is progressing in the right direction and we're taking the statements of all neighbours," said Anil Kumar, DySP, Perumbavur, who is heading the investigation.
Sources in the police said they suspected the involvement of more than one person in the crime. "Right now we've certain suspects though the same cannot be revealed as it might affect the progress of the case. We've taken a list of people who are missing post the incident. Also we're tracking the calls received by the victim on the day," they said.
"It is a case of violent murder. Though the post-mortem report suggests chances of sexual assault or rape, we are awaiting a few laboratory results to confirm the same. We've ruled out theft as motive. Various teams constituted for the probe are fully engaged and we expect a breakthrough soon," said Yathish Chandra, Ernakulam Rural Superintendent of Police.
...