Lifestyle
The joys of hooping
Deccan Chronicle| priya sreekumar
Published on: July 27, 2018 | Updated on: July 27, 2018
Eshna Kutty is a 21-year-old hoop dancer from Delhi who is popularising hula dancing.
Eshna Kutty.
Twenty-one-year-old Eshna Kutty's hips don't lie! This youngster is taking hula hooping to a whole new level and letting the world realise that this piece of plastic can be magic in her hands. To many, hula hooping may seem like a school flashback but there are a host of celebrities like Beyonce, Michelle Obama and Oliver Wilde who swear by its fitness benefits. Research shows that it is a workout tool that reportedly burns 7 calories per minute. Eshna is putting a whole new spin to the hoop, which turns into flowing circular magic, moving effortlessly over her body in quicksilver moves.
Incidentally, Eshna is a self-taught hooper who picked up hooping six years ago, learning the tricks of the trade through YouTube. The irony is that now she has countless dedicated followers who follow her hula performance videos on YouTube. Hula hooping is not everyone's cup of tea and it certainly was not Eshna's too. It was curiosity that had Eshna deciding to give the hoops a twirl. She recollects from memory, "Someone gifted me a hula hoop when I was 16 and for the next two years, it lay in my home gathering dust. One fine day, out of the blue, I looked at the hoop and wondered if I could do anything else with the hoop than twirling it around my waist," which is when she chose the internet to seek answers.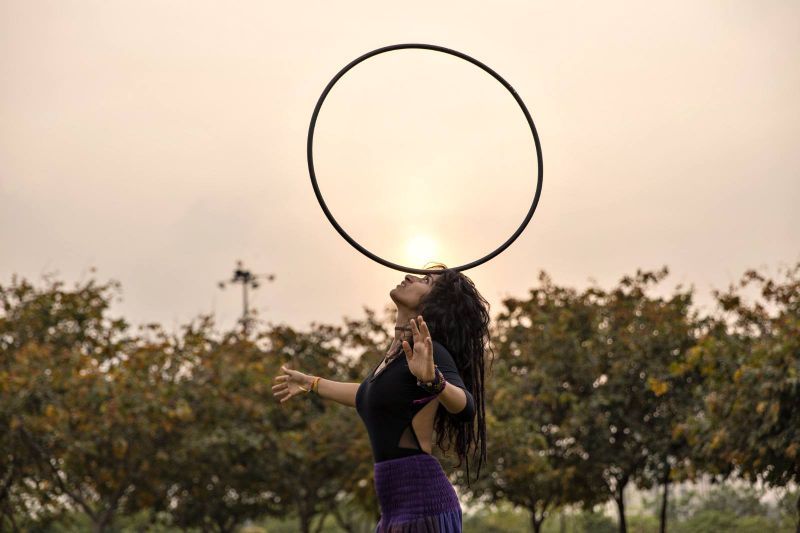 Eshna saw a whole new 'hula world' opening up in front of her. "I observed a whole lot of moves that I had never seen anyone in India or abroad do," she recalls. Her aim was never to imitate those moves but to study them as a pastime and also as a possible exercise-related form. Eshna also began to appreciate the grace and flow of the form, which is why she explains hula hooping belongs to the broader term of 'flow art'. The added benefit as far as Eshna was concerned was that she was not planning to take it up professionally and hence had the luxury of time, "I took my own sweet time of two years to learn the basic moves, which hula enthusiasts pick up in no time now. The reason was that I would not be doing hooping for two-three months and would then get back to it when I felt like it."
Serious motivation came when she performed a hula act for a school function, which was widely appreciated, "People came up to me and said I was really good, which is when it struck me that this was something I could do!" Eshna then joined college and she started practising seriously, thus honing her hula moves. She also started taking basic classes and workshops too, "This was basically just to push people and show them that there was a lot more one could do with hula hoops than twirl these around their waists," she says. College was also the time she discovered her penchant for dancing, "I started incorporating a lot of dance moves to my hoop act that almost make it look like a dance form, which is why I call it hoop dancing," she states.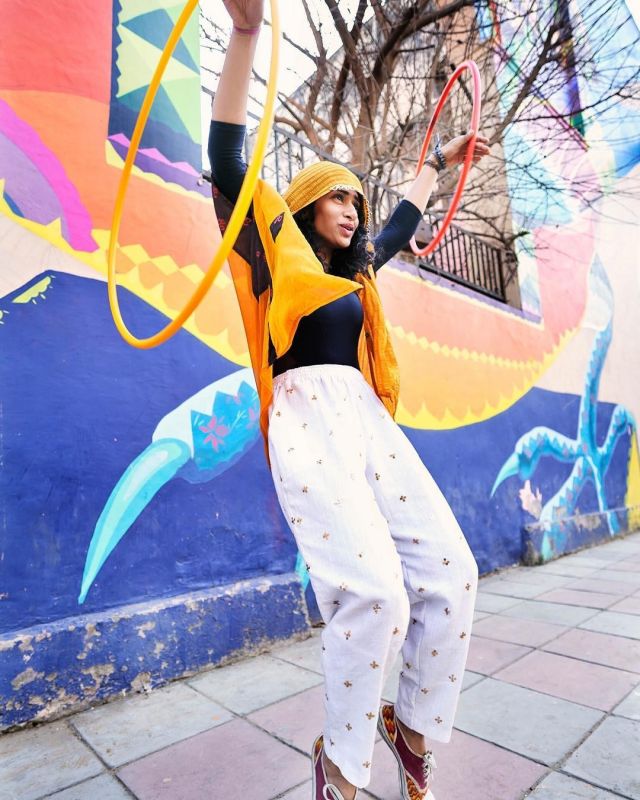 A look at her hula videos is enough to understand why Eshna prefers to term it thus. Natural grace and flow accompany her lightning-fast hula moves and nowhere will you see the hoops twirling only on her waist. She explains, "You can juggle one or even five hoops or more. You can twirl these on all body parts. I do it on my nose, my hair, my toes, fingers and thumbs. In fact, I barely do it around my waist unless I am taking a workshop or someone wants to learn it. If you look at my videos, you will notice that if at all I keep the hoop around my waist, it would barely be for five seconds. You can add gymnastic moves to it or add dance movements like hip-hop, which I like or popping. Hula dancing is a whole dance form in itself," she gushes.
Fitness is not the only benefit of hula hooping, she says, but it also helps people who are under-confident. Eshna has taken hula classes for Tihar jail inmates and happily recalls, "The inmates were amazingly talented. I used to go twice a week for the classes and kept my hoops there for them to practice and every time I returned, I used to be so surprised at the progress they had made. Hooping really grows on you," she states. She has also taken workshops for kids as young as four to elderly people as old as 55. The curly haired youngster has now taken up hooping professionally and does performance campaigns for various brands and also models for national and international brands. "I am not very tall nor thin but I model for fitness-related brands," she says.
The Kutty in her surname is thanks to her Kerala roots, courtesy her grandparents who reside in Edappally in Kochi and Palakkad. She says, "I usually land up in Coimbatore and then move to Palakkad and then to Kochi. I have lived in Delhi all my life so my Malayalam is really bad but since I was in Palakkad for some time, I understand Tamil very well." Her parents have been completely supportive of her passion and it helped that she always aced her studies — so no cause for complaint there. Born and brought up in Delhi, where she studied Psychology at Lady Shri Ram College for Women, Eshna has recently moved to Mumbai to pursue a diploma course in dance movement.
Latest News
Most Popular
Columns