Lifestyle
Inspiring action, one story at a time
Deccan Chronicle| Nikhita Gowra
Published on: September 25, 2017 | Updated on: September 26, 2017
The TEDx talks held in the city on Sunday witnessed a huge crowd and some inspirational speeches.
Kalpana Saroj shared her rags to riches story
The largest TEDx event in the country for 2017 took place at the Gachibowli Indoor Stadium in Hyderabad on Sunday and it was no less than a spectacle. The stadium was packed with over 2,000 minds ready to witness 13 speakers with inspiring stories. The event was buzzing with life as the attendees networked with each other. The theme of the day-long event was 'Do'.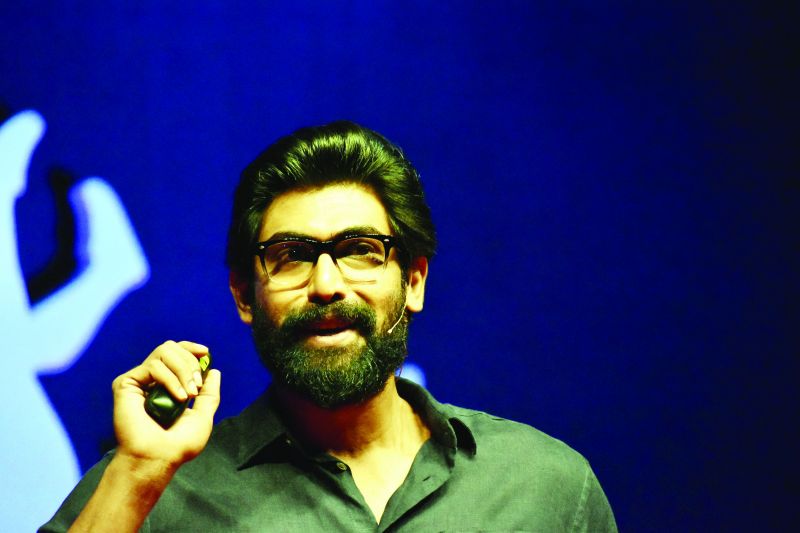 Rana Daggubati spoke about movies
The speakers, ranging from a photographer, scientist and actor to social activists, got a standing ovation at the jam-packed stadium. The networking didn't end just when the event did. People stayed on to interact with the speakers and took photographs. The large group of volunteers wore a welcoming smile and made sure that the event went on with no glitches. The skills of the organisers were evident when they managed to feed around 1,800 people in just 40 minutes. And, interestingly, TEDx Hyderabad was trending higher than Mann Ki Baat on Sunday.
Armed with a postcard
Pradeep Lokhande, the Postcard Man of India, connected to the audience with his speech just as he connected with 58 lakh people in rural India — all with just postcards. He has mobilised thousands and managed to open over 3,000 libraries for children. The man is the founder of the NGO Rural Relations, which aims to develop the rural parts of the country. He has a database of about 49,000 villages in 10 states across the country and receives at least 150 postcards from different villages each day. He gets so much mail that his address is limited to just one line — Pradeep Lokhande, Pune, 411013. The audience was given one of these post cards each to contact Pradeep. He also coined the word NRV, Non-Resident Villager! "Every Indian living in the city or abroad is a Non-Resident Villager," he said.
Rags to riches
One of the top stunners of the event was Kalpana Saroj, the "disruptive millionaire". Born into a poor family, where her father was a police constable, she was not allowed to complete her education and was married off at the age of 12.
From a small village in Maharashtra, Kalpana went to live with her in-laws in the slums of Mumbai and suffered domestic abuse. Shattered that she couldn't finish her education nor live a happy married life, she attempted to take her own life, only to be rescued. "It's funny how people don't let one live or die in peace. So I told my family if they didn't let me go make my own living, I'd come under the rail tracks," she said. Then, she started to work for a meager pay of Rs 2 per day. Today, she owns several companies. She has become a case study for MBA students around the country and is also a Padma Sri awardee.
Star speaks
Actor Rana Daggubati was cheered on with hoots and applause as he walked onto the stage. His 18-minute-long talk about the journey of Indian cinema was not just informative but was also personal. Talking about the transition from the era of silent films to what it is now, Rana recalled how new technology and digital aids changed the nature of filmmaking.
A true hero
Anshu Gupta, the founder of Goonj, gave up a career as a corporate executive to serve society. He made it his mission to clothe as many poor people as he could across the country. He began with 7-10 pairs of clothes from his family and then began looking for donations and handouts from others. Today, they have hundreds of tons of clothes to distribute by a way of barter system. Anything that comes free of cost is not valued, so people earn their clothing by also earning dignity of labour — by providing their services. They handle 3,000 tonnes of material annually. A community of 2,000 people made a road for their village. In exchange for their services, they were given either clothes or grain, whatever their requirement is. When they try to make a road with whatever resources they have, in exchange, they get clothes, grain, etc.
Fighting for survival
Elca Grobler of the My Choises Foundation and Sunita Krishnan of Prajwala spoke about human trafficking. While Sunita spoke passionately of how people must open their eyes to the atrocities that go on every day, Elca Grobler's voice quivered as tears left her eyes when she spoke of all the children getting gang raped repeatedly by multiple men, without a way out.
Latest News
Most Popular
Columns