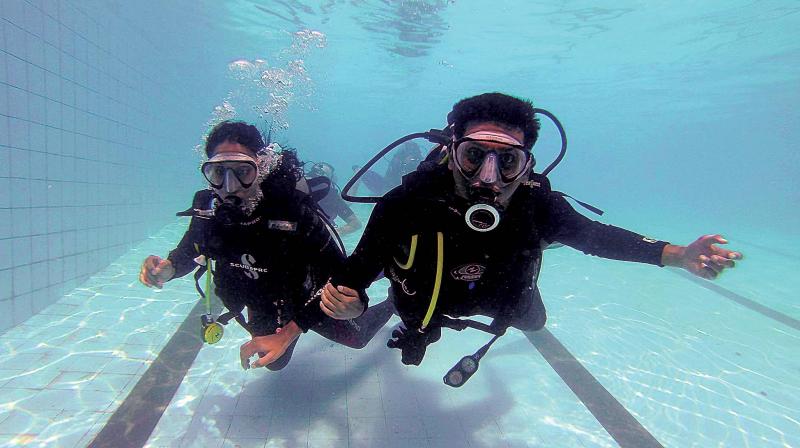 Picture this: Exotic islands surrounded by turquoise blue and emerald green water and pristine silver sand that overwhelms you with a sense of calm and tranquility and once you dive in the ocean, you get to see underwater flora and fauna and beautiful coral reefs. Now, what if you were to see it for yourself? A large group of Bengalureans are putting their buzzing city holidays on hold this season to explore the underwater world.
Scuba diving schools in the city are thriving on dive enthusiasts who're on a signing spree to learn a new skill set this summer. This most popular recreational water sport is seeing an increasing number of local enthusiasts take to it with great gusto.
Bengaluru-based Madhava Reddy, founder of Planet Scuba India and Andaman Diving Academy who has witnessed the rising trend, states, "Scuba diving is catching up and it is evident in the fact that the number of dive centres have gone up from seven to 50 now.
The number of people joining to learn scuba diving has increased from just two or three a month in 2008 to 20-30 and even more a month now. It is a dramatic increase. Many of them do their knowledge reviews, theory test and pool tests in Bengaluru and travel to nearby islands for their certified dives. Dive India, Havelock, is one of the most popular destinations for certified and fun dives, as it maintains appropriate safety and equipment standards."
Jet pilot trainer, who is a master scuba diver, Prashant Singh Bararia plans to continue his dives to more dive destinations across the world. He states, "It's the most surreal experience that everyone should experience at least once. Most of my friends now are also getting into diving and are loving the whole new experience." Bengaluru-based Neha Makhija, a research assistant with the Indian Institute of Science, states, "Since my very childhood, call of the wild has always posed a subtle magnetism – from all the boat safaris to the chills down my spine while watching Free Willy. I was driven to learn scuba diving due to my die-hard passion for adventure. I have only dived at Bali so far, but now I'm hooked onto it and plan to go on a lot of dive trips in the future."
Many youngsters as young as 11 years are also taking to this new hobby with great gusto. Confessing to having tons of dive memories to cherish a lifetime is Stanley Berlin, master instructor and technical instructor who has taught many kids from Bengaluru to dive.
Stan says, "I take dive classes every weekend in Bengaluru and have seen a huge rise in people taking dive holidays this year. I teach eight students at a time and classes have gone from one-two students on an average to six-eight and even more at times. This shows the increased growth. Popular destinations for Bengalureans besides Andamans are Maldives, Lakshadweep, Malaysia and Thailand."
...