Lifestyle
Ganesha goes green!
Deccan Chronicle| Radhika Vashisht
Published on: August 23, 2019 | Updated on: August 23, 2019
Given that the cow is much revered in India, cow dung also has sanctity, and when immersed in water, acts as food for aquatic animals.
Clay Ganesha
As the city readies itself for yet another Ganesh Chaturthi, many Hyderabadis have decided to shift towards environmentally friendly idols so that visarjan does not end up being an environmental disaster with long-term effects.
While PoP (plaster of paris) Ganesha idols still sell the most, one cannot ignore the fact that the demand for eco-friendly Ganeshas — made up of river sand, clay and cow dung has risen over the last few years.
Cow Dung Ganesha here
Divya Reddy, the owner of Klimom, has been working towards bringing back an age-old technique called Gomaya idols. "In the seventeenth-century, an idol of Gomaya Hanuman was placed in a temple in Nasik, Maharashtra where devotees have been offering prayers for over 400 years now. We have been working towards bringing this wise and wonderful tradition back," shares Divya, who explains that a Gomaya Ganesh is in fact, made up of cow dung.
Given that the cow is much revered in India, cow dung also has sanctity, and when immersed in water, acts as food for aquatic animals. "We use five ingredients while making a Gomaya Ganesha — cow dung, gomutra (cow urine), neem leaf paste to. keep the insects away, turmeric and tamarind extract which helps to bind the idols," explains Divya.
There is a lot more awareness today and people have started looking for more eco-friendly options, but the huge idols that we see on every street corner are the ones that are creating problems," she adds.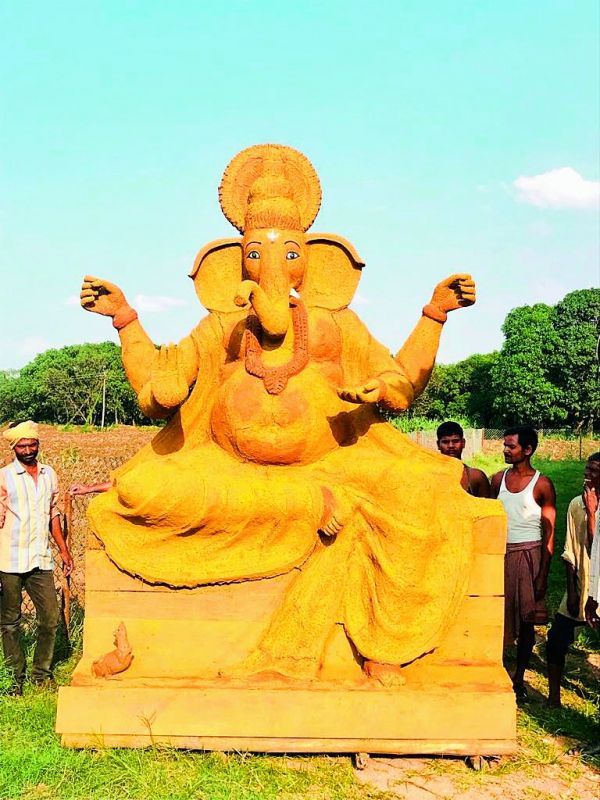 Klimom's 15-ft Gomaya Ganesha idol
Feats of clay
Interestingly, clay seems to be the material of choice over other hazardous substances. In fact, school students are now being taught about the importance of clay idols and eco-friendly products in order to safeguard the environment. Consequently, even people who were earlier using PoP and chemical colours are slowly making the switch to clay Ganesha idols with natural colours.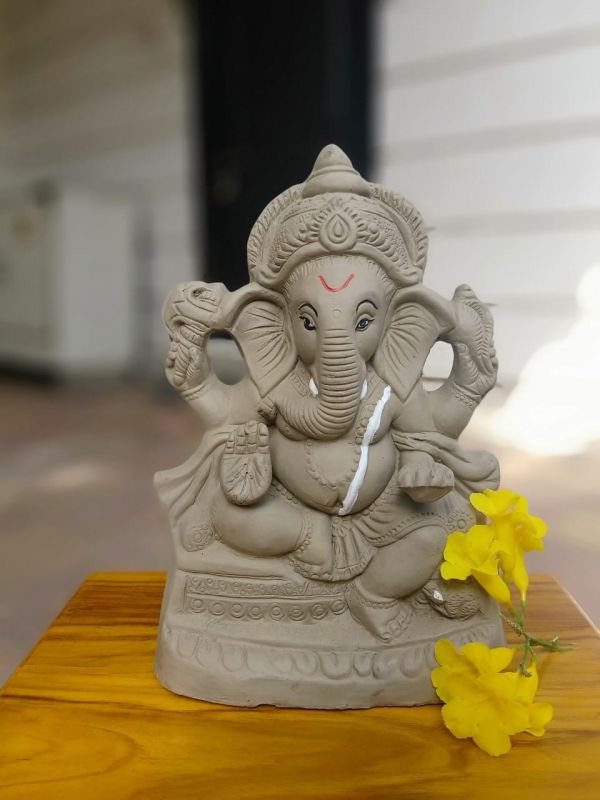 Seed idols
Best out of waste
A science graduate Akunuri Murali Krishna, who has always been concerned about the environment, cautions, "Human beings have destroyed enough water bodies. And if they don't watch out, they will only bring on more destruction."
Inspired by the idea of protecting the environment, Murali Krishna started his own company in LB Nagar in 2011 which today makes 'recycled' Ganesha idols. "We make Ganesha idols from clay collected from the riverside and mix it up with recycled wastes (usually paper), and then have our artist from Kolkata paint them. We take orders from all over the world," he shares, adding, "A five-foot idol costs approximately Rs 5,000-6,000."
Seeds of change
Recalling his own journey, Narayan Murthy, of GoodSeeds, says, "When I was a kid, I used to celebrate Ganesh Chaturthi in Chennai. I would make a clay Ganesha at home with my grandfather, and fixing the eyes on the idol was always a great thrill for me. That's what I wanted to bring back through my work. Now, there are markets where one can come and make their own Ganesha, take home and then worship it. I think it's a great initiative."
He adds, "We make Ganeshas out of pure pond clay, and started this platform seven-eight years ago for sustainable living. We want to live in harmony with the environment and our local community. So, whatever we do, we make sure that it creates a livelihood for people around us."
Elaborating on the concept of 'seed idols', he explains, "The Ganesha seed idols are accompanied by a pot, so once the celebrations are done, you can place the Ganesha idol inside the pot and pour water on it for a symbolic immersion. The beauty is that in 10 days, you will see some saplings growing out of the pot! The idols vary in size and price, and range from Rs 200 to Rs 12,000."
Latest News
Most Popular
Columns