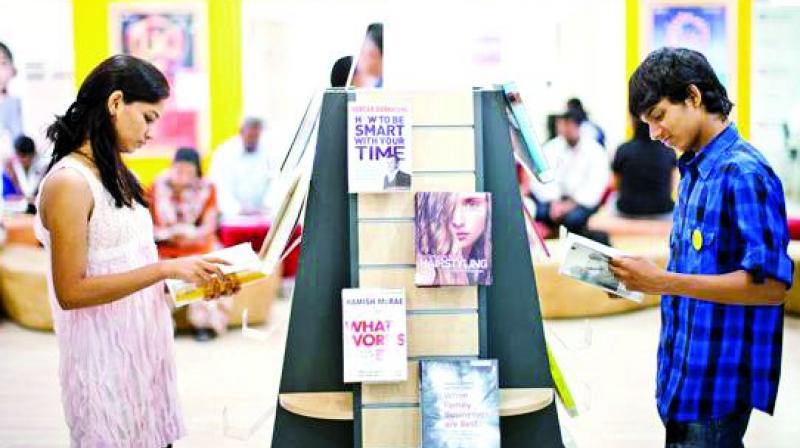 HYDERABAD: On Saturday, which is William Shakespeare's 400th death anniversary, Hyderabadis will see an old British landmark reinventing itself to serve in a new format, at a new address.
The British Council, popularly known as the British Library, is in fact, crucial. Set up in 1979, it has been recognised as one of the most up-to-date and advanced libraries in a city which has many state-funded libraries lying in a state of abject neglect.
Since 1979, the library has never moved out of the Secretariat Road despite the landmarks around it changing — from the Sarovar Hotel to Hotel Anmol which housed it earlier.
Now, the library is shifting to a more spacious 4,500-sq.ft premises at Plot 1202, Road No. 36. It will stay open from Tuesday to Sunday — 11 am to 7 pm.
The new space will have 17,500 titles of books, DVDs, periodicals and access to over 1,25,000 books online. The idea is to provide space for cultural events and a place bustling with events for children, workshops, seminars, lectures and theatre activity. There's also free Wi-Fi for all members and a self-check-in facility using the latest RFID tech.
The typical age profile of members at the British Library, according to sources, is now 20 to 35. Buoyed with the continuing patronage of its members, many of whom started as teenagers, the new premises will take the British Library to the next level where books and cinema will overlap with the arts and, socialising — providing one of the best-kept libraries in India an extra dimension that was missing all these years — of being a meeting place and a cultural centre — joining the likes of the German Goethe Zentrum and the French, Alliance Francaise.
The Indo-American Centre for International Studies on the OU campus also houses a rich collection of over 80,000 titles but has not upgraded as grants from the Ford Foundation have stopped arriving. And here begins our story. In the twin cities, most of the government-funded libraries are suffering due to lack of funding or sheer neglect. While there are world-class libraries at institutions like the Indian School of Business, the Centre for Economic and Social Sciences, NISIET, JNIDB, IPE etc., (where membership is restricted) most of the state libraries have ceased to add to their collections or upgrade their facilities to give a decent library experience. This is despite a library cess of eight per cent levied on the municipal taxes collected by the GHMC.
The statistics about the funds going from library cess in Hyderabad makes for dismal reading. From 2006 till 2014, GHMC collected around Rs 5,327 crore as taxes, of which library cess of eight per cent fetched a whopping Rs 424 crore.
This should have been earmarked for the libraries like the State Central Library, City Central Library or the Osmania University Library. But a mere Rs 40 crore has been sanctioned (according to a report) which shows why most public libraries are simply unable to attract bibliophiles.
Many of them don't have modern books, e-book options, even clean toilets or furniture. Also, you can pretty much forget about air-conditioned interiors.
If the government is listening (or reading), it should take a leaf out of what British Library has been doing since 1979 — keeping pace with the times and demands of its members and pushing new frontiers in technology to give the optimal library experience.
An additional grant of Rs 384 crore of library cess is what the citizens of Hyderabad rightfully need to resuscitate the famed libraries of the state, that are collecting dust and staring at its citizenry with apathy.
...