Lifestyle
Sweet scent of success
Deccan Chronicle| Swati Sharma
Published on: June 19, 2017 | Updated on: June 19, 2017
Former air hostess Dinaz Noria says that the creative process is gratifying.
Each meticulously detailed arrangement that Dinaz creates possesses a rich elegance and strength, demonstrating a deep love for flowers.
From decorating shop windows to setting up one of the most talked about event planning companies in the country, Dinaz Noria has taken her love for flowers to a whole new level. Not just that, she is famous for adding a theatrical touch to events and taking care of every minute detail with perfection. No wonder then, that everyone, from the Ambanis to the Goenkas adore her floral décor.
The beginning
It all happened by chance, admits Dinaz. "In the early '90s, I was doing store front displays and Mussadilal saw my work and wanted the same backdrop for his daughter's wedding. I did it and as they say, the rest is history. It was a natural progression into weddings thereafter," says Dinaz, a former air hostess with British Airways.
Her creative mind was a perfect fit for becoming an event stylist. Each meticulously detailed arrangement that Dinaz creates possesses a rich elegance and strength, demonstrating a deep love for flowers. She reveals, "My favourite flower is the hyacinth as they are fragrant, fragile and beautiful."
Working with the rich and the famous
Working for the Ambanis ranks among her foremost achievements. "Nita Ambani found out about me and called me to do floral décor for an event at Antillia. Her house doesn't need any decoration, but my core strength is flowers and to be called by her is itself something! She knows her flowers and appreciates them. It's nice to work with people who know the subject well," says Dinaz, who has several top industrialists, politicians and bureaucrats as her clients. "We did the décor for industrialist Sanjiv Goenka's son's wedding and he knew everything about flowers too. When people appreciate our work, it's like getting a PhD," she says.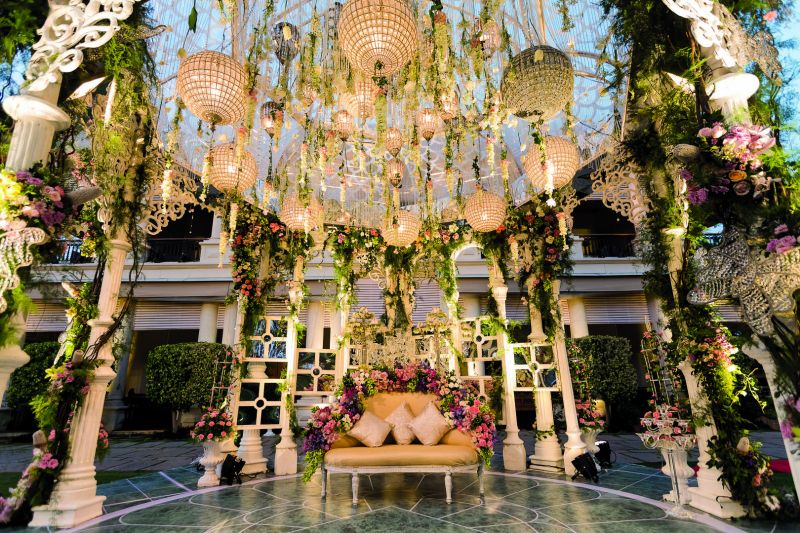 One of Dinaz Noria's floral decors at the Golconda Resort, Hyderabad
Challenges
Bringing happiness and beauty into people's lives is what inspires Dinaz. "We need to be sensitive and understand what the bride and groom want," she says and adds, "to be successful, you need to be curious, talented, creative and, above all, professional. But it is not simple. Time is a perennial challenge, especially since weddings can't be postponed, and the work has to be done no matter the obstacles," says the 54-year-old, who is also a fitness freak.
Narrating one such challenging situation, she says, "We once decided for a wedding where the mandap would be placed in the hall, and the muhurtam was at eight. But the pantulu arrived and said that the mandap was in the wrong place vis-a-vis the layout of the ground. We had to dismantle the whole thing and re-erect it. We were all running with bits and pieces... flowers, fibre pillars... even the pantulu was carrying things and running with us! So, however much we prepare, anything can happen at the last minute."
A creative high
Dinaz says that the creative process is elevating. "The execution of the vision is challenging. The interaction with the client's family is interesting and the ensuing appreciation is gratifying," she says.
Despite establishing herself as a proven talent, Dinaz says, "I learn something new each time. All events are different — some more endearing than others, some in which I am more emotionally invested than others."
Talking about one such event, she says, "I just didn't want to leave after an voni ceremony I did for a little girl. When we covered all the the walls of a banquet hall with flowers, the vibrations of the hall changed and I wanted to sit there forever. Even after the guests started coming in, I kept sitting, enjoying the sheer magnificence of so many flowers."
The company that Dinaz founded, 3D Design, Decor by Dinaz, has left a mark amongst India's elite, but Dinaz says that marketing happens purely by word of mouth. She thanks her family and friends for being supportive. The most rewarding part of running her own business, she says, is that "you're the boss and can choose to work when you want, how much you want."
Defining moments
Displaying the Nizam's jewels at the Salarjung Museum; decorating Mukesh and Nita Ambani's home Antillia and Sanjiv Goenka's son's wedding
For décor, her most favourite flower is the hyacinth
She has no marketing strategy, it's purely by word of mouth
Latest News
Most Popular
Columns