Lifestyle
Run Ashok run
Deccan Chronicle| cris
Published on: October 18, 2017 | Updated on: October 18, 2017
Fifty eight-year-old Ashok Kumar is the first Malayali to complete all the six major marathons in the world.
Ashok with fellow UK runners who received the Chicago medal.
Ashok Kumar had a fall. He was bleeding, but he didn't notice that. He kept running till he reached the next medical station. A doctor came to check his condition and advised him not to continue running. Ashok must have looked perplexed. This was not just any marathon for him. The doctor saw it too, on his badge. The computerised one with his chest number. There was a little emblem in his number. What's that for, the doctor asked. "It is to indicate that this is my sixth major marathon," Ashok said. The doctor let him go. And that day – October 8 – he completed the Chicago marathon, becoming the first Malayali to have completed all the six major marathons in the world. He is also the sixth person of Indian origin to have reached the mark.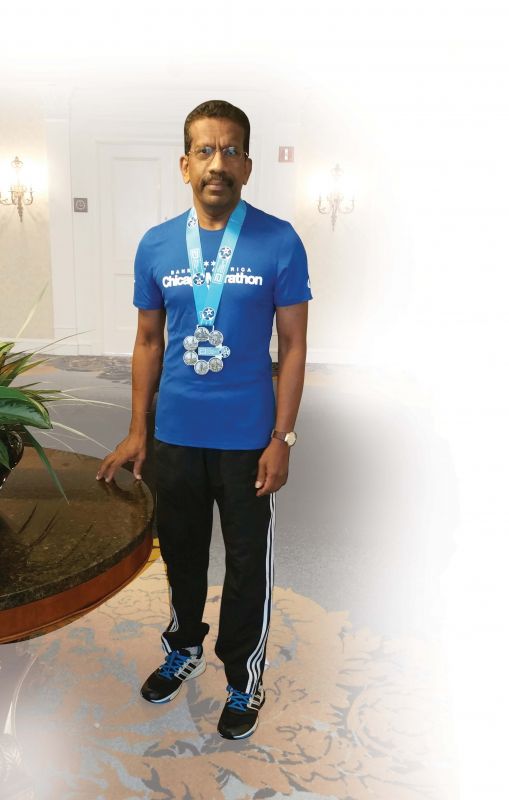 Ashok Kumar
Ashok has to specify Indian origin, for he is now a British citizen. It's been 38 years now, since he first came to London as a lad with new dreams, and memories of the old ones from his young life in Kollam, at a place called Chathannur. Even back then he had been an athlete, playing badminton and kabadi in college, representing Kollam at state level. Going away to London, he has to shelf his athletic side, and look after his career. He is now a civil servant, has been for years Her Majesty's Inspector of Taxes. But the first years had been difficult. The year after he went away to the UK was the first London Marathon, one of the six majors. When he watched it for the first time, Ashok had wondered if he would ever take part in it. He did, twice. But that happened decades later when he turned 54. And in two-and-a-half years, he has finished all six – London, New York, Boston, Berlin, Tokyo and Chicago – in that order.
He also gets to enjoy a new place every time. It is this year he did the Tokyo and Chicago marathons. "Tokyo in February 26 and Chicago last week. Tokyo was a great experience. Have heard so much of Japan, the country which has risen from the ashes of 1945 (World War) to become one of the economic superpowers of the world. The marathon itself was totally different from other marathons. There, you get your energy drinks and you drop it on the ground, it will of course be immediately cleared up. But in Japan you can't do that. It is all taken care of. The country functions in an organised manner. The law doesn't have to be enforced there. It is followed." Tokyo marathon became the sixth major in 2009.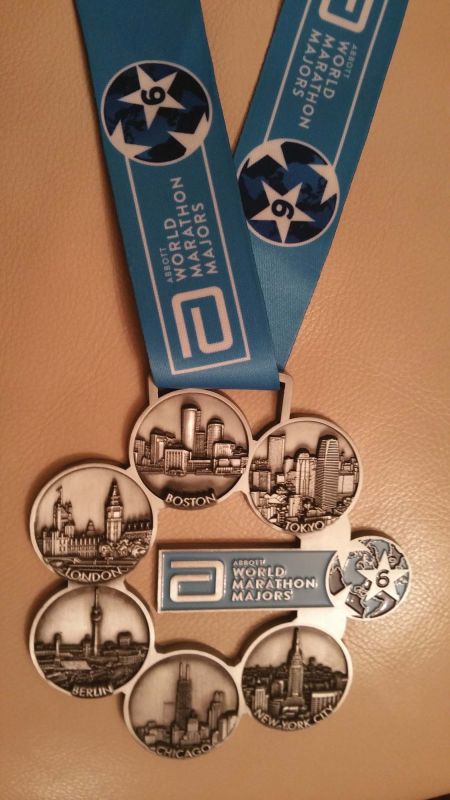 Medal for covering all the six major marathons.
But then Chicago was difficult. "The road was so bad... a lot of runners felt that too. Chicago had a heavy snow three months ago. In some parts it was extremely difficult to run," he says. That is how he fell. The temperature too had been 25 degrees, not at all ideal for running. But that of course didn't stop him. It had not been easy to come so far.
"It is quite difficult to get a place in the majors," Ashok says on a call from London. If he has to rank them he would put London on top, not because he lives there. "In terms of organising, London opens up completely. You start from Greenwich and finish at the Buckingham Palace, after passing through iconic landmarks like Big Ben, Palace of Westminster and so on. In terms of arrangement too… I will give you an example. The water you get – the energy drink – in other countries you get it in open glass, in London, it is bottles. It is easier to run with it. And the people, there will be a million people lined from start to finish, engaged with the runners. Most important is the money that goes to charity. London marathon is officially the single biggest event that raises money for charity. Last year, it's raised 60 million pounds," he says.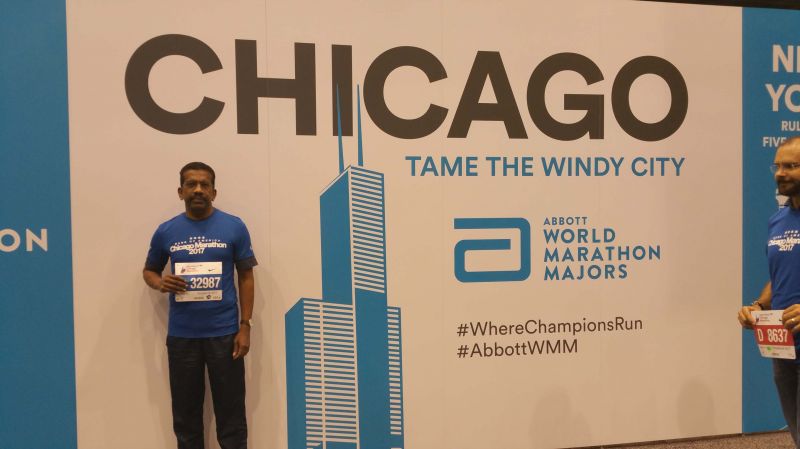 Chicago marathon
Ashok has himself raised 15,000 pounds through all the marathons he has run. "My first attraction (to marathons) is to raise money for charity. The second has been ambition. I started running at 54, now I am 58. I want to convey the message to youngsters that there is always something we can do not just for ourselves but for the community we live in. A small contribution. The charity I support – they said one British pound can feed a child in a poor country for a month!"
You can't use time as an excuse, Ashok says. For he has shown by his example it is possible, he has his 10-hour job as tax inspector. But he finds time to do the bits he could for those struggling many. Ashok even runs half marathons in between all these majors. And for all of these, his family tags along with love and support – daughter Tara, son Nevin and wife Jayashree. "If you see an extra person in the family picture, it is my daughter's fiancé Kiran," says a happy father.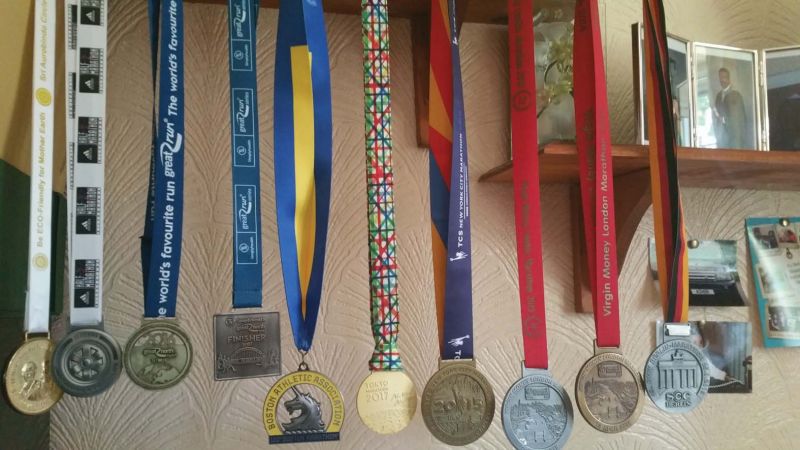 Medals barring the Chicago one.
But Ashok, the runner, has not stopped on his tracks. His next target is to run the Athens marathon. For its historic importance. After defeating some Persians, the soldier Pheidippides is believed to have run from the battlefield near the town of Marathon to Athens to convey the news of victory. He ran 26 miles, conveyed the news and collapsed to die. "That's where the word marathon comes from," he says the story and you know Ashok will do his Athens run. And a lot more.
Latest News
Most Popular
Columns