Lifestyle
Yes, we can(e) win
Deccan Chronicle| priya sreekumar
Published on: January 18, 2017 | Updated on: January 19, 2017
Arun has also designed India's first-ever cane sports wheelchair for basketball players.
Advanced robotics engineer Arun Cherian, the man behind the company Rise Legs, designs low-cost, light-weight customised prosthetic legs made out of cane.
A well-dressed man walks into a cane shop in Muvattupuzha, goes to a cane artisan, and begins to ask questions. 'Can cane be bent into the shape of an inverted question mark?' 'Can you make it to the size of a human leg?' 'Can the cane take a weight of 100 kg?' The artisan confidently replies 'yes' to all three questions. Arun Cherian has got the answers he wanted. If you are wondering who Arun is, take a look at his track record. He has a background in biomechanical locomotion, is an alumnus of Purdue and Columbia Universities and has a MIT Dlab scale up fellowship. He is an advanced robotics engineer who has worked on robots that can swim in water and walk on land and has developed wearable, lightweight exoskeleton suits for US Marines that can carry heavy weights. He was also working on special suits to help the disabled, while working his way to a PhD and also being a part of a start-up in the US.

Arun Cherian
But all that 'were' in the past. Coming back to the present, Arun has designed India's and probably the world's first prosthetic legs made out of cane and found a company Rise Legs in Bengaluru leaving behind his PhD at Purdue. Arun talks about how Rise Legs, which designs well-designed and cost effective mobility aids for the physically-challenged, including athletes, "I had come down for my sister's wedding and saw all these beautifully shaped cane furniture in the house. My interest in locomotion immediately noticed the spring like action of the cane, its flexibility and load-bearing capabilities. That set me thinking."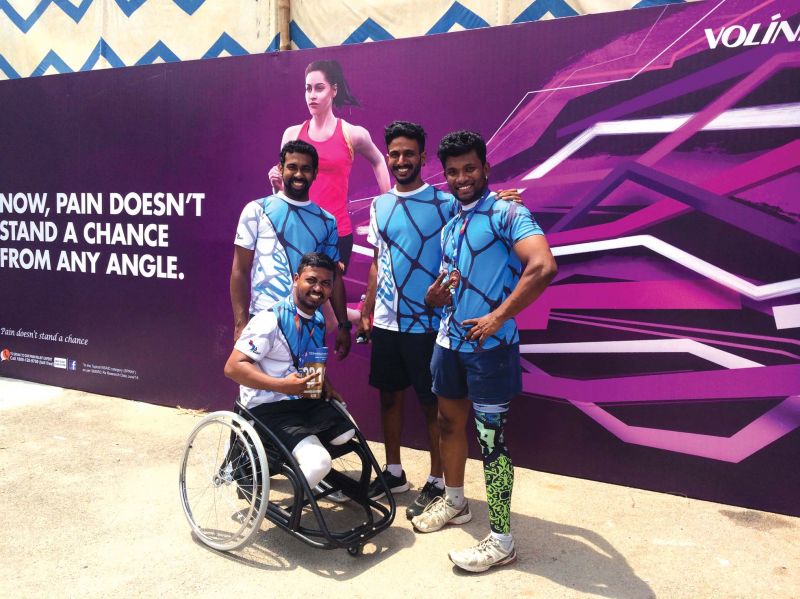 Participants in the cane wheelchair with cane legs.
The sickle-shaped leg Oscar Pistorious used was an inspiration because though it does not look like it, the blade is exactly tuned for running.
Arun made a prototype but had to get the trials right and so went to various Institutes and was ultimately referred to the Department of Aerospace at the Indian Institute of Science in Bengaluru, where he tested the structural integrity of the prototype cane leg and then did the clinical trials at St John's Hospital there. Arun says, "I wanted to do something useful with my skill sets. Since I had the experience of having worked with exoskeleton suits, I had an advantage."
Finding the right cane out of 1,200 different species was a challenge since each species has a different fibre structure. Arun zeroed in on the right species that could take huge weights and has mechanical strength. The next challenge was getting the artisans to follow his instructions. "Technology is only a part of the solution but the implementation is the most important part," he adds. The challenges did not stop there — people were apprehensive if the prosthetic legs would break. "I had done my research well and had tested to find that the cane legs could take three times the body weight of a person. So after fitting the legs, I encouraged the clients to try breaking it. Nothing would happen as the legs would flex and the customers got the added benefit of confidence in their prosthetics," he states.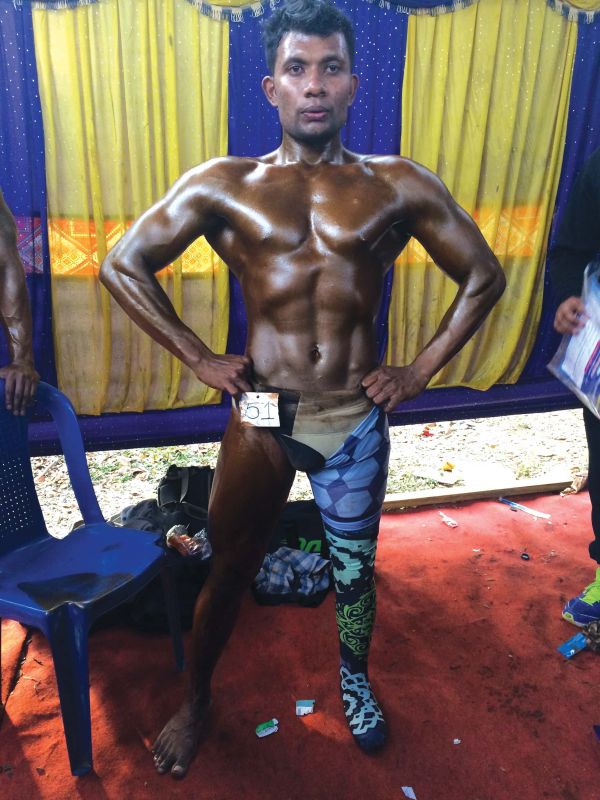 Bodybuilder with art cover leg.
The customer stories are inspiring. A farmer who could walk only three hours with his earlier bulky prosthetics weighing 8-10 kg, could walk for 13 hours with Rise Legs as the weight of the cane prosthetic was only under 3 kg and was more cost-effective. A marathon runner was fitted with the cane prosthetic leg and bodybuilder Prajwal was given an art cover leg, custom built to look like a piece of art. Arun says, "At a body building competition, Prajwal proudly flaunted his art cover leg."
Rise Legs also have skin colour legs matching the individual's skin colour. He has also designed India's first-ever cane sports wheelchair for basketball players made as per the rules of the Basketball Federation. While a standard wheelchair weighs around 23 kg, Arun's wheelchair weighs in at 11 kg. "It fits in snugly with the user and just by using the hips, the wheelchair will change direction."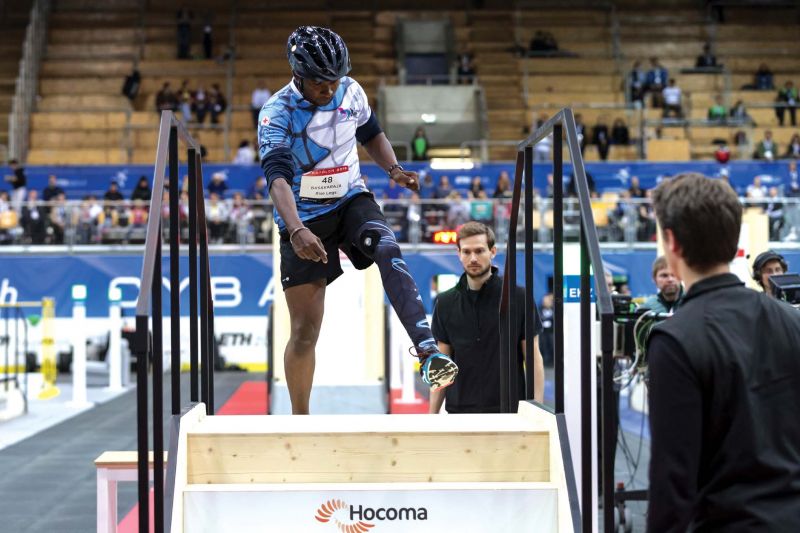 Team Rise Legs
The biggest achievement Arun is proud of is sending a team to the Cybathalon, an Olympics for the bionics, held in Zurich. His was the only team from Asia. He proudly says, "We participated in three races and our boys came first in two!"
For a person who had no intention of ever starting a company nor ever dreamed of making the leap from robotics to cane, Arun is a contented man and has no regrets of making the decision to leave behind a more lucrative life in the US.
Rise Legs is a consultant to the International committee of the Red Cross (Geneva). He ends by saying, "Very few people have access to prosthetics in India because of the cost. My job is not to sell prosthetic legs but to encourage our users to take up activities and connect with teachers."
Latest News
Most Popular
Columns